Hello!
Welcome to the Nido North classroom and the 2018-2019 school year. I look forward to sharing with you the many wonderful things we do in our classroom. Please check here often for updates, pictures, and links to information.

Thank you!
Britny
Britny@traversechildrenshouse.org

"It is the child who makes the man, and no man exists who was not made by the child he once was." - Maria Montessori





Britny Tollstam, Nido Guide
Emily Send, Classroom Support
Jennifer Patanella, Classroom Support



Room Parent
Mindy Beers
mindybeers12@gmail.com
March 7, 2018
We're getting dreamy about spring in the Nido lately. We can't wait for the day when we can open our door and release the little birds from our cozy nest. Until that day comes we are having to get creative about keeping busy. We go for walks around the building, we drop in on other classrooms, we play in the gym, and I rotate our work often.
We've also been reading a lot of books. I was recently asked about choosing quality books for children and here is our way of making selections; For infants, I first look for content that reflects real life. I avoid all books that have animals dressed in human clothing or driving cars for instance. In Montessori we show children what is concrete first and later introduce abstraction. Photos of real objects are a great choice, or book art that mimics our authentic world. Also, we do not introduce letters right away so I don't choose a book for it's words usually, but sometimes I can find ones that have a good cadence and the words sounds nice together. I tend to talk about what we see on a page more than the actual story most of time. Rhyming and poetry books are fun too. Books that highlight other cultures or far away place are also in my book rotation. Now, with that said, I have been know to throw a great classic children's book just for fun and it may not fit any of those parameters, because who doesn't love to revisit one from their own childhood too!
Have a great rest of the week
February 21, 2019
As you all know we had a teacher prep day last Friday. On the heels of our many snow days I know it may have been difficult to be closed again, but I assure you that these prep days are extremely well spent.
We covered the heavy topic of child abuse, an important tragedy to be informed about, so that we can play a role in keeping all children safe. The classroom staff throughly scrubbed and sanitized every surface possible and I caught up on my organization of materials and licensing protocols.
We were also generously provided a beautiful luncheon, donated by many parents. During the meal, we were shown a very touching video of many of our TCH families thanking us for our service. Admittedly, I cried when seeing so many of the beautiful children I have had the honor of caring for. Many thanks to all the families who participated!
After my last post we have added a few more children to our school provided lunch. I'm delighted to share these meals with your children!
Have a great rest of the week!
February 7, 2019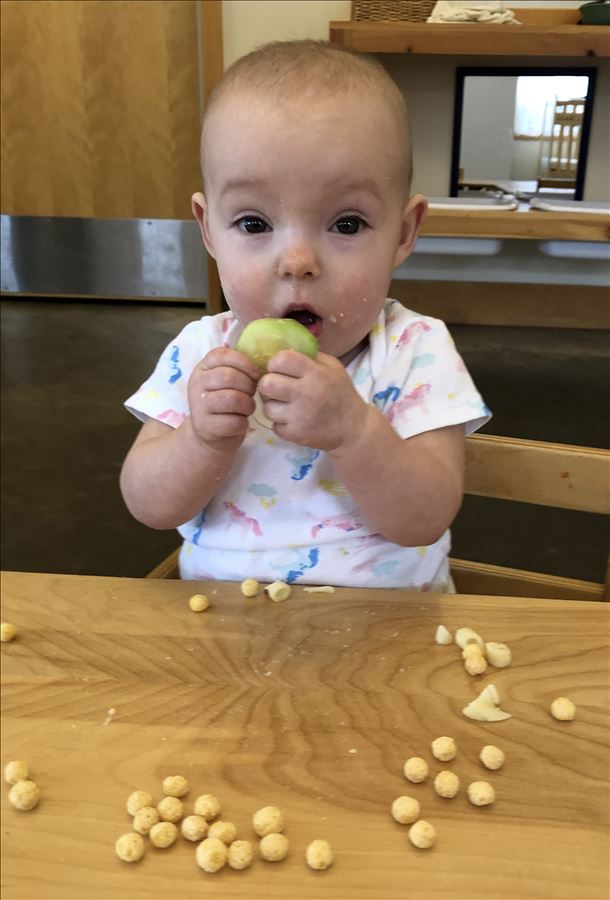 We have so many new faces joining us for meals lately, I'd like to share how that is going and how we approach mealtime in the Montessori method.
A child first begins to join us at the table the moment they can sit up. In the beginning they might just observe, or we give them a teether to explore as they watch the mealtime. We introduce them to the language of being at the table. We pronounce words like "more", "all done", "thank you", etc. very clearly. Often we add the sign language that goes along with those words too.
When the child begins to show an interest in trying the food, or drinking from the cup, I will usually have a conversation with the parents to affirm that we can start to offer these things. We offer the new foods more for the experience and flavor, as well utensil use, rather then expecting them to devour a whole meal, because many of them at that age still need their bottles for most of their nutrition.
Before long we increase the experience with more textures, flavors, fluids, and amounts. When they seem have a good grasp (literally with their hands too) on eating solids we are happy to include them in our family style school provided lunch. All of this happens at their pace and preference. And they become the role models for the next round of babies to join us at the table.
In our classroom, mealtime is one of our best ways to enhance the Montessori experience your children get at school. At home, I would encourage you to include even the youngest babies at your meals too.
This is my cousin and her 4 month old baby. The video went viral last month. The caption read, "The pediatrician said we could try food when she showed signs of interest, does this count?"
Happy eats!! Enjoy the rest of the week!
January 17, 2019
HAPPY NEW YEAR!
While I very much appreciated our winter break (having time to remodel my bathroom at home) I truly missed being with your children. I was very ready to return to school last Monday and was disappointed that we had a snow day. I knew your children would grow so much in two weeks and I didn't want to miss seeing their advances! Needless to say, I was so happy to be reunited with them on Tuesday and I like to think that they were equally as excited too!
Upon our return we also welcomed four new babies to our environment! Finley, Linden, Charles, and Asher are all adjusting nicely, it did take us a few days to get to know one another, and now I can see that we are all going to enjoy one another quite a bit. We have a very young class at the moment, I don't have any walking children right now, which is unusual. However, this means that we will be together for a nice long time before we prepare them for a move to the YCC, somewhere around 14-16 months old.
Please take a look in the mail for news about our upcoming gala. I would encourage everyone of you to attend. If you are new to our school it is a wonderful way to mingle with our community and share a wonderful night out, in support of our school.
Have a great weekend!
December 13, 2018
As you know I was in Texas a couple of weeks ago. The YCC teachers and I had a wonderful time observing two very different Montessori environments. I spent the majority of my time at Studio June, a one-of-a-kind parent/caregiver and child program. Much like parents and their children would join a music class or gym class, Studio June offers a Montessori class. The classes are broken down into ages and last an hour and 15 minutes. Parents come into the prepared environment and get right to work with their child, there is a guide on hand to help navigate the classroom and keep things running smoothly. I observed parents immersed in their role as their child's first teacher, it was truly inspiring.
Additionally, I was able to tour the Post Oak Montessori school, which serves over 500 children among their two campuses. The school did not have a Nido, but laying eyes on their operation made me feel so good about the impact that good Montessori schools will have on this world. We were able to sit down and have lunch with three of the school's guides and discuss and compare our approaches. We were also able to sit with Sarah Moudry, the owner of Studio June, a long time Montessori guide herself, and parlay different classroom management ideas.
Just as I suspected I returned from the trip rejuvenated in my own work. I made a few changes and additions to our Nido environment, and was thrilled when I saw the children take to those things immediately.
November 29, 2018
Greetings from Texas!
I was overwhelmed with the generosity of books that were purchased for the Nido. We are currently loving The Pout Pout Fish very much! I'm so grateful to have a fresh stash of shiny new books, they definitely get lots of use in our room. Some babies even think they taste good too!
Our classroom harvest feast was such a lovely occasion. The children really enjoyed sampling all the tasty dishes that parents brought in. Thank you to each family that contributed a dish. I hope you all had a good Thanksgiving.
November 8, 2018
Last week, on pumpkin fun day, each child was able to participate in painting their own pumpkin! Many of them really enjoyed the experience and others found it very strange to feel the paint on their hands. Many thanks to the Beers family again for supplying the mini pumpkins from their farm! We also enjoyed some delicious pumpkin muffins that my daughter and I made the night before.
Looking ahead, we are starting to prepare our oldest students for their move ups to the YCC. Each child will have several opportunities to visit their next classroom with me by their side and will eventually be comfortable enough to stay without me. I really like how we plan these move ups, it truly let's the child set the pace. Once they are on their way we look forward to welcoming a few new faces after winter break.
In the last week of November I will be traveling to Texas with the other YCC guides. We have several visits planned in a variety of Montessori environments and I'm really looking forward to that experience. I always feel so rejuvenated in my work after observing and interacting with other Montessorians. I'll let you know how that goes in a further classroom highlight.
Have a wonderful rest of the week!
October 25, 2018
Every morning in the Nido I sing good morning to the children. I say each of their names and let them know I'm happy to see them. We gather together, with shakers in hand, and I continue to sing a couple of familiar songs. Trot Old Joe is a definite favorite! Some of the one-year-olds are even trying to say some of the words or follow my actions. It's really sweet.
This month I've also sung about apples and pumpkins, in anticipation of our pumpkin fun day on the 31st. On the 31st we will do a little activity and enjoy something with pumpkin for a snack.
Over the years I have been affiliated with one of our local baby pantries, they largely serve teen parents in our community. It is a nice time of year fill those pantries. I'm happy to collect any gently used baby items, "cool" clothes, diapers, food items, etc. at carline and I will drop them off at the pantry.
Have a wonderful weekend.
October 11, 2018
Last Saturday many of our students, and their families, met at the home of the Beers family. Despite a little bit of drizzle early on, we were very content to gather in their barn, share a snack, and get to know each other better. Once the weather cleared we all climbed onto a tractor trailer and took a ride around the Beers farm. We stopped a couple times along the way in order to select a few pumpkins to bring home with us. They had a wonderful selection and variety of pumpkins and the children were excited about the adventure! Those that attended with their older siblings also enjoyed a bit of fishing in the pond as well. Thank you to everyone that came and thank you to the Beers family for hosting us, it was wonderful!
On Sunday several of us gathered again for the all school harvest festival. I had the fun task of scooping ice cream at the event. I delighted in seeing so many of my students, past and present, come through the dessert line!
In the classroom we are enjoying the newly settled environment and I think everyone is feeling right at home in our care. Thank goodness for the times we are able to venture outside too because everyone has really enjoyed that.
You may have noticed that school wide conferences coming up. As we discussed at parent orientation I do not offer them at the same intervals as the rest of the school. If you missed the orientation, I do like to meet with you around two important milestones; first when a child is starting solid foods and again as we look ahead to their transition to the YCC. Please do be in touch at any other time if you wish to meet with me.
Have a great rest of the week.
September 27, 2018
The Nido continues to make strides in becoming a settled environment. The adults and new children are now familiar enough with each other to anticipate their wants and needs and we are seeing lots of moments of joy. We have started to venture out of the classroom more and more. We're enjoying trips to the gym, wagon rides, and regular playground time.
The junior high students have started to visit us regularly, in the afternoon, and the infants love seeing them. The older students read to the children, do activities, and help to feed and diaper them. In exchange, they are rewarded with the adoration of the babies and the experience of giving back to their own community. Next week we look forward to welcoming two more additions to our classroom. Heidi, a parent at TCH, will be on hand to assist our room as we transition them in.
This month we happened to ring in four first birthdays. Happiest of birthdays to Brooks, James, Rose, and Sloane
September 13, 2018
On the first day of the new school year we were definitely off and running with a bang! We welcomed several new children to our community and a few were very aware of being in a new environment without their usual familiar faces. However, by the end of the week we were already noticing a comfortableness settle in, and on Monday we experienced more of what will be our regular routine. Things have gone exactly as I had expected they would; no matter how much detail and planning goes into starting a new year there will always be a period of settling in. I always try to keep in mind that once we move through the early stages we always come out on the other side as a well bonded and familial group.
Thank you to all who attended our parent orientation night. Please save the date and watch for an email about our October 6th class picnic, taking place at the home of the Beers family. If you need more information about any of the details of our classroom please reach out to me.
Have a wonderful weekend, and keep an eye on your email inbox for tomorrow's Compass, it's packed full of information that will keep you organized and informed.