Welcome to the YCC Southwest classroom! I am looking forward to another year of learning and growing together. With great joy I will share with you the stories about what we have been working on in the classroom and provide ideas that you can do at home with your child.

"The child who has felt a strong love for his surroundings and for all living creatures, who has discovered joy and enthusiasm in work, gives us reason to hope that humanity can develop in a new direction." Maria Montessori

Agnes Woynarowski,
agnes@traversechildrenshouse.org




Agnes Woynarowski, YCC Guide
Heidi Benvin, Classroom Support
Carly Hernden. Classroom Support
Brian Thelen, Classroom Support




Room Parent
Sarah Kebler
Classroom Highlights
4/27/23
In the last Classroom Highlights, I wrote about tooth brushing. Dr Arielle Castine, Maggie's mom, shared with me some information about using fluoride toothpaste. Fluoride is actually super important to introduce as soon as the first tooth comes in. It's shown to decrease tooth decay significantly because fluoride re-composes the tooth's molecular structure to something stronger and more resistant! The teeniest rice size amount of toothpaste helps build that enamel strength!
Brushing hair is also a favorite activity in our classroom. Each child has their own brush and comb which are stored in separate drawers with each child's picture. Noa likes to walk around the classroom and offers hair brushing to her friends. She always has the right brush and a comb in her hand and brushes and combs friends hair simultaneously. It looks a little bit like tossing a salad, but so far everyone enjoys Noa's hair brushing.
Another popular activity that attracts the attention of the middle and older children is the case with costume jewelry. We have fancy clip-on earrings, necklace, watch, headband and glasses. Not everyone is fond of clip-ons, but at least everyone wants to try them on.
Look at our transformations:
I found some sprouting onions in my pantry and we placed them in glass jars to grow the greenpart. The children placed the onions on the layer of glass pebbles used for flower arrangements. Then they poured water in the jars. The pebbles were just a nice addition to the activity. The youngest children didn't quite understand what we were doing, but they loved to drop pebbles in the glass. We will use the green onions for cream cheese spread this week.
Many vegetables can be regrown from the kitchen scraps. The base of celery, romaine lettuce, or green onions can be placed in a jar with water in order to encourage roots to grow. The water needs to be changed daily and after a few days, new leaves start to grow. Of course, the plant needs a sunny window. It is an interesting experiment. If you and your child are patient enough you can plant the rooted base in soil and wait until it gets bigger. Green onions take about 1 week to sprout new leaves, lettuce takes 10 to 12 days to develop new growth. Celery takes a week to develop roots and 3-4 more weeks to grow stalks and leaves when planted in soil.
From the perspective of young children, gardening is a very abstract idea. Until they have actually experienced the process of growing a plant from the seed they do not understand and appreciate it. Often, they are attracted to gardening because it provides a sensorial opportunity - feeling soil, working with water, scooping and transferring soil and pebbles are providing more focus than actually sowing seeds, growing food. This is perfectly fine. They will make the connection when they see that the pumpkin seed grew a vine, and on that vine, there was a flower. And that yellow flower turned into a small green ball, which grew and grew and became an orange pumpkin- just in time for Halloween.
3/16/23
It was a pleasure to meet with you during conferences. Thank you all for working together with me on supporting your children's development.
The time change this week threw us off. It was especially difficult for younger children, who were ready for naps earlier than their usual time. Towards the end of the week everyone was adjusting well. We are looking forward to spring!
Few changes occurred recently in our community: Jamie and Harper moved to primary classrooms. Lyle will leave us in mid-April to join Megan's class. The oldest children seem to be very ready for more challenging work and complex conversations. We will miss them! They became such characters! I am sure they will share a lot of hugs with us, whenever we see them in the hallway. Sawyer, Owen, Noa, Maggie, and Isla took over Lyle's duties of feeding carrots to the school pets..
Thorin Nielsen joined our community about two weeks ago. Warm welcome to the Nielsen Family! Benny from Nido started his visits and will join our classroom after Spring Break.
You will be able to see new faces soon on our new classroom roster.
Max went on vacation to Nicaragua and brought chocolate for all of us to taste. The chocolate bar was made with 100 % cocoa beans. It was amazing to see the children's facial expressions when they tasted it. Some loved it, the others thought it was too bitter. We turned the chocolate left from tasting into hot chocolate, made in the Mexican way with cinnamon and vanilla. The children took turns mixing the chocolate in a pitcher with a wooden molinillo. While mixing, we were chanting:
Bate, bate, chocolate,
Tu nariz de cacahuate.
Uno, dos, tres, cho!
Uno, dos, tres, co!
Uno, dos, tres, la!
Uno, dos, tres, te!
Bate, bate, chocolate!
We have been peeling hard boiled eggs and since we had a lot of egg shells we put into use another gadget from the Mexican kitchen: molcajete and tejolote (mortar and pestle). After the egg was peeled and consumed with a pinch of salt, the children took turns grinding the shells for my chickens. They enjoyed hitting the egg shells with pestol made from lava stone and after the shell was broken into smaller pieces, it was grounded into a powder with circular motions. The oldest students had enough strength in their arms to be successful with producing egg shell powder. Chickens were very happy from this tasty supplement of calcium!
2/23/23
We celebrated Valentine's week by making heart shaped cookies, and Valentine cards decorated with foam heart stickers. We read stories about love and Valentine's Day. We sang: "Skidamarink" and listened to "All You Need is Love" performed by The Beatles. We looked at the language cards with objects that children can see around Valentine's Day. Some of our friends who have older siblings shared Valentine cards with their classmates.
Baking cookies was a very pleasant event. Many of the older children developed the skill of rolling dough and cutting shapes while working with playdough. They made cookies under Heidi's patient eye. I only made the dough using a stand mixer. Each child worked with a small amount of dough, which Heidi rolled on our bread board and the children cut out heart shapes. The leftover scraps were collected into a ball again and this time re-rolled by the child with a small rolling pin. Here is the recipe if you are interested. Baking cookies can be a weekend ritual. The dough can be stored in the fridge for a couple of days so it does not need to be used all at one day. In my house we have a ritual around Christmas cookies. Every year we freeze a metal cookie tin full of Christmas cookies to enjoy on rainy summer days.
I am sure that every family has their own rituals around food they eat, the songs they sing or people they celebrate the events/holidays with. Simone Davis, in her book "The Montessori Toddler" says, "Over time these rituals become familiar to our child, something to look forward to, and are often the things our children will remember the most from their childhood."

2/9/23
We have four little goldfish. They are doing great and it is rewarding to watch the children feeding them and washing the glass of the fish tank with a spray of water and vinegar. I am going to add live plants and some natural accents, but have been waiting for the good bacterias develop in water first.
In the last two weeks I have noticed a lot of concentration and purposeful work. All the activities involving water were in use. Isla washed her feet, Harper scrubbed the table eight times (need of repetition), Lyle washed his boots, Avery washed hands at the hand washing station, Owen washed dishes used for food preparation and Jamie washed everyone's wet shirts and dresses. The children are showing the need for increasing the time of work cycle. We have been sitting down for a snack just before 11:00 am.
Most of the snacks are prepared by children with our assistance. We made yeasted waffles , which were prepared a day before and the batter was left in the fridge to rise slowly. We also added hummus to our weekly menu. When we make something new we often taste ingredients. In this case it was hummus and we discovered that almost everyone loves garbanzo beans.
The oldest children have become very experienced with peeling carrots and we started to make carrot and apple juice again. Extracting juice from the fruits and vegetables requires a lot of preparations like peeling carrots, cutting apples in quarters and removing seeds, and pulling grapes off the cluster. The oldest children understand the process behind preparing a particular recipe. They experienced tasting a beverage so many times that they look forward to making it again. The preparation starts with going to the kitchen to gather ingredients. It is like a trip to the store. Sometimes we invite younger children to come along. The child under two years old can hardly wait until we get back to the classroom before they bite the apple. The oldest children patiently carry the baskets full of goodies, unload them in the classroom and return the empty baskets to the shelf in the coat room. Then they patiently get to chopping, peeling, mixing. When making hummus, juice or a smoothie the exciting moment is when we have a taste of what we created. With baking we need to have patience to wait until the cake, bread or muffins are done.
I would like to encourage you to take your child for a trip to the store. I am not thinking about weekly grocery shopping, which can be overwhelming for you and your toddler. Just a short trip to Oryana, or any other small, family friendly store where your child can help pick up just a few familiar items, which they can pack into their small tote and carry to the car by themselves. This will make them so proud! You are always welcome to pick up veggies for our weekly juice. Carrots, beets, ginger root, celery, pineapple or a bag of spinach are always welcome.
1/25/23
There have been weeks when it is difficult to find something to write about, because almost all of our days follow the same routine. We stick to this routine and similar activities, bringing something new only when the children's interest is diminishing. This is what the young child needs: a strong routine which allows for predictibility. Young children are in a sensitive period for order. They need the same, familiar people around, the same familiar environment and the routine that is constant. Sometimes it seems that toddlers create a lot of chaos around them, but it is our responsibility to put all the elements together and restore order.
Restoring the order was what Heidi, Carly and I did most of these days. What a funny week it was! The children seemed very unsettled. They were moving a lot without purpose and concentration and we tried to observe how we could help them. Usually around 9:30 everything falls in place and the classroom becomes peaceful with children engaged in independently chosen activities. This time of the year seems to be a little challenging for everyone. Sometimes children feel extremely tired, sometimes they exhibit signs of cabin fever, sometimes they feel sad. We bring comfort and provide opportunities to play outside. We prepare healthy and delicious snacks to boost energy and create enjoyable experiences.
This week Noa and Maggie made banana applesauce muffins for our snack and Jamie baked delicious bread. We are making smoothies, toasts and popsicles. Lyle takes care of all the animals at school. Every morning he peels carrots or cucumbers, then slices them into chunks and we go on a walk around the school to feed Fonz (Michele's dog), Gus (Britny's guinea pig), snails, and Fonzie (Betsy's guinea pig). I hope that before Lyle moves to primary, he will train another friend to take on the pet feeding responsibilities.
We have been having many discussions about insects recently. One of the books had realistic pictures of caterpillar and praying mantis. The children studied the book intentionally and one of our friends stated that he didn't like the caterpillar, and I was corrected when I introduced the name of the mantis, that it was called a helicopter instead. I put the models and cards of insects on the shelf and we are learning the names and also trying to become familiar with these little creatures and not to feel nervous around them.
Another language work that we have on the shelf is matching fruits and vegetables with corresponding cards. The youngest children are always trying to bite on a plastic banana or oranges. I brought a few fruits and vegetables from the kitchen and we talked about the difference between plastic object and real fruit. We smelled the various fruits, felt the textures, and we forgot about the items left on the table. This is what happened:
1/12/23
Happy 2023! The children were eager to be back at school with their friends and favorite activities. Everyone came back taller. They have been baking bread, muffins, pancakes, waffles or making spinach - fruit smoothies with a bit of help from us. New playdough needed to be made and one of the children cooked it with Heidi!
Avery Dow and Jett Zelinski who just joined our community have settled in nicely and feel comfortable with us. Welcome to Avery and Jett's families! Jett is the third Zelinski sibling coming to my classroom. The presence of new younger children shifted the dynamics in the classroom. Max, Noa, Isla, and Maggie became the older children in the classroom and they are reaching for more advanced works like bread making or dishwashing.
I would also like to officially announce that Carly Hernden became my new Classroom Support and team member. The children accepted her with great ease and sought her assistance when they needed help. Thanks to Carly's intuition and sensitivity to children's nature, the transition of a new adult to the classroom became very natural and easy. Carly's schedule is from 8:00 to 1:00 everyday. Rachel moved into a role of substitute teacher and the children still see her around the school.
12/15/22
We have been talking about the coming holidays. The children shared with us what surprise they have been expecting from Santa. Everyday someone decorates the small Christmas tree with ornaments and we have been practicing "Jingle Bells", "Deck the Halls with Boughs of Holly" , and "Oh, Hanukkah". The Menorah and yarmulke from our language work fascinate the children. We were even trying to dance Hora!
You might have heard from your child about our fish. After Thanksgiving, there were only five fish left in the tank. I knew they weren't doing well. For about a month they stayed at the bottom of the tank and acted lethargic. I had them for a very long time and am not sure how old they were. I have inherited the tank and fish from another teacher. The fish never had names since there were many of them and they looked alike. This week we started to lose a fish a day and now our tank is empty. I showed the older children the dead fish and we talked about what is going on with a fish body now. Brian and a group of oldest children buried the fish in the flower garden: each child took turns digging a hole in the ground and they laid the fish on the leaves, covered with soil and marked the spot with a stick. They said a few nice words about the fish and talked about how the fish body will help the flowers grow.
It is hard to talk to young toddlers about the end of life and death. In primary the children will learn about the cycle of life and will organize their experience from times in YCC classroom. Many of you own pets and by the time you will be dealing with your pet passing away your child will be able to understand more and even express sadness. There are wonderful books that will help the child understand the cycle of life and death: "The Tenth Good Thing About Barney" by Judith Viorst, "When a Pet Dies" by Fred Rogers, and "Something Very Sad Happened: A Toddler Guide To Understanding Death" by Bonnie Zucker.
I am sorry for writing about death just before holidays, but I wanted you to know what was happening and the passing away of the fish was an important event. I am planning to give the tank a good scrub and we will get new, different looking fish with names!
Happy Holidays! Enjoy your time with family and friends!
12/01/22
Thank you for the food you sent for our Harvest Feast. Everybody enjoyed it! We kept leftovers of cranberry sauce, which was very popular. We added it to the apples and made an apple crisp which we ate with vanilla yogurt on top. Lyle made the topping, Abel chopped the apples and Harper spooned the cranberry sauce that Jamie's mom made for us. It was delicious! Here is the recipe. We didn't add any sugar to the apples, just the brown sugar to the topping.
About three weeks ago I introduced a new routine into a classroom: we started to place bowls and platters with lunch food on our side board and older children have the opportunity to bring their plates to the side board in order to get more food. The children are eating better and becoming more independent. Sometimes they forget and still say: "I want more…" And we usually ask them back: "What can you do?"
The week before Thanksgiving break Heidi or I took the children for walks around the campus. We were practicing walking in the deep snow. The children enjoyed the walks and they often asked if we were going to get flowers or carrots from the garden. This was a great opportunity to check if there were flowers in the garden and explain to toddlers what is happening. Owen and I were looking for the rise beds with carrots but everything was covered with a foot of snow. There are still carrots left and they are even sweeter after the touch of frost. Peeling the carrot for Betsy's guinea pig became a very popular activity.
Older children like to make tea everyday. Maggie and Noa are frequent guests for tea with honey. We use the teapot without a lid, because it is difficult for a toddler to coordinate pouring tea and hold the lid at the same time. Before we started making real tea we practiced names of all the objects involved in making tea: tray, teapot, lid, teacup, saucer, teaspoon, pitcher, tea tongs, tin, and tea bag.
Great changes are coming for our community . This is the last week with Abel who starts in Megan's classroom on Monday. Kollins will be starting in Tayler's class after the holiday break. We certainly will miss these two great personalities. Avery Dow from Nido has been visiting our classroom past weeks and Jett Zelinski will start with us in January. This is only the beginning of changes, Jamie, Harper, and Lyle will be moving to primary classrooms in Spring.
11/10/22
I enjoyed meeting with you during the conferences and having conversations about your children. Thank you for your trust and honesty. We enjoy your children so much!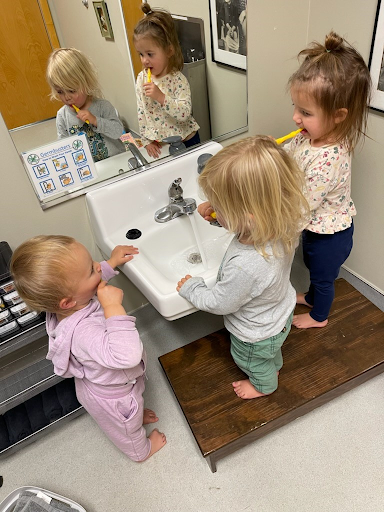 Last week rewarded us with beautiful, warm fall weather. We took morning walks around the campus, often coming back with hands full of fresh carrots pulled from the garden. The carrots accumulated in our fridge and finally it was time to get the juice extractor into operation. First we walked to the kitchen to see what we could find. When all the ingredients were gathered, the older children got to work peeling carrots and chopping apples and pears. We use the ceramic peeler in the classroom, which is safer than metal blade and also works well with cucumbers and root vegetables. Jamie and Harper peeled the carrots and adding oranges, apples, and grapes we made a delicious beverage, Usually I let the children push buttons of blender, food processor, and mixer etc., but the juice extractor is more complicated and powerful, so they only watch how the machine shoots out colorful juices of fruits and vegetables, which settle in layers in the pitcher: purple from grapes, orange from carrots, and pale yellow from apples. The children took part in the preparation of the fruits and vegetables. Everybody loved the juice and asked for more. You probably wondered about the orange color on your child's face and clothes.
Another favorite activity is brushing teeth. We started with just a wet toothbrush and moved towards brushing teeth with baking soda. This week I introduced fruity non chlorine training toothpaste, but many older children prefer dipping toothbrushes in baking soda.
Brushing teeth is a great activity for teething children.
We are learning about Australian animals so you may hear children talking at home about Tasmanian Devil or Cassowary. We listened to the sounds made by the Tasmanian Devil and we learned that they bark like dogs. The other animals in the set are: koala, wombat, kangaroo, wallaby, tree kangaroo, platypus and the kiwi bird.
10/27/22
The children have been practicing taking off their clothes and putting them on. Especially the youngest children who love exploring water, they need to change shirts often during the day. Getting wet provides an opportunity to practice dressing skills. Nap provides the opportunity to practice putting socks and shoes on. Colder weather provides an opportunity to learn how to put a coat with an "up and over" method and practice zipping and unzipping coats.
We have been singing songs about pumpkins and Halloween and talking about decorations, costumes, and other symbols that the children may come across during Halloween. Showing children how holidays are celebrated in our culture helps them adapt to time, culture and space. Adaptation to life is one of the goals of toddlerhood.
We have some simple books about Halloween and language cards with images of Halloween. This holiday can be scary for a young child. Seeing a person in a costume or in a mask may upset their sense of order or they might not understand that the costume is not real. Sometimes your child may protest against putting a Halloween costume on, because of sensory reasons. The costume may feel too fuzzy, too ticklish, too scratchy or too bulky. Your child may not have enough words to express that they don't like something and the outcome of it can be screaming for help that looks like a tantrum. We can help the children understand the idea of Halloween costumes by using vocabulary like: "Abel is wearing a wolf costume, he is pretending to be a wolf, but he is not a real wolf. It is Abel dressed as a wolf." Heidi brought two costumes that belonged to her children: a lady bug and a wolf. During the group time Rachel presented the concept of putting the costume on. Jamie and Abel volunteered to wear the costumes. Lady bug brought a lot of smiles on younger children's faces, but the wolf was scary. Nobody cried, but suddenly Maggie left the group and moved to the other side of the room close to Heidi. We will continue to try the costumes on during the group time. I considered having a costume on the shelf as work but decided against it. It would cause too much interruption during the morning work cycle, having a roaring wolf in the classroom.
| | |
| --- | --- |
| | |
| | |
Rachel carved a Jack-O-Lantern and we enjoyed looking at the candle's flickering light through its happy grin. We have been singing songs from Kathy Reid-Naiman's cd "When It's Autumn". "Roll That Pumpkin Down To Town", and "Five Little Pumpkins" are requested a lot.
Happy Halloween!
9/29/22
The autumn weather surprised us this week with pouring rain and colder temperatures. But we were not put off by the cold and wetness, we embraced it with courage and resilience. Dressed in rain suits, rain boots, and bundled up in fleece hoodies and hats, we would go outside everyday. The oldest children welcomed the rain with enthusiasm, chasing each other at the playground, jumping into puddles, and collecting dripping water into buckets. They would be the last to come back to the building with Brian, ready to change into dry clothes. The weather was the most challenging for our youngest children. We tried to help them feel more comfortable by showing a positive attitude to the situation. We would sit under the awnings, watching babies from Nido through the glass in the door or huddling under the pine tree singing songs and commenting on how much fun our older friends are having. I have confidence that next fall all the youngsters will be running in the rain with excitement, wondering why the new group of friends is not appreciating the opportunity to swim in the puddle lakes at the playground.
Sometimes it is hard for us adults to share childrens enthusiasm about snow or rain, but it is important to teach them that they can beat the weather with proper clothing. In YCC toddlers go out everyday, even if it is only 15 minutes in winter. It is important to keep the schedule. Young children thrive in an environment that is routine oriented and going outside everyday before nap/sleep helps develop healthy habits. We also are trying to show the children that they have nothing to fear from the weather.
We celebrated Sawyer's birthday this Wednesday, baking an eggless chocolate - vinegar cake. Sawyer didn't want to work on the cake so the cake was the result of community work. We will have another celebration in April next year, when Maggie and Noa turn two. It is seven months away and hopefully the children will not get out of practice.
I would like to invite you to the discussion about the book "Montessori Toddler" by Simone Davies. Please RSVP for the event (and arrange for child care, if needed).
9/15/22
We had a fun summer here in TCH. Our dear friends Teddy and Leland left us to start their new journey in Primary. They meet us every day by the fence dividing the two playgrounds with big grins on their faces and proud words: "I am in primary, but you are still my friend." Abel, Kollins, and Harper were up to the task as they filled Teddy and Leland's shoes. They welcomed our new friends into our Young Children's Community. Abel decided to help Noa, Kollins is often seen holding Maggie's hand, walking together to the playground. Harper still loves to take care of Sawyer. Kaia and Max just love to hang around adults. Next Monday Isla will start her journey in YCC and we will be settled until Abel leaves us in December to start his journey in primary.
This is the beauty of working with children. It never gets boring, we are going through constant changes. Few of the youngest children are still crying on and off, but I trust within a couple of weeks we will all be settled into the new routine. Even through the tears the children are observing what is going on in the classroom and gaining experiences.
After a long break we have been baking bread again. Kneading, squeezing and punching the dough is the best part. We have been smelling the yeast working in the dough and feeling the changing consistency of the bread dough: from sticky to smooth. We have been enjoying fresh bread for snack in the afternoon.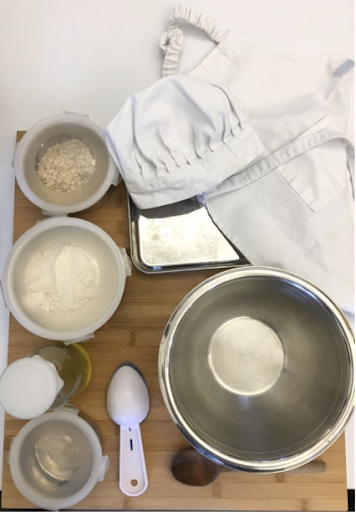 Here is our recipe:
Container #3
½ cup oats, optional (or whatever you have on hand - cloves of roasted garlic, sliced kalamata olives, cinnamon and raisins, parmesan cheese and minced garlic, etc)
Container #2
Pitcher
½ cup warm water

¼ cup olive oil
Container #1