Dear Families,

I am excited for our school year together! I feel truly lucky to be a part of your child's education. It is important for the children to feel at home in the classroom and come together into a learning community. Our community is made up of unique individuals each with their own learning style, strengths, interests, history, hopes and dreams. I look forward to being a partner with you in your child's learning experience.

Thank you,
Alison Breithaupt
alison@traversechildrenshouse.org

"Education is a natural process carried out by the child and is not acquired by listening to words but by experiences in the environment" -Dr. Maria Montessori




Classroom Highlights
4/26/23
This is the time of year we start to do some spring cleaning and dig into what needs to be organized or given away. With this, I am asking for donations to our extra clothing supply. If you have some gently used 3-5 year old t-shirts, long sleeved shirts, pants, underwear for boys/girls, mittens or hats this would be greatly appreciated. Also, please check if you have any TCH clothing at your house, and please return it. Marisa, Taylor and I try hard to communicate with you on what is needed in your child's clothing supply. However, there are moments when we need to dip into our extra supply. A note went home this week specifying what your child may need in their cubby. Always be sure to check your child's backpack daily for these notes or clothes that may be coming back and forth. Here are some photos of our lost and found. Please, take a moment to see if any of these items might belong to your child and always remember to label your child's belongings. Thank you so much for your support with this!
Last Friday afternoon, we had a visit from a fire truck, a firefighter and a few supporting crew members. The children were taught about the importance of having a fire plan, what to do during this plan and how they should always feel like it is okay to go to the firefighter in the event there would ever be a fire in their home. The firefighter showed the children how he is safe and the uniform he needs to wear when fighting a fire, including the oxygen mask and tank. We took a walk outside to tour the fire truck. The children learned about many of the heavy tools and controls that encompass the fire truck.
We will be celebrating Cinco De Mayo next week. It is a tradition in our classroom to make a pinata. If you have any newspapers laying around your house, we would love to use them for our project. Feel free to bring them in this week! Thank you!
We talked about Earth Day which was on April 22nd. The children and I had a conversation about how we can take care of our planet. There were many great suggestions, including picking up trash and planting trees and flowers. We read a book about ten different things we can do to help our earth stay healthy. Don't be surprised if your child asks you to unplug your TV. ™ "The land is where our roots are. The children must be taught to feel and live in harmony with the earth." -Maria Montessori
3/16/23
This week we talked about the water cycle. We discussed how the sun heats the water, causing it to evaporate and become water vapor. This causes the water from puddles to dry up. The water vapor then rises up into the atmosphere, where it may condense and eventually fall back down to earth as rain, snow or sleet. The children practiced the words evaporation, condensation and precipitation and how they play a part in the cycle. We have created our own water cycle using a bowl, water, plastic wrap and a lamp. As the lamp heats the bowl of water, the water evaporates and creates condensation while it precipitates down the side of the bowl.
In representing International Women's Day, we highlighted Josephine Baker. She was an American-born French dancer and singer who symbolized the beauty and vitality of Black American culture, which took Paris by storm in the 1920's. After receiving many awards for her work in entertaining the troops in Africa and the Middle East, she proceeded to adopt many babies of all nationalities in the cause of what she defined as "an experiment in brotherhood" and her "rainbow tribe." She adopted a total of 12 children. Later, she traveled several times to the United States to participate in civil rights demonstrations. We discussed the discrimination women experienced before the 20th century. It was inspiring to listen to the children feel the compassion for women and demand the rights for women today.
With St. Patrick's Day this week, we have been talking about the symbol of the shamrock. The three leaves of the shamrock represent faith, hope and love. It also symbolizes Ireland and its heritage. It reflects the idea of spring and rebirth. We read a book about the history of St. Patrick's Day and how many places in our world might celebrate this holiday. Ask your child where the biggest celebration of St. Patrick's Day is and how it is celebrated.
2/23/23
Recently, we did a science experiment involving static electricity. I explained to the children how static electricity is the build up of the electrical charge in an object when it is rubbed against another object. Static electricity causes objects to stick together when they have opposite charges repel when they have the same charge. Common examples of this include rubbing a balloon on your head or sometimes going down a slide causing your hair to stand up. I showed the children by rubbing a plastic comb on the carpet and then holding it up to several different types of strings to see what would happen. Ask your child how the thread, ribbon or yarn reacted to the comb.
The children are learning about the art of Wassily Kandinsky. He had a love for abstract art using geometric figures, lines and concentric circles. He believed the circle is the most peaceful shape and represents the human soul. He also believed color meant more than just a visual component of a picture. Color is its soul. The children are creating their own Kandinsky using the squares with concentric circles. This will be created by using watercolor and oil pastels.
We had a heartfelt celebration of Valentine's Day. The children enjoyed sharing their Valentine's with all of their classmates. Each child also created a secret Valentine for another child in the class. As they passed this Valentine to that special person, it was wonderful to observe the pride they felt in giving this gift to another and the joy from the recipient. The children also made heart shaped pizzas by making the dough, rolling it out and shaping it into a heart. It was definitely a favorite snack we all shared together at group time. Each of these moments of showing love and care for others was a reminder to all of us to continually share this appreciation for others in our lives. As a class, we talked about the meaning of this holiday and how there are many kinds of ways we can show others we care.
New Date for Parent Visiting Day:
Wednesday, March 1
8:30-9:30 am
2/9/23
We have been talking about Lunar New Year or the more well-known celebration called Chinese New Year. This event is celebrated by numerous cultures in various ways at diverse dates. As a class, we read a book about Chinese New Year. The children have the opportunity to practice writing Chinese characters. The kindergartners have been making lucky papers to hang outside our classroom doorway to bring good luck. This week the children practiced using chopsticks while eating longevity noodles. Ask your child what the long noodles mean?
Did the groundhog see his shadow this year? Yes, he did! Last week, we talked about the little town in Punxsutawney, Pennsylvania where there is one special groundhog. His name is Punxsutawney Phil. On Gobbler's Hill, people gather to wait for Phil to come out of his hole. It is quite a celebration and has been a tradition dating back to the 1800's. If Phil sees his shadow there will be six more weeks of winter. If he doesn't see his shadow, we will have an early spring. Sometimes Punxsutawney Phil is right and sometimes he is wrong. It is all in good fun.
We have been reading some children's poetry lately at group time. The children have been pointing out the rhyming or patterns in these poems. As the children listen to these poems, It is encouraging to see the excitement and enjoyment in listening and hopefully, creating their own poems. Some of the children enjoyed memorizing a poem.
I Eat My Peas With Honey
I eat my peas with honey.
I've done it all my life.
It makes the peas taste funny.
But it keeps them on the knife.
-Anonymous
1/25/23
Last Friday, a cellist named Jordan Hamilton came to perform for us in the gym. He is trained as a traditional cellist and also offers his talents using an electrical cello. He currently teaches children the cello and is performing at the Dennos Museum for the next month. Jordan was entertaining and gave the children a fun view into what a cello can do musically. He played a Sebastian Bach piece and followed with some fun experimental sounds and rap with the electrical cello.
This week we talked about the biggest organ of the body. The skin! It is very important for keeping our organs and body fluids in our bodies. The dermis contains many nerve endings just under the first layer of the epidermis. These nerve endings send warning signs to our brain to alert us if something is hot or cold. It also helps us to feel textures. Ask your child where the thickest and the thinnest part of the skin on our body is. We will be using the thermic bottles in our classroom to practice matching different temperatures of water. This material refines a child's thermic sense and memory through pairing and grading activities. Each pair of cylinders is filled with water of different temperature: cold, cool, warm and hot.
A special sight in any cave are the strange and one-of-a-kind formations known as speleothems. Stalagmites and stalactites are a form of these. Stalactites grow on the ceilings of caves and are formed from minerals in the water that drip from the cave ceilings. Stalagmites grow from the ground of caves, are usually found right under stalactites and are also formed from the minerals in the water that drip down from the stalactites. By using two jars, baking soda, water and a string we created our own version of speleothems.
1/12/23
This week we have been talking about Martin Luther King Jr. and the importance of racial equality. We discussed the work Martin Luther King Jr. did to end legal segregation of African American citizens in the United States in a peaceful and nonviolent way. We read a book about the beauty and the uniqueness of skin color. It is what makes our world beautiful. The children have the opportunity to create a drawing of people using multicultural crayons.
We had fun this week having a new experience with trying a pomegranate. The pomegranate primarily grows throughout tropical Africa and parts of Asia. They are high in fiber, vitamins and minerals. The children watched as I took apart this unique fruit. They all enjoyed trying the seeds and asked for seconds. What a fun fruit for your children to experience at home! They would enjoy taking the seeds out of this fruit and it is a great activity for strengthening their hands.
I read the book The Snowy Day by Ezra Jack Keats. Keats' illustrations helped pave the way for more inclusive and diverse children's literature. The collage work displayed in the book, became an idea for the children to create their own collage of a snowy day using colorful decorative paper and cotton balls for the snow.
12/15/22
What a wonderful fall semester we've had! We have had lots of fun, we've grown as individuals and in our relationships and, most importantly, we've grown together as a community. As always, the children are a joy to spend our days with - thank you for sharing them. Juniper recently moved up to Primary. Congratulations Juniper. We are excited for you, but we will miss you!
In the classroom, the children have been very interested in language cards which feature the holiday season - Hanukkah, Three Kings Day, St. Nicholas Day, Yule and Las Posadas. We also have a small evergreen tree which they've enjoyed decorating (and redecorating and redecorating) with small ornaments. They also created a fingerprint 'string of lights' ornament for your home.
Going home this week, you should have received a new copy of our classroom photo roster. I've found that these help to have at home during longer breaks - so you can talk with your child all about their friends. We'll also send home all of your child's extra clothing, so you can take stock and return what you wish come January.
I hope you have a wonderful Winter Break. I can't wait to hear all about your time together as a family and your outdoor adventures - maybe I'll even see you out on the slopes.
See you in January!
12/01/22
I hope all of you had a wonderful Thanksgiving with your families. As we celebrated our Harvest Feast at school last week, we took the time to think about what we are thankful for and shared it with each other before our meal. The room was filled with a lot of gratitude for each other and our families. Our tables were adorned with the beautiful decorations the children created and the children felt proud of the food they were sharing with others and enjoyed eating the variety of choices.
The Skegemog Raptor Rehabilitation Center came to our school in the afternoon of November 11th. We were educated on the mission of the program by increasing our awareness about wildlife, ecology, and environmental issues as they relate to raptors. The staff there
are able to rehabilitate sick, injured and orphaned raptors with the goal of returning them to the wild in a fit and healthy condition. We had the pleasure of meeting four types of raptors with the best bird's eye view. After the children were able to touch and observe some of the bird's feathers, they took some time drawing the feathers.
We recently finished reading Helen Keller's biography called Who Was Helen Keller? The children learned about a person who worked hard to achieve her goals even with extremely difficult challenges. It was not easy for Helen as she had some hard setbacks, but she persevered. The children were able to feel an example of Braille in our classroom and practice the American Manual Alphabet. We also did an activity using partners to guide us blindfolded in the classroom by touching objects and guessing what they were. We discussed this as being our stereognostic sense. It is a sense (sometimes called tactile gnosis) that requires a person to identify an object without looking, smelling, tasting or hearing it.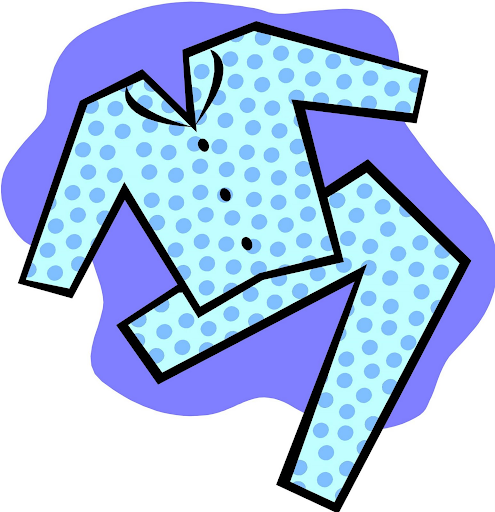 PAJAMA DAY!
DECEMBER 16TH
*Please, keep stuffed animals and pillows at home.
Music with Kindergarten
The Kindergarteners have started their ukulele journey! They have been eager to get underway playing and learning all about their new instruments. They have learned the name of several different parts of the ukulele, how to hold and strum, and are getting the hang of their first few chords. They eagerly ask when they are going to get a new chord to learn. So far we have several songs to play and sing for each chord individually and one song that they are learning how to change between three different chords. Ask them which one is their favorite!
Art with Kindergarten
For our first class together this year the students and I drew penguins together. We started with the number 8 for our penguin bodies, first in pencil and then in black crayon. We added one eye with our crayons and talked about how it looks different when something is looking to the side instead of straight on. After filling in our penguins with black, leaving the bellies and the eyes white, we added orange beaks and flipper feet. We then discussed how to make the penguin look like they were standing on ice with a blue painted sky. The students painted a line on both sides of the belly and filled in the sky above. They were a fantastic group of kids to work with for the first time and their penguins turned out fabulous!
11/10/22
As I mentioned in my conferences with each of you, we will be focusing on American heroes in history of all different ethnicities. Recently, we talked about Rebecca Lee Crumpler, the first African American woman in the United States to become a doctor. At the time, many white male doctors looked down on the school New England Female Medical College. They believed women were incapable of practicing medicine and that studying human anatomy was inappropriate for women's "sensitive and delicate nature." However, Rebecca knew she had the strength, experience, and talent for a career in medicine. After enduring harsh racism from the faculty and administration, she continued to work hard and earned her medical degree. Rebecca took care of the people who needed her help the most, particularly African American women and children living in poverty.
Our heart is our body's pumping station. This week the children and I talked about our heart being a muscle that pumps blood throughout our body. Our hearts beats 100,000 times a day and is a special muscle that never gets tired. Every time our heart beats, it is contracting (squeezing) to pump blood. Special flaps, called valves, are pushed open by the blood flowing back again. As the valves shut, they make the sound of the heartbeat. The children have the opportunity to use a stethoscope to hear their own heartbeat.. Ask your child what happens to their heart when they run outside?
We had a special visitor come to our classroom this week. Paula, who is a German exchange student who is staying with the Miklos family, was able to talk with the children about Germany and share a song and some words in German. The children enjoyed asking questions and it was interesting to hear the differences and similarities in our cultures. What a great experience for the children to meet Paula.
Music 11/09/22 - Kindergarten
The Kindergarteners have started their ukulele journey! They have been eager to get underway playing and learning all about their new instruments. They have learned the name of several different parts of the ukulele, how to hold and strum, and are getting the hang of their first few chords. They eagerly ask when they are going to get a new chord to learn. So far we have several songs to play and sing for each chord individually and one song that they are learning how to change between three different chords. Ask them which one is their favorite!
10/27/22
We are having fun with invisible ink! The children have been writing secret messages while learning how to reveal them scientifically. Using lemon juice to design their message, allowing it to dry and holding the paper up to a light to reveal the secret message. Lemon juice contains carbon compounds that are colorless at room temperature. The heat source (in this case the light bulb) breaks down the compounds and thereby releases the carbon. The carbon oxidizes when it comes into contact with the air. It then turns brown, making your invisible message visible under the warm light bulb.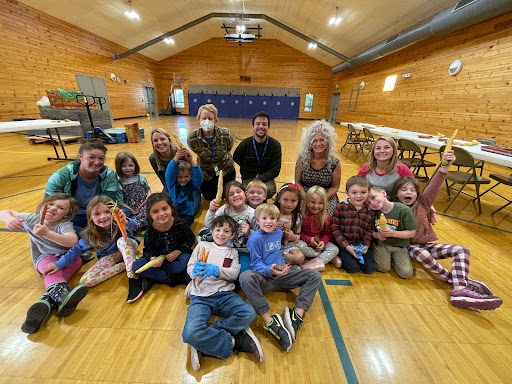 This week we read a book called Let's Pop, Pop, Popcorn! Beginning with the planting of seeds, the cycle moves through the caretaking of the plant (watering and weeding), all the way to its harvest. Finally, it's time to shuck and then pop the kernels. The children learned about the starch called endosperm and the shells called pericarps. In the end, we popped some corn with the air popper and enjoyed some popcorn together.
Last week, the kindergartners had a presentation in the gym by Goodwill Food Rescue. The children learned how 31% of our food supply goes uneaten in the United States. Much of the food is perfectly good and safe for consumption, and it could otherwise transform into meals for those facing hunger in our communities. This program rescues food from many large stores in our area. The children became volunteers by loading up 800+ pounds of carrots into boxes to be distributed to many of those in need. The children had so much fun and felt proud of their participation with this program.
10/12/22
Last week the children helped to prepare some applesauce. Each child took a turn by using an apple machine which peels, slices and cores the apples. They really enjoyed this process and learning about the mechanics of the apple machine. After the apples were all ready, they were put into the crockpot. We were able to smell the wonderful smell of the apples cooking throughout our day. The next day we added some cinnamon and served it for our snack. There were many children raving about the applesauce they helped to make.
As a class, we talked about Indigenous Peoples' Day which is celebrated on October 10th. It is a day where we honor the immense contributions that Native Americans have made to the world. It means as a country, we will recommit to upholding our trust and treaty responsibilities to Tribal Nations. I talked about how the Indigenous Peoples were forcibly removed from ancestral lands and banned from worshiping or performing many sacred ceremonies. Yet today, they remain some of our greatest environmental stewards. They maintain strong beliefs that still feed the soul of our nation.
With Halloween approaching, we discussed the many decorations the children may see around town, some being bats and skeletons. Last week, I showed the children some pictures of bats and we talked about how bats are very helpful in eating mosquitoes and other bugs, how they are the only flying mammals, and how they are nocturnal and what this means. We also sang some songs about bats. This week we focused on skeletons and bones. We all have a skeleton and it is very important in giving us the ability to move and protect vital organs in our body. Ask your child where the longest bone and the smallest bones are located. Sometimes these Halloween decorations can spark some fear in our children. Learning about them can help to take away this uncertainty.
9/29/22
Fall is in the air! The children and I have been reading books about the signs of autumn. What animals hibernate or migrate? What types of foods can we harvest this time of year? We have also been singing some songs related to the season.
Pumpkin, pumpkin on the ground
How'd you get so big and round
Planted as a seed so small
Now you are a great big ball
Pumpkin, pumpkin on the ground
How'd you get so big and round
We enjoyed tasting some different kinds of apples this week. I brought in Red Delicious, Granny Smith, McIntosh, honeycrisp and Gala apples. The children had fun tasting each apple and describing whether it was sweet, tart and/or crunchy. It is important for our children to experience different foods. Children are "hands on" learners. They learn by exploring and manipulating objects in their environment using the five senses: seeing, touching, tasting, smelling and hearing. This full sensory experience helps with language development, problem solving skills, concentration, and comfort in trying new things.
We took a close look at Henri Matisse and his life as an artist. The French artist used color as the foundation for his expressive, decorative and large-scale paintings. He had a passion for bringing color into the world. He felt it made people happy. The children had a lesson on creating their own replica of Matisse's work by using colorful geometric shaped tissue paper on a framed background.
Please join us on October 10th @ 4:00-5:30 p.m. for Montessori Up Close: Diving into the Primary Curriculum. Hope to see you there!
9/15/22
What a wonderful start to our school year! It has been so great to watch the old friendships come together again and begin to see new relationships start to develop. Part of being in a classroom community like ours is learning how to work together. The children have been receiving and practicing many grace and courtesy lessons lately. For example, the children have been learning how to observe someone else without disturbing their work, how to wait for my help without interrupting my lesson with another child and how to say, "excuse me" when someone is in their way. We will be continuing to practice these lessons and other grace and courtesy lessons throughout the school year.
Once a week at group time, the children will be learning Spanish and practicing the language. This week the children practiced how to say, "Hola, como estas?" We practiced a song that included:
Hello, hello, hello and how are you?
I'm fine, I'm fine
I hope that you are too.
Hola, hola y como estas?
Estoy bien, estoy bien
Espero que tu' tambien
As we work with your child at school to become more independent, I encourage you to do the same at home as well. Giving 'our little people' the gift of independence lets them know that we value them so that they grow up with a strong sense of self-belief that they can do anything they put their mind to. Not only does this help our children grow and develop, but it also fosters them to be confident and competent communicators, curious and resilient explorers, and creative thinkers.
How do we do this as parents?
Stop Doing Everything for Them Although it may be easier to just do things yourself, this teaches your child nothing about the task at hand. Show them, teach them, and then let them handle these tasks on their own. If they need help, they'll ask for it.
Love, Respect and PatienceAlways show your child love, respect and patience. When these components are present, a child's confidence builds. As a result, they will be more apt to go off and try things on their own. If they know they are supported and will not be ridiculed for making mistakes, they will feel more encouraged to try things independently.
Teach Them Life SkillsOne day, your child will grow into healthy adults. And, when they do, they need to have basic life skills which include things such as cooking skills, laundry skills, money managing skills and the ability to follow through.
Give Them Responsibilities Since everybody is living under the same roof and are making messes, everyone should be responsible for keeping the home clean. Chores will undoubtedly help to teach your child valuable life skills, the value of hard work, responsibility and respect for themselves and others.
Show ConfidenceAcknowledge your pride in their accomplishments. If your toddler washed their hands on their own after using the restroom, that deserves a thumbs up! " I knew you could use the sink all on your own. "
Create an Independent EnvironmentLet your child figure things out. Using their own minds and capabilities to solve problems and accomplish tasks is huge. Also, give them space when they need it. Alone time is healthy. It allows your child to gather their thoughts, think about their next move and create a plan. Allow them to pick out their own clothing or pajamasAllow them to choose their fun activity; coloring, book, painting, etc.
Let Them Make MistakesYour child is going to make mistakes…it is inevitable! We all do. That's how we all learn. Show confidence in their abilities. Even if they make a mistake, and they will, tell them how proud you are of them for trying.
Stop Trying to Raise a "Happy Kid"Your job, as a parent, is to raise a well-adjusted individual who can manage life outside the safety net of your home. "Letting go" of needing to feel in control of your child's happiness allows you to redefine parenting into teaching self-efficacy, which is a skill that has a much greater chance of ensuring a fulfilling and meaningful life for your child.
Set Boundaries and ExpectationsThese boundaries and expectations are opportunities to teach problem solving, relationship repair and accountability. Practice offering choices within your comfort level. For example, a small boundary could be, "If you oversleep this morning, I will have to stay at work later so I won't be able to drive you to your friend's house like you planned. "
You may not want your little ones to grow up too quickly, but independence is something they need to learn. If they don't, then they may react with anger and resistance, suffer from feelings of abandonment and develop a seemingly indifferent attitude.
The last thing we want for our children is for them to feel insecure and to be vulnerable to external hazards, so start to encourage independence now. This will help them to develop into strong, competent and capable adults ready to take on the world and its challenges.