A Montessori environment is unique in many ways. From the child-size furniture to the art hanging just at their level, it is a truly special place. It is with such gratitude that I look forward to the year ahead getting to know each of your children and families and watching them learn and grown. My goal for each child is to feel at home, empowered, and inspired to follow his or her own unique interests. Your partnership is so important in this journey and in building our classroom community! I look forward to a wonderful school year!

Best,

Allie Bukowski
allie@traversechildrenshouse.org

"That humanity which is revealed in all its intellectual splendor during the tender age of childhood should be respected with a kind of religious veneration. It is like the sun which appears at dawn or a flower just beginning to bloom. Education cannot be effective unless it helps a child open himself up to life." Maria Montessori

Allie Bukowski, Primary Guide
Amy Belovich, Substitute Guide
Anna Foulkrod, classroom support
Emma Kelly, classroom support

Room Parents
Melanie Davis
Abby Taylor
Classroom Highlights
3/15/22
What a gift the sunshine and extra time outdoors without our bulky gear has been this week! As April is national poetry month, we have been discussing poems and reading different styles in the classroom. We have talked about how some poems rhyme, some have words with similar sounds (alliteration), and some have words that simply sound lovely together. A small group of children have chosen short poems to practice and memorize that we will share with the entire Primary group toward the end of the month. This week, we read "April" by John Updike from A Child's Calendar. The children particularly enjoyed the first two verses:

It's Spring, Farewell
To chills and colds!
The blushing, girlish
World unfolds.

Each flower, leaf,
And blade of turf-
Small love notes sent
From air to earth.

I'd like to share a popular material on our shelves! The Cylinder Blocks are a material from the Sensorial area of our classroom used to refine the sense of touch and sight. Each of the four blocks vary in dimensions of height, diameter, or a combination of the two. The knobbed tops on each cylinder provide an opportunity to use the pincer grip to prepare the hand for holding a pencil and writing. Young children are often given this presentation with one block upon first entering the Primary environment to engage visual discrimination. As they master this material, children are able to mix up multiple blocks, use a blindfold for added tactile difficulty, or find each particular cylinder mixed up across the room. The potential language such as "height and "diameter" begin setting a foundation for future work in the mathematics area of the classroom. The way that each material intersects continually amazes me!
Each week, we have the pleasure of inviting Angela the music teacher to join
our morning group. Typically, she brings an instrument to share with the children and many songs to sing! Noticing this interest in music, I added some musical instrument cards to our shelves. The children have learned names such as flute, clarinet, french horn, saxophone, classical guitar, violin, trumpet, and trombone, As a group, we listened to pieces of music that highlight each instrument and made guesses as to which sounds matched cach instrument. The children unanimously agreed that the music sounded lovely when instruments worked together to make a song. We read a book about famous jazz musician John Coltrane's life, listened to his incredible music, and heard individual instruments within the music. We even enjoyed some lunch-time jazz!

This week, we warmly welcome Viktor Bibicoff to our Primary classroom! We look forward to getting to know him as he settles into our environment.
3/17/22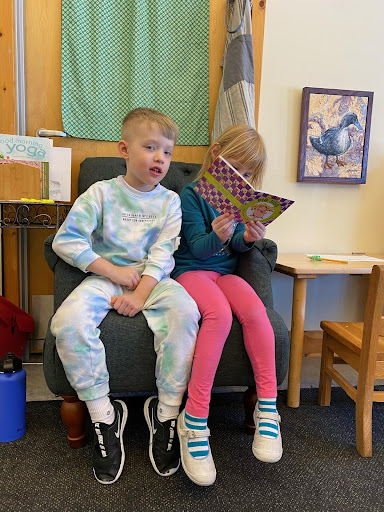 Hello, all! As the year begins to wind down, I have seen the kindergarteners at the peak of their leadership role! You can find them giving presentations to the youngest children in the classroom, proudly reading to their peers, and even helping set up and care for children at nap time. Not only does this show the immense growth that they have had this year, but shows that they are shifting to the second plane of development. At this time, collaboration and the people they surround themselves with become of utmost importance. This mindfulness towards those around them is something that we've witnessed in each of the kindergarteners in our community. Every child has benefitted from this relationship and it is a remarkable reminder of the beauty of a mixed-age classroom.

We are looking forward to welcoming a special guest this week on Friday from Goodwill Food Rescue to speak to the kindergarteners. For their afternoon "field trip", they will learn about how food is grown, what food waste is and why it happens, and opportunities to prevent this waste. The children will weigh and repackage salvaged carrots and make a special dish to taste using the rescued food. I look forward to learning more about the process and organization and bringing this model into our classroom as we talk about how food is grown and ways we can reduce waste and compost. This is also a great chance to discuss volunteer opportunities and sharing with those in need.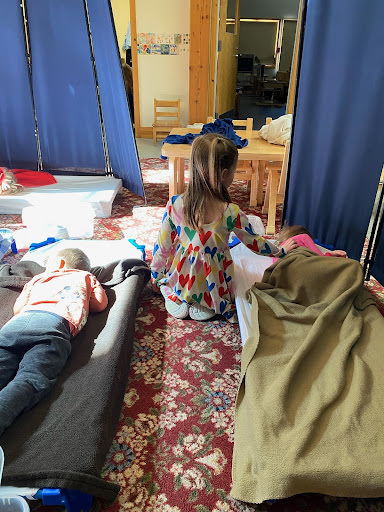 Finally, Thank you so much for your time last week as we met for conferences. Sharing your child's growth and development with you is one of my favorite parts of the year. Our partnership is such an important part of our classroom community dynamic and your trust and support means so much. We've started seeing lots of signs of spring outside this week! Many children have noticed melting snow, crocuses popping up on the playground, and have been hearing more bird calls. We have talked about how extra sets of dry clothes, rain suits, and waterproof boots will become necessary as we navigate puddles and mud. As the weather changes, please ensure that your child has appropriate gear to spend each day exploring our outdoor environment.
On a sad note, our new hamster, Sherman, died suddenly this week. We are unsure if it was due to external or internal issues, but we already miss him dearly. We will celebrate his short life this week and remember him fondly.
2/23/22
We are well into the "tough" months of winter in Northern Michigan and it is apparent! In the classroom, we've talked about the varieties of weather we experience as we near spring and the clothing that we wear each day. The children have learned about caring for their gear by hanging it so that it dries and is ready for the next day. They take great pride in this responsibility. In the classroom, we are admiring beauty by creating flower arrangements for the tables. Thank you for your continued support in providing fresh flowers weekly! As of late, children have also enjoyed delivering bouquets to the adults in the administrative hallway and even their previous teachers within our school community. It is a beautiful reminder of our interconnectedness and community-minded classroom!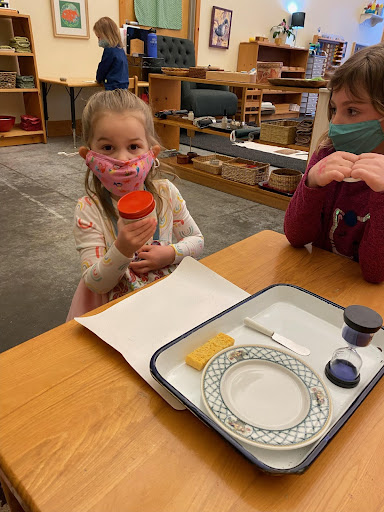 I've been inspired by your children's interests in research and cause/effect. This has led to some very exciting science experiments and conversations! As a group, we have learned about how flowers absorb water and nutrients through their stems using white chrysanthemums and dyed water. The children have diligently checked the flowers to see how they have changed to mirror the water they are in! We have discussed the terms initial question, hypothesis, control variable, data, and observations. Many children have been eager to write down their observations! We also tested acids and bases (opposites) with baking soda, vinegar, and a balloon. We filled a beaker with vinegar, placed baking soda in a balloon over the top of the container, and then tipped it in to create a reaction. When the balloon filled with carbon dioxide, the children were amazed! We also talked about how the air we breathe out is carbon dioxide. They've loved being scientists!
We have a few very exciting new food preparation materials on the shelf. In a Montessori classroom, children are able to use these materials independently to not only meet their own need of being hungry, but serving others and practicing sequencing as well. The butter-making material has been a big hit so far. Taking turns shaking a glass jar of cream and waiting for the solids and liquids to separate for a spreadable reward can be difficult. After a long sequence of work this week, one child exclaimed, "This is the most delicious butter I've ever tasted!" They have also begun to perfect the hand pies we created last week with a new work on the shelf. Many have been excited to make something to bring home and share with their families. Preparing and enjoying food can be such a special connection to share!
2/8/22
Hello, all! May this note find each of you well and healthy. As always, I appreciate your diligence in keeping your child home if her or she is sick. Being together is incredibly important and our community has thrived this year because of each of you. The connection we have with one another and your child's sense of emotional development are an incredible part of our classroom. Before we enjoy a meal together, we sing:
"Look around and you will see,
community,
a family,
we're together,
we are one."
Seeing each child build a deep connection with one another and connecting with each of them and your families is a wonderful gift. I am grateful for the community we've built together.
During lunch each day, I have the pleasure of eating with the children. Most days, we catch up with one another and swap interesting details about our daily routines. As of late, the children have challenged me to come up with true stories. Story telling is a huge part of many cultures. We have spent time talking about true stories (non-fiction), created stories (fiction), and stories about someone's life (biographies). We have also talked about how folk tales are stories passed on for generations and that we may still hear them today. The children were amazed to hear that many folktales began as oral tellings and that they may not have been written down for many years. We talked about how this sometimes changed the way a story was told, as people remembered details differently, and is the cause of different versions of the same story. We enjoyed hearing the Hmong folk tale "Yer and the Tiger" and thinking about how the story may have changed as people shared it with one another. We played the game "telephone" by whispering a word to each other to imitate the retelling of a story and the children were surprised by how it changed when the last child shared the word out loud!
We've been thinking a lot about writing letters in our classroom lately! With Valentine's Day quickly approaching, a topic of discussion has been the special notes we will give to each other during our exchange. We've talked about the parts of a letter (an initial greeting, message, and closing) and how a letter might get from one person to another. There has been great interest in envelopes, stamps, and thinking about our own addresses. We have discussed the reasons one may write a letter, such as missing someone or giving information. Some children have even started writing letters to send to grandparents in warm climates, cousins who live far away, or siblings down the hall at school. Letter writing is wonderful practice for children who are beginning to write and is a really intimate way to communicate. Your child may ask to write a letter with you at home to a loved one!
1/24/22
I hope this finds you all staying well! I look forward to being back in the classroom (again) after this time away. In my absence and before, we've begun discussing different cultural celebrations of a new year. We've found in many cultures, there is a celebration of light and days getting longer or gatherings around the harvest season. We will continue to discuss the cultural celebrations, such as eating special meals or gathering together, and also the times at which these celebrations are held. A few observances we will discuss throughout the year include Lunar New Year, Rosh Hashanah, Nowruz, Pahela Baishakh, and Diwali. We will read books, ask questions (research), and look at real photographs of what these special times look like. We will reflect on their similarities and differences. I hope to add many photos to our geography folders so that they may be a part of our classroom year-round.
Many of you know that The Children's House has celebrated Lunar New Year for many years by inviting Kindergarteners to perform The Dragon Dance. A former teacher lived in China and shared her experiences with the children in preparation for the event. Over the past year, our faculty has met to evaluate the way our community celebrates and honors holidays from around the world. While we know it is important to open windows into cultures that are unfamiliar to children in our community, we also believe acting out sacred traditions that are not our own is cultural appropriation. Going forward, we will not be performing The Dragon Dance. It is difficult to part with long standing traditions that children look forward to each year, but this decision reflects the critical thinking and thoughtfulness we hope to instill in the children. I plan to share this decision with the kindergarten children as a mistake that we have the ability to fix. It is a great opportunity to be transparent with our growth-we can always learn to be better.
You may notice your child has come home with lots of questions! We have had great interest in research in the classroom since our return. We have talked about what research is, and how we can apply a simple framework in our classroom. First, we ask a question. Then, we gather resources. Finally, we read (answer the question) and put the information in our own words. Some children have enjoyed researching verbally while others have written down their findings and even written their own books. It is a domino affect and as we ask one question others inevitably come up. The kindergarten children have been quick to answer their peers with "I don't know. Let's do some research to find out!" This intrinsic motivation to learn more and the drive each child has to find answers to their own questions is one of the many things that makes our classroom so special. What a joy it is to wonder and find out each day!
Photos below: Kangaroo research ("Baby kangaroos are called joeys.") and Penguin research ("Krill. Parents snuggle babies. Parents feed babies.").
1/14/22
What a gift it is to be together again as a classroom community! I hope you all had a wonderful winter break. I missed each of your children greatly and am so happy to be back in the classroom and catching up on what they've been up to while I was away. The children have made me feel so welcome with lots of hugs, inquiries as to how Maeve is doing each day, and checking in on her in the NIDO room from the window that faces the playground. Each child has jumped back into their work with vigor as they prepare a recipe for applesauce, complete self-directed research on various topics, or give presentations to the new and youngest children in the room. Thank you for sharing your children with me. The joy they bring each day is an incredible reminder of all the good in the world in the midst of difficult times.
In the classroom, we've been talking about many different artists and their work. We've studied the work of Josef Albers, Yayoi Kusama, and Frida Kahlo. You may have seen your child come home with their interpretations of "Homage to the Square" using the Metal Insets and other geometric materials around the classroom. We have learned some basics of color theory and experimented with painting using hues, tints, and shades. We've spent our afternoons reading a biography chapter book about Frida Kahlo's life and the hardships she faced as a child suffering with illness, woman, and person living during the Mexican Revolution. The children are fascinated by her ability to turn sad feelings into art and her love and interest in animals. We will begin drawing self-portraits in the next few weeks inspired by her work and thinking about the shapes and colors we see in our own faces.
We have started talking about another person who faced extreme hardships in his lifetime, Martin Luther King Jr. We will read "We March", by Shane Evans, and celebrate his life and the incredible peacemaker he was. We've agreed that he was brave when it wasn't easy to be, kind, and powerful. His role in the civil rights movement was hugely impactful and we've begun to discuss ways we can continue to make change. The empathy and fair-mindedness in children continues to amaze me. In Education and Peace, Maria Montessori says, "The child is both a hope and a promise for mankind." If your children are any indication of the future, I'm certain Dr. King's work will be continued and amplified.
12/16/21
Greetings!
I am truly at a loss of words at this moment. I am feeling excited, scared, sad, nostalgic, and emotional as I write my last highlights. I am looking forward to my new adventure in schooling and I am so excited and happy for your children to have Allie back as their guide. Allie visited the class this week and all were excited to see her. We will be discussing each child and the work they are doing. Your children are in amazing hands. Allie, Anna, and Emma are a phenomenal team!
Today we counted that I have 21 gingerbread books. My favorites seem to be The Gingerbread Girl and The Gingerbread Baby. It seems only fitting that I am ending my teaching career with Gingerbread galore. To say working at the Children's House has been the greatest job ever doesn't even touch the surface. You have chosen a school that has incredibly hard working, intelligent, and kind people everywhere. Being a part of your children's growth and experiences has been my honor. I wish you a wonderful holiday season and hope that the break is filled with great memories.
Amy
12/02/21
It's that lovely time of year!! We have begun reading Gingerbread stories. We just started reading the traditional version of the story. We are making comparisons between different authors. So far, we have found some things that tend to happen; gingerbread cookie is made, it somehow comes alive, runs away, gets chased, comes to a river, gets tricked by a fox and eaten. We have discussed characters, antagonist and protagonist, and solution. We will continue with a variety of versions of Gingerbread stories from around the world and then some more modern stories.
This week we have also been learning about Hanukah. Ask your child about the menorah in our class and the song Oh Hanukah. We have also begun discussing when Allie will be coming back and how I am getting ready for nursing school. We will continue to keep this a part of conversation and Allie and I will be meeting the last week of December.
I hope you are able to make some wonderful memories this month! Please reach out if you have any questions or concerns!
This fall I have had a nice time with the kindergarten group practicing many skills. Toss and catch and skipping have been especially fun to watch and help with. I have also used a bit of our time to explore food groups. Several times we have played a running/sorting game with food picture cards, I hope they are able to identify food groups a bit more now. On monday we spend our time outdoors often taking a walk to the elementary playground. I hope to say hi many of you in a few weeks at the outdoor sing along.
- Amy
10/27/21
"What the hand does, the mind remembers" - Maria Montessori
As you look around the Montessori environment you will see active hands. You will see hands squeezing sponges, fingers tracing sandpaper letters and numbers, playdough being rolled, hands threading needles, and many more examples.
"The hands are the instruments of man's intelligence" - Maria Montessori
I am looking forward to meeting with each of you next week. Please begin to think of any questions or concerns you may have. I will be sharing with you works that your child has been shown and observations from within the environment. Thank you so much for your help with making pumpkin fun day a memorable experience for all!
Within our environment we have begun to learn the names of a few of the larger bones of the body. We have touched on the femur, ribs, skull, clavicle, vertebrae, and sternum. We have a skeleton puzzle anda bookmaking work. We have noticed a drastic change in the weather this week. Please send your child with warm clothes. Our playground gets a cool breeze on many days. Labeled hats and mittens are appreciated. We also had a discussion about keeping ourselves healthy as "cold" season begins to approach. Children suggested; hand washing, sleep, drinking water, eating fruits and vegetables, using a kleenex and washing hands, and keeping your hands away from your mouth. May good health be with us all!
Please reach out with any questions!
Amy
9/30/21
Last week on Friday, our school celebrated the International day of Peace. Maria Montessori believed that education is the key to a more peaceful world. What a gift it is to be a part of this journey with your children in our own classroom community! The respect, kindness, willingness to help one another, and ability to resolve conflicts doesn't come easily, but I have witnessed each of these things in our classroom on a daily basis. During our time together as a whole school community, the children sang:
"Oh, what a wondrous thing,
If the children of the world,
Could live together,
In peace."
You may hear your child repeat this tune or the words at home. What an incredible sentiment from the young people in our lives who hold the keys to our future.
I imagine you have heard about our new classroom pet, Squeaky! Squeaky is a Syrian hamster who has adjusted beautifully to our environment. The children have been mindful as we give him space to settle in with quiet voices and lots of treats! As of now, he spends most of his time sleeping in his wooden shelter in the cage. The children have enjoyed chopping bananas, peeling carrots, and serving tiny platters of oats for him to stuff in his cheek pouches! We have also practiced sanitary and safe handling by washing our hands before and after any touches and giving him gentle "one-finger" strokes from head to tail. He has been a much loved addition to our classroom!
Finally, as my due date creeps closer I wanted to share a bit about my plan to transition out of the classroom. I have started working half days this week to prioritize the time I have with your children during the morning work cycle. Amy will work with your children in the afternoons and continue to build that relationship as their substitute guide while I am away. I will send out a message when the baby arrives or when I step away completely with more logistical details and information for communication with Amy in by absence.
Best,
Allie
9/15/21
Welcome back to our 2021/2022 school year! Your children are eagerly working with peers they have missed over the summer. The first few weeks are always such a sweet reunion of togetherness as we see old friends and meet new ones. We have started the year singing many songs in which we introduce ourselves and are also practicing the three parts of formal introductions. We give our name, ask their name, then we give them a "greeting". This may be an offer for a handshake, a wave, or a simple "Pleased to meet you." In the classroom, we have spoken often about introducing ourselves to new people if we've forgotten their name or havent met them yet. Ask your child to practice introducing themselves to you!
Another way we are building community at the start of the year is with a work called "Serving Tea". Children will set a table with placemats, napkins, saucers, teacups, and teaspoons. Next they measure a small amount of tea into the teapot and ask an adult for hot water. They turn a sand timer to allow the tea time to steep, and search for a younger friend or someone they may not know well to join them for tea. The laughter, summer reminiscing, and storytelling during this time is a wonderful way to build our classroom community. When they are finished, they care for the other child by cleaning up his or her dishes.
As we grow accustomed to being with others in our classroom setting, movement (and the opportunities to move) become crucial. In our classroom, we have a yoga mat with foam yoga pose tiles and a book that a child may "read" to follow the poses in the story. This has been a popular choice among the youngest children in the room! We have also been enjoying lots of Ella Jenkins music at group, which involves careful listening and movement as we are extra mindful of each others bodies at our group time.
Thank you for sharing your children with me! The gratitude and excitement that they exude each day is a precious reminder of being together and creating a community.