Hello!
Welcome to the Nido North classroom new school year. I look forward to sharing with you the many wonderful things we do in our classroom. Please check here often for updates, pictures, and links to information.

Thank you!
Annie
Annie@traversechildrenshouse.org

"We see the figure of the child who stands before us with his arms held open, beckoning humanity to follow." ~Dr. Maria Montessori, Education and Peace


Annie Botsford, Nido Guide
Grace Bishop-Schaub, Classroom Support
Katelin Murphy. Classroom Support
Sarah Davis, Classroom Support




Room Parent
Lindsay Smith
Classroom Highlights
4/27/23
Happy Thursday Nido families!
I want to start off today's classroom highlights by thanking all of you that attended the Bright Futures Gala this past Friday. It was so nice to see many of your faces and share a moment with you outside of carline. I am continuously grateful for this loving community and the opportunity to get to know you all. Thank you for supporting TCH, all of its members, and the philosophy that brought us together. I believe that community is invaluable and as always, I am here to support you and your family in any way I can. Please do not hesitate to reach out.

In other news, May Day is this coming Monday! For those of you that are unfamiliar, on the 1st of May, the entire school joins together in celebration of spring. The Kindergartners make flower crowns and dance around the Maypole as the rest of us sing Wild Mountain Thyme and the May Day Carol. Be sure to look out for adorable pictures of this in Waypoints next week. It is such a heartwarming tradition and before you know it, your baby will be skipping around the Maypole!
A few other things of note:
The Nido is currently in need of baby socks so if you have any your child no longer needs/uses, we will gladly take them off of your hands!

Next Wednesday (5/3) is Class Picture Day. We will do our best to keep your baby clean until the photo is captured. ;)
Enjoy these final photos from April! Welcome May!
4/13/23
Hello Nido families!
I hope you all have been enjoying this beautiful, sunny week!! What a treat it has been to take the babies outside without getting them all bundled up in snow gear! That being said, this warm spell is bound to come to an end and I appreciate you all continuing to send weather appropriate outdoor clothing. For these warm, sunny days, a sunhat is highly recommended. Ideally, we would keep a sunhat for your child at school. In addition to these hats, we cover the children with sunscreen when the sun is shining. TCH provides a mineral based, tear-free sunblock, but please feel free to send your own if your baby has sensitive skin. As I have shared before, these rainsuits work really well and I suggest sending it to school on rainy/muddy spring days. With the proper clothing underneath, these suits do a great job of keeping the children dry and warm. The 12 mo size typically works well for the babies.
Outdoor footwear can be a bit tricky at this time of year. For older, walking babies, rain boots are a great option on wet days. Tall, stiff boots tend to impede on their ability to walk so I suggest looking for ankle-height boots. The younger babies often crawl out of rain boots so I prefer a secure leather soled shoe for them. Robeez is a great place to start your search for baby footwear, but there are certainly many other similar brands and styles. Remember, these shoes will be worn outside in potentially muddy conditions, so please send a pair that you don't mind getting dirty.
A few reminders: Due to a staff in-service, there is no Friends Club tomorrow, Friday 4/14. Please pick up your child(ren) by afternoon carline which takes place between 3:20pm and 3:40pm. The following Friday (4/21) is the Bright Futures Celebration at the Historic Barns. Please join us from 6pm to 10pm for a fun time! I look forward to seeing you there!
Lastly, enjoy these precious photos of your babies eating borscht! Sometimes children surprise us with the things that they like. Remember, babies can handle lots of different flavors and textures. And they are just so cute with pink faces!!
3/16/23
Happy Thursday Nido families!
I hope you all have had a great start to the month! It is hard to believe that spring break is just around the corner!
With so many new babies in our environment, I wanted to use this Classroom Highlight to delve into the topic of food/eating. Mealtimes are incredibly important in the Nido. If you haven't taken the time to observe yet, I suggest stepping into the observation room around 9am to get a glimpse of our morning snack. It is such a special time in the Nido — a rare moment when we are all together, enjoying the community and nourishing ourselves. Allowing your child to feed themself is an excellent way to support the development of their autonomy. We all need to eat to survive, and by feeding themselves, the babies are helping to meet this basic human need. For the youngest babies who are just being introduced to solids, I use two spoons: one for me to hold, and one for them to hold. This collaboration is a building block that leads to an independent eater. I also feel it is really important to be okay with mess. Wiping a child's face and hands between each bite may lead to an unpleasant experience, and we want each child to associate eating with feelings of joy, excitement and community. Only give your child as much food and water as you are willing to wipe up. They are undoubtedly going to spill and explore which is an important step in developing a healthy relationship with food and eating. It can also be very overwhelming when too much food is on their plate. Try starting with a small amount of each item you are serving and replenish the items as needed. Wait until your child has lost interest before cleaning their face, hands and place setting. Lastly, try cutting food into strips. Babies are more successful at grabbing cucumber spears than cucumber rounds. Even those first learning to eat enjoy sucking on a pizza crust or stiff piece of toast. Please reach out if you would like more ideas or support when it comes to your child's eating journey!
2/23/23
Hello Nido families!
I hope you are enjoying this snowy Thursday! The weather always seems to give me whiplash this time of year, but I gladly took advantage of the fresh layer of snow and went out for a ski with my dog today. Now it can be spring. ;)
I know these winter months seem to drag on, especially with little children at home that can only handle spurts of the snow and cold temperatures. After months of "hibernation" you may be feeling a little stir-crazy – tired of the same nightly routine and staring at the same toys. In the Nido, I change out materials every few weeks to keep things fresh and interesting for the babies (and for the adults quite frankly – one can only read Goodnight Moon so many times in a row ™). I recommend giving this a try at home. Box up some of your toys and books and rotate what is available every month or so. The concept of "less is more" really applies to this process as children do not need a lot to be entertained. In fact, having too many toys available can be overwhelming and contribute to a lack of engagement/focus. New is not necessarily better either. It is easy to think that we need the newest gadget or toy, but babies are not picky. An old set of measuring cups, an empty spice container that opens and closes, or a cardboard box could keep your child entertained for hours! For the younger babies just learning how to grasp, these napkin rings (or something similar) are wonderful to have on hand. And for all those teething babies, a simple silicone honey dipper can be a great tool. Please reach out if you would like more ideas of how to inexpensively spice up your at-home materials. Together, we will get through the dregs of winter!
Since the last Classroom Highlights were sent, we welcomed Vienna Hoisington and Nora Kleb into our community! We are delighted to have them in the Nido. Maeve and Rafferty both moved up to YCC South and we have loved watching them flourish from just across the hall. It has been a busy but rewarding month. With all of these transitions complete, I look forward to settling into a new rhythm.
As always, enjoy these sweet photos from the last few weeks:
2/9/23
Happy February Nido families!
I hope you have found some time to get out and enjoy the glimpses of sun we've seen lately! We sure love seeing the light pour into our classroom on a rare sunny morning. Feels like such a gift after this long stretch of gray!
As I've mentioned before, we have several new babies starting in the Nido this month. Just this week, we welcomed Charlotte Bailey into our little community! It is so fun watching the babies get to know each other. With such a large age range in our classroom (3 months to 16-ish months), baby-to-baby interactions vary greatly. The older children often look out for the littles by patting their backs or rubbing their bellies. As adults, we demonstrate lots of gentle touching and waving to model positive interactions. Keep in mind that your child is learning social skills for the very first time, so there is bound to be some trial and error along the way. ™
Social interactions are just one way your child is learning that they have influence over the greater world. Every time we give a child a choice, we are supporting the development of their autonomy. Whether your child is three months old or a pre-toddler, we give them daily opportunities to choose what they want in the Nido. Even if it is just a reflexive grasp for a blue bib (instead of an orange bib), these moments are foundational in your child's quest for independence. A few examples of how I present choice in the classroom include:
"Would you like to wear these striped pants or these purple pants?"

"Would you like to wear this gray bib or this beige bib at snack today?"

"Would you like to read

Goodnight Moon

or

The Snowy Day

?"
Something as simple as a lean or roll in a certain direction can indicate a choice. As your child gets older, they will become more intentional with their choices by pointing to, grabbing, or saying what they want. These interactions are the building blocks that lead to conscious decision making. It is amazing to watch each child connect the dots over time!
A little housekeeping: Next Friday (2/17) is a Staff Professional Day, and the following Monday (2/20) is President's Day. School will not be in session on either of these days. Finally, I am making a classroom photo album and would appreciate you emailing me a photo of your family. It doesn't have to be anything fancy – a selfie or self-timer photo will do just fine! ™ Thanks in advance!
1/25/23
Happy Thursday Nido families!
2023 has been off to a great start here in the Nido! The babies have been enjoying visiting the gym, playing outside in the snow and exploring new work on the shelves.
Recently, the conversation of "struggle vs. suffer" has come up a lot in our community. There is a thoughtful balance of responding to needs and "sitting on our hands" in the Nido. While you know your child's needs and cries better than anyone, I urge you to sit back for a moment and watch instead of reacting to your baby's initial signs of struggle. Sometimes, we need the reminder that children are incredibly resilient and have to struggle in order to learn what they are capable of. Even as adults, we seldom are successful at things on the first try! In our classroom, we often sit near your child and speak to them encouragingly or help them gently, instead of doing things for them. Again, there is a balance with this, and how we intervene depends on the child and the circumstance. That being said, it is amazing watching your babies work through challenges - whether that be getting that tucked arm out from underneath their body after rolling over, or maneuvering from a standing to a sitting position for the first time.
Come February, our classroom will be experiencing several transitions. Our three oldest babies, Sage, Maeve and Rafferty, will be joining the YCC and we will be welcoming three new babies into the Nido! These changes are always incredibly bittersweet. We are so excited for our budding toddlers, but will miss them greatly. Expect an updated roster with new faces toward the end of the month. ™
1/12/23
Happy Thursday Nido families!
It has been wonderful being back at school with your babes! They all grew so much over the two week break.
As you know, Britny is switching her role to Primary Guide for the remainder of the school year. Thankfully, we had a beautiful fall semester and the children are all well-adjusted to the Nido. Because of this, they've adapted well to the change. That being said, we already miss Britny greatly! She is an incredibly thoughtful and compassionate person and we (Grace, Katelin and I) feel honored that we were able to share the last many months with her. Britny wanted me to share with you all that she is still a resource if you have any questions. She is a wealth of knowledge (especially when it comes to sleep) so please do not hesitate to reach out if you would like her input.
We have been so fortunate to welcome Sarah Davis into the Nido as our 8am to 1pm assistant. Sarah has been a long time parent and substitute at The Children's House and we are excited to finish out the 2022/2023 school year with her!
In spite of the changing adults in the Nido, the babies have continued to enjoy the simple things in life; eating, sleeping and playing! We have so much to learn from them! Enjoy these darling photos from the last few weeks.
12/15/22
Good morning Nido families!
It is hard to believe that this is the last Classroom Highlight of 2022! We had a beautiful fall semester in the Nido and are so grateful that we get to continue to watch your child grow after the Holiday Break. It is such a gift getting to spend our days with each and every one of your children and we will miss them greatly in the coming weeks!
As you all know, we have our Seasonal Sing Along tomorrow and school will be dismissed early. Please park and pick up your child between 2:30 and 2:45pm. If you choose to stay for the sing along, make your way to the gym by 3pm. We hope to see you there!
With the new year, we will be welcoming baby Levi into our classroom! We are so excited for him to join our group. Levi will be taking the place of Emmey who is transitioning into the Young Children's Community. We will miss her greatly but are so excited to watch her thrive in her new classroom!
We hope you have a peaceful Holiday Break! See you in 2023!
12/01/22
We are overjoyed by the abundance of quality books we received during the Shop Your Community Day! We thank you for your generosity!
Last week, on Tuesday, we sat around our dining table to feast on so much good food. We are grateful to all the families that contributed to the meal. This year, our entire class (all 9 children) were at the table with us. We hope that each one of you enjoyed the comfort of the season, with loved ones, in the days that followed.
Please keep in mind, during this time of giving, we continue to accept gently used items for the Generations Ahead baby pantry. Specifically, the following items are in high demand right now:
New (or gently used) warm baby clothes (newborn through size 6T), infant sleep sacks, diaper rash cream, diapers- sizes 4, 5, 6, and pull-ups (all sizes), infant formula- specifically Enfamil Gentlease,
hospital care bags (toiletries, massage oil, mints, hair ties, socks, etc...). However, any and all baby or maternity items are welcome. For more information see their website- Generations Ahead - Teen Mom - Traverse City, Michigan
We recently welcomed a new student, Aberdeen, to the Nido. She joins us just as we send off Avery to join the YCC. We will miss Avery but are very excited for the new adventures that lie ahead for her! This will complete our crew, until February when we plan to have two more little ones join us.
Nido parents are doing a great job sending appropriate weather wear each day! We are able to get everyone out almost every day- so thank you!
Please note, on Friday, December 16, the school closes immediately following the all-school sing along, which begins at 3:00. We ask that you pick up your children from the Nido, no later than 2:30. We encourage you to join us for this lovely tradition!
11/10/22
Hello Nido families!
I am sure you all have been anxiously awaiting our virtual Halloween parade! Here are some adorable pictures to start off this week's classroom highlights…
| | | | |
| --- | --- | --- | --- |
| | | | |
| | | | |
| | | | |
Thanks again for sharing these priceless photos with us. We had a wonderful time painting pumpkins and exploring their seedy guts at school this Halloween. Babies sure know how to make everything feel exciting and new!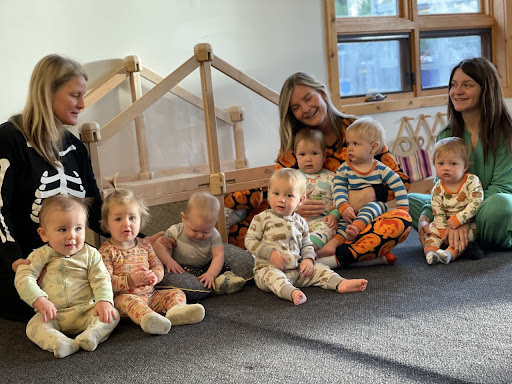 A final reminder that Horizon Books Day is fast approaching! This Saturday, November 12th, you have the opportunity to choose a preselected book to contribute to our classroom library. There is also the option to participate online if you are not able to make it to Horizon Books. Here is where you can select a book from our online wishlist. We appreciate any contribution to our book collection. ™
Our classroom Harvest Feast is also just around the corner. On Tuesday, November 22nd, we ask that you bring a small dish of food to school. Linked here is a sign up sheet where you can choose what you would like to contribute to our meal. The babies do not require large quantities so a small bowl of your contribution will be plenty. We sure are thankful for all of you and greatly appreciate your participation!
Lastly, I am linking a rainsuit that we have had great success with here at TCH. In wintry-mix conditions, these suits help keep the kids nice and dry. This is by no means a requirement, just something we have found to be helpful. The 12 month size works well for most babies.
As always, enjoy these darling photos from the last few weeks!
10/27/22
Hello Nido Parents! Happy Thursday!
Last week we had school picture day. All that were in attendance did a wonderful job! There is a retake day scheduled for November 15th. We hope you were delighted to receive your new custom tote bags! We love seeing them all hang together in our lobby!
Pumpkin Fun Day is coming up on October 31st. For anyone new to our school, this is a school-wide celebration of all things pumpkin/fall/harvest and fun! We will have a couple activities planned for the Nido on that day. New this year, we think it would be fun to have pajama day as well. We hope that you will join the Nido staff by dressing your babies in their pajamas and send them off to school. We will take a lot of pictures for you! Additionally, if you will be dressing your little goblins up at home, for Halloween, please snap a picture for us and email it over. We will compile all the pictures and share them in an email to all the Nido families, because who doesn't LOVE a baby in costume?! So cute!
Horizon book day is also on the horizon! On November 12th, families will be invited to select books that we have chosen for our room. Head downtown to Horizon Book Store and look for our basket labeled Nido. This is a wonderful way for our classroom to refresh our bookshelves. Maybe you have noticed that babies are a little rough on books? Every year we need a new stash. This event allows us to use our classroom budget for other items besides books- it is so very appreciated! Additionally, Horizon Books generously donates 10% of the total sales for the day to The Children's house! Hooray!
Britny will be out of town from November 1-10. Please direct any questions to Annie or our wonderful assistants during that time. Hawaii here she comes!
Have a wonderful rest of the week!
10/12/22
Happy Thursday Nido families!
We wanted to start off today's Classroom Highlights by thanking all of you that attended the Parent Ed discussion last week as well as the Harvest Festival this past Sunday. What a special community we are all a part of! This place truly wouldn't be what it is without your constant support and devotion so thank you, thank you!
While we greatly enjoy these opportunities to gather as a whole community, we also find great value in meeting one-on-one with families. As your child approaches their first birthday (a milestone many of our students are nearing/have already met), we like to schedule a conference. This gives us the opportunity to discuss your child's transition into toddlerhood. The transition into the Young Children's Community is a big one and we want to make sure both you, and your child, are equipped with the tools needed to make it a successful experience. We are here to support you in every way we can. Expect to receive an email from us with more details around your child's birthday.
Speaking of the inevitable transition into the YCC, we are so thrilled for our friend Lydia who has transitioned into the toddler community! We are so excited to watch you flourish, Lydia! We are equally as excited to welcome Adrian into the Nido community! Welcome Adrian and family!
A friendly reminder to send warmer outdoor clothing with your child as the weather continues to get cooler. The changing of seasons is an excellent opportunity to take stock of what your child no longer needs/has outgrown. If you have any gently used baby items, maternity clothing, diapers, etc., that you do not plan to use, please consider bringing them to the Nido. We will gladly donate them to the TC High baby pantry for you (now and at any point during the year). We can assure that these items are very much appreciated by the community that receives them.
Enjoy these sweet photos from the last few weeks!
9/29/22
Happy Thursday Nido Families!
A couple questions have come up about clothing, footwear, and winter gear. Last week we tried to send any summer type clothing home, as we switch to cooler temps now. We are only able to store 2-3 outfit changes at school, the clothing cubbies are rather small. We will let you know, on the daily intake form, if we are running low on anything. We do have a good supply of extras on hand, if ever necessary.
As far as footwear goes, we have 3 stages that work very well in the Nido. I will share my recommendations but please note that I am not asking you to go out and buy each brand. Just let this be a guide as you are making choices along the way. There are plenty of knock off brands that work perfectly. The newborn stage works really well with a Zutano style bootie, socks tend to fall off and go missing, unfortunately. Once a child can crawl or scoot, a Robeez style soft-sole works really well at protecting the foot, and they stay put on the feet nicely. Lastly, is footwear for early walking or toddling. These shoes should be supple, yet supportive, with a good rubber tread. They should fit properly, in length and width. Otherwise, we see a lot of tripping and falling accidents. Golden Shoes, downtown TC, does a great job in fitting kids with their first pair of walking shoes. We really like the Stride Rite style/brand for this stage in footwear.
As for winter gear, we need to consider keeping the infants warm AND dry. A traditional winter boot does not usually work well at this age, they are constantly falling off. A good winter shoe for infants is often just a well built sneaker, like the Stride Rite suggestion above. A properly sized one piece snowsuit is nice to have. Some even come with a fold over foot covering, which is good for non-walking babies. Additionally, a warm hat that covers the ears, and mittens that are attached or tethered work well. Again, we have a small supply of extras on hand as well.
Next week, we are looking forward to the book discussion of The Montessori Toddler, by Simone Davies. On Thursday, October 6, 2022, from 4 - 5:30 p.m. at The Children's House. Please RSVP soon! Learning Opportunities for Adults - The Children's House (traversechildrenshouse.org) We encourage all Nido families to come!
9/15/22
Hello Nido families!
What a wonderful few weeks it has been! The children are happy to be back in their environment and with one another. We have been soaking up the last warm days of summer as well as enjoying watching the rain from our patio.
Many of your children are actively engaged in the baby-led weaning process and mealtimes have been a wonderful opportunity for them to explore and be a part of the community. It is truly magical watching them try new things and gain new skills every day. If you have any questions about what this looks like, please do not hesitate to reach out. We want to support you and your child in every way we can.
Thanks to all of you that attended the Back-to-School Parent Meeting as well as our class picnic this past Sunday. It was so nice to get to know you better and we look forward to more of these opportunities during the 2022/2023 school year. One of these opportunities is the fast-approaching Parent Ed discussion from 4:00 to 5:30 on Thursday, October 6. Childcare is available and you can RSVP for it here. Parents and caregivers of children ages 0 to 3 are encouraged to look over The Montessori Toddler by Simone Davies prior to this discussion. Bring any questions with you. This is a fantastic opportunity for you to gather information and support before your child enters their toddler years and we greatly look forward to seeing you there!
Enjoy these photos from the last few weeks!