Hello!
Welcome to the Nido North classroom and the 2018-2019 school year. I look forward to sharing with you the many wonderful things we do in our classroom. Please check here often for updates, pictures, and links to information.

Thank you!
Britny
Britny@traversechildrenshouse.org

"It is the child who makes the man, and no man exists who was not made by the child he once was." - Maria Montessori





Britny Tollstam, Nido Guide
Emily Walton, Classroom Support
Annie Kelly, Classroom Support
Taylor Price, Classroom Support

Room Parent
Erin Hafeli
erinhafeli@gmail.com
October 9, 2019
There are many famous graduates of Montessori programs, such as Larry Page & Sergey Brin (Founders of Google), Jimmy Wales (Founder of Wikipedia), Jacqueline Kennedy Onassis (Former First Lady) and Katherine Graham (Owner & Editor of the Washington Post), just to name a few.
More and more children are beginning to join us for meal times at the table lately. We are really enjoying coming together as a community to enjoy a meal. A few of my older students are beginning to pour their own drinks from a tiny pitcher and soon they will participate in preparing and serving our food. The confidence that builds from these activities prepares them for tackling the next great task- whatever that may be.
Parent teacher conferences at TCH are coming up for the rest of the school. I wanted to remind you that you are welcome to request a conference with me at any time. I do like to meet when your child is beginning solid foods, especially if we do not get ample time to talk at drop-off or pick-up. I also like to meet just before we start your child's transition to the YCC. I have a little flexibility on Friday afternoons right now to meet. We can even use the time to have our own parents visiting day- since the Nido does not participate in that as well. I would just ask that we agree on the time first to avoid any overlaps. Having too many adults in the room is unsettling for the babies and is the reason we do not host parents visiting day.
Next Monday, October 14th, is school picture day. We are happy to dress your child in their picture outfit for you, in order to avoid any spit-ups or messes that could occur prior to the picture moment.
Please note that there is no school on Friday the 18th, we are having a staff in-service day.
September 25, 2019
Montessori Fun Fact:
Montessori was exiled from Italy by Mussolini because she would not allow her schools to be used to turn children into soldiers. During her exile, Dr. Montessori spent many years in India where she befriended Gandhi.
We're loving these extra warm days coming into fall. All of the babies have had a chance to get out and enjoy the sunshine, or crawl in the dewy grass, shovel in the sandbox, and few are loving their new found skill of mastering the steps and slide on the climber. As the weather turns cold we will go out as long as we can, but we also have use of the schools gym and the kids love that too!
In the classroom I'm about to do a big swap of materials soon. The children have fully explored the materials that we started the school year with. I will pull the items I see being misused, or the ones that don't get much attention anymore. It's fun to watch them when they noticed the new work. I always think of each student as I make choices on what to put out; what have I noticed them working on, what has been their interest lately, what would help them reach the next step in their learning, or what just might be fun!
Have a great rest of the week!
September 12, 2019
The first week of school is always filled with excitement and anticipation as we welcome new families, and acquaint ourselves with the new infants in our environment. I am happy to report that we have enjoyed a relatively smooth first couple of weeks. As you know, we also have some wonderful new staff in our classroom and they too are coming into the fold.
Thank you to the new parents that joined us at The Little Fleet! It was also nice to see so many of you for the all-parent orientation night as well. I was happy to scrap my old format for orientation night, and then I found myself wanting to deliver so much information about customizing your home environments, to reflect some of the things we do in a Montessori environment, I may have unpacked too much information too swiftly. Rest assured, I will do my best during our time together, and right here in this bi- weekly classroom highlight message, to deliver you clear and concise ideas. Please, feel free to ask me if there is any area in your child's development where you could use some support
One thing that I did touch on during orientation was the order, control/coordination, concentration, independence (O.C.C.I.) that is built into so much of the work that we do. Children, from the zero to six ages, ebb and flow into sensitive periods for order-- putting things back where they belong, following organized steps in our work, and routines are all ways in which we cater to your child's need for order.
Control and coordination are supported in the Nido too. We present work that builds the refinement of fine and gross motor skills, scaffolding one movement on top of the next, each time allowing for your child's own body to decide when the time is right. Times of concentration are highly guarded in our room as well. We foster and protect any child who is deeply working on a task, or even concentrating as they watch someone else. Deep learning, the kind that stays with you, happens in these moments and we are there to help lessen the distractions. Lastly, is independence. We see the child's motto as, "Help me to do it myself," and provide them with an environment, and instruction that empowers them to feel successful and capable.
That is my very nutshell explanation of O.C.C. I. if you want some more ideas for activities, that support this aim, let's talk!
Montessori Fun Fact:
Dr. Maria Montessori was the first woman in Italy to receive her doctorate. After years of scientific observation and application Maria opened her first school, in San Lorenzo, a very impoverished outskirt of Rome, Italy, on January 6, 1907.
June 6, 2019
Every few years I like to dig this message out and share it with others. May you all enjoy what is left of spring and have a wonderful summer! Perhaps you might even find some things that you would add to this list.
WHAT I LOVE ABOUT THE NIDO AND YCC IN THE SPRING
Sweet, sweaty faces covered in sunblock, with sand stuck to it
The random onset of singing well loved songs from throughout the year
Walks in the garden or labyrinth
Gathering cuttings of lilacs
The look of concentration on a child's face who has finally mastered a challenge
Saying very little and watching so much get accomplished anyway
New words spoken by the smallest children
Big work and big messes
Friendships blossoming
Getting tackled by a hug
Long awaited potty time success
Quietly reading in a sun drenched spot, with a child
Moments of rare silence
Blowing bubbles
Differences in personalities when dancing in a group
Watching an older child assist a younger one
Giggles, followed by fits of laughter
Pulling dandelions, watching the seeds scatter
Snack time, outside on a picnic blanket
Playing in the gym on a rainy day
Birds, bugs, and frogs
A visit from a primary child who wants to read to the babies
Sleepy faces on napping children
Sundresses, shorts, sandals, and flip-flops
Sidewalk chalk
Coming to work in a place that feels like home
May 22, 2019
Hello!
It's a race to the finish! We are nearing the end of the school year and we are gearing up for the excitement that comes with this special time of year. Grandparents Day is just upon us, one of my most favorite days at TCH, and I so look forward to meeting everyone. And don't forget we are closed on Monday, May 27th too.
In the classroom we have a good number of infants about to become toddlers. No one is walking yet but some of them are so close, I wonder who will launch first? Many of the children in our classroom will remain with me throughout the summer program and I'm looking forward to having so many mobile kiddos. I love taking them outside to explore on fresh legs.
We have also welcomed a new student into our environment, little Miss Brooke. The children took to her right away and made her feel welcome.
Please pay close attention to the Compass for calendar items and events as there are so many details around this time of year. Have a wonderful long weekend!
April 25, 2019
I have played music in my classroom since I first began in the Nido. At first my selections were quite limited with just a few classical CDs and a couple kid tunes CDs, that I had acquired over time, to choose from. The cost of new CDs was a luxury I didn't often splurge on with my classroom budget. However, these days we have access to any music we can think of, literally at our fingertips. I have really come to appreciate the richness of adding a variety of genres and world music into our environment.
Earlier this year, I started a discussion with the YCC guides about music in the environment and language acquisition. It really made me dive into the topic and act with good intention about using music throughout the day. I have done my own studies on the topic and gathered advice from professionals as well. My concern was to make sure the children were able to attend to the spoken language in the classroom and that the music was not a distraction. I firmly believe in the power of music to set the tone for an environment. In a room where 9 children can sometimes get elevated all at once bursting out into song or switching the music can really help shift the tension into a calmer space. It also provides the adults with some place for their mind to go to instead of joining in on the anxiety of the situation.
I have also decided to have very specific times of the day when we don't have the music playing, when I would like to have everyone's full attention. We use a lot of language at our regular mealtimes, and I really want the children to hear the words clearly, so the music is turned off then. I will also turn it off if I am going to read or bring out new work. I am constantly thinking about how to best set the stage for concentration and learning. At other times I believe the music can really enhance the concentration. I know I like to listen to music when I cook, or paint, or even pay bills. I can get lost in the tasks because the music keeps me locked into a flow as I get through the work. Just today, I watched an infant explore a textured ball while the music was playing. She rolled the ball in her hand over and over, studying every part of the surface. She was deeply focused for quite some time. There were other children playing all around her and her attention was not broken. I believe she was in that flow state, deeply concentrating.
The first time I had a real conversation with my son we were in the car. I remember talking to him and there was real back and forth words happening between us. If something like that happens to you, please turn off the music, give them every ounce of your attention! Trust me you don't want to miss a second of that precious moment, it goes by fast.
Don't forget to invite the Grandparents to Grandparent's Day at TCH. Even if your child does not come on Friday all are welcome, accompanied by an adult please.
April 11, 2019
WE MADE IT !! Last week we rejoiced in getting a few children out to our playground! One child even ventured into the sandbox, where I peeled off his shoes and socks and let him feel the sand with his toes. Are you kidding me? I have the best job ever! Witnessing the children take in the awe and wonder of our natural world is one of the greatest joys I could ever experience! I do hope you are marveling in the same with them too. Please think about sending in some sunscreen, if you have a preferred brand, otherwise we will use the school provided one. Also, a sunhat and foot covering/shoes are needed. We have a few extra on hand, so don't panic if you don't have them right away.
As we near the end of the school year I urge you to pay close attention to our school calendar, there are many wonderful events that happen and our Nido does participate in many of them. For instance, Grandparents Day on May 24th, if your child does not attend on this Friday please know that they are welcome to come with their grandparent to enjoy this special day.
Lunch is going great, our kiddos that have just started to join us are getting adventurous in trying many of the new foods available to them. They ate jambalaya and loved it! And I love gathering around the table with them!
March 21, 2019
For those that attended our gala I hope you had a wonderful night out. If you were one of the kind souls that bought something for our classroom I thank you! My budget gets a little thin at the end of the school year and your generosity helps a lot!
Now that the end of the school year is on the horizon we are getting excited for all that it brings with it, especially the great outdoors! Having a majority of our group at the same development stage, some days can seem like a race to see who will do what first. So many of the babies are up on their hands and knees, poised and ready to launch into a crawl, some have crossed over into pulling up, and they are all joining us for snacks and family style lunch now, its all very exciting!
If you are curious about how we approach solid foods please read my previous post and/or try doing an internet search for baby-led weaning. Baby-led weaning is a relatively new term for something we have always closely practiced in the Nido.
Here is one such article:
https://www.parents.com/baby/feeding/solid-foods/dos-and-donts-of-baby-led-weaning/
Have a great rest of the week!
March 7, 2018
We're getting dreamy about spring in the Nido lately. We can't wait for the day when we can open our door and release the little birds from our cozy nest. Until that day comes we are having to get creative about keeping busy. We go for walks around the building, we drop in on other classrooms, we play in the gym, and I rotate our work often.
We've also been reading a lot of books. I was recently asked about choosing quality books for children and here is our way of making selections; For infants, I first look for content that reflects real life. I avoid all books that have animals dressed in human clothing or driving cars for instance. In Montessori we show children what is concrete first and later introduce abstraction. Photos of real objects are a great choice, or book art that mimics our authentic world. Also, we do not introduce letters right away so I don't choose a book for it's words usually, but sometimes I can find ones that have a good cadence and the words sounds nice together. I tend to talk about what we see on a page more than the actual story most of time. Rhyming and poetry books are fun too. Books that highlight other cultures or far away place are also in my book rotation. Now, with that said, I have been know to throw a great classic children's book just for fun and it may not fit any of those parameters, because who doesn't love to revisit one from their own childhood too!
Have a great rest of the week
February 21, 2019
As you all know we had a teacher prep day last Friday. On the heels of our many snow days I know it may have been difficult to be closed again, but I assure you that these prep days are extremely well spent.
We covered the heavy topic of child abuse, an important tragedy to be informed about, so that we can play a role in keeping all children safe. The classroom staff throughly scrubbed and sanitized every surface possible and I caught up on my organization of materials and licensing protocols.
We were also generously provided a beautiful luncheon, donated by many parents. During the meal, we were shown a very touching video of many of our TCH families thanking us for our service. Admittedly, I cried when seeing so many of the beautiful children I have had the honor of caring for. Many thanks to all the families who participated!
After my last post we have added a few more children to our school provided lunch. I'm delighted to share these meals with your children!
Have a great rest of the week!
February 7, 2019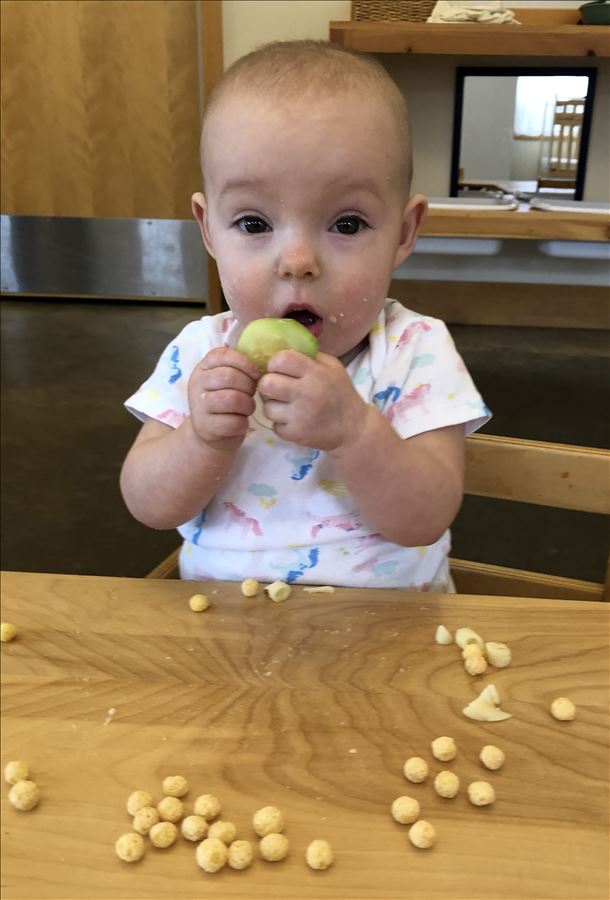 We have so many new faces joining us for meals lately, I'd like to share how that is going and how we approach mealtime in the Montessori method.
A child first begins to join us at the table the moment they can sit up. In the beginning they might just observe, or we give them a teether to explore as they watch the mealtime. We introduce them to the language of being at the table. We pronounce words like "more", "all done", "thank you", etc. very clearly. Often we add the sign language that goes along with those words too.
When the child begins to show an interest in trying the food, or drinking from the cup, I will usually have a conversation with the parents to affirm that we can start to offer these things. We offer the new foods more for the experience and flavor, as well utensil use, rather then expecting them to devour a whole meal, because many of them at that age still need their bottles for most of their nutrition.
Before long we increase the experience with more textures, flavors, fluids, and amounts. When they seem have a good grasp (literally with their hands too) on eating solids we are happy to include them in our family style school provided lunch. All of this happens at their pace and preference. And they become the role models for the next round of babies to join us at the table.
In our classroom, mealtime is one of our best ways to enhance the Montessori experience your children get at school. At home, I would encourage you to include even the youngest babies at your meals too.
This is my cousin and her 4 month old baby. The video went viral last month. The caption read, "The pediatrician said we could try food when she showed signs of interest, does this count?"
Happy eats!! Enjoy the rest of the week!
January 17, 2019
HAPPY NEW YEAR!
While I very much appreciated our winter break (having time to remodel my bathroom at home) I truly missed being with your children. I was very ready to return to school last Monday and was disappointed that we had a snow day. I knew your children would grow so much in two weeks and I didn't want to miss seeing their advances! Needless to say, I was so happy to be reunited with them on Tuesday and I like to think that they were equally as excited too!
Upon our return we also welcomed four new babies to our environment! Finley, Linden, Charles, and Asher are all adjusting nicely, it did take us a few days to get to know one another, and now I can see that we are all going to enjoy one another quite a bit. We have a very young class at the moment, I don't have any walking children right now, which is unusual. However, this means that we will be together for a nice long time before we prepare them for a move to the YCC, somewhere around 14-16 months old.
Please take a look in the mail for news about our upcoming gala. I would encourage everyone of you to attend. If you are new to our school it is a wonderful way to mingle with our community and share a wonderful night out, in support of our school.
Have a great weekend!
December 13, 2018
As you know I was in Texas a couple of weeks ago. The YCC teachers and I had a wonderful time observing two very different Montessori environments. I spent the majority of my time at Studio June, a one-of-a-kind parent/caregiver and child program. Much like parents and their children would join a music class or gym class, Studio June offers a Montessori class. The classes are broken down into ages and last an hour and 15 minutes. Parents come into the prepared environment and get right to work with their child, there is a guide on hand to help navigate the classroom and keep things running smoothly. I observed parents immersed in their role as their child's first teacher, it was truly inspiring.
Additionally, I was able to tour the Post Oak Montessori school, which serves over 500 children among their two campuses. The school did not have a Nido, but laying eyes on their operation made me feel so good about the impact that good Montessori schools will have on this world. We were able to sit down and have lunch with three of the school's guides and discuss and compare our approaches. We were also able to sit with Sarah Moudry, the owner of Studio June, a long time Montessori guide herself, and parlay different classroom management ideas.
Just as I suspected I returned from the trip rejuvenated in my own work. I made a few changes and additions to our Nido environment, and was thrilled when I saw the children take to those things immediately.
November 29, 2018
Greetings from Texas!
I was overwhelmed with the generosity of books that were purchased for the Nido. We are currently loving The Pout Pout Fish very much! I'm so grateful to have a fresh stash of shiny new books, they definitely get lots of use in our room. Some babies even think they taste good too!
Our classroom harvest feast was such a lovely occasion. The children really enjoyed sampling all the tasty dishes that parents brought in. Thank you to each family that contributed a dish. I hope you all had a good Thanksgiving.
November 8, 2018
Last week, on pumpkin fun day, each child was able to participate in painting their own pumpkin! Many of them really enjoyed the experience and others found it very strange to feel the paint on their hands. Many thanks to the Beers family again for supplying the mini pumpkins from their farm! We also enjoyed some delicious pumpkin muffins that my daughter and I made the night before.
Looking ahead, we are starting to prepare our oldest students for their move ups to the YCC. Each child will have several opportunities to visit their next classroom with me by their side and will eventually be comfortable enough to stay without me. I really like how we plan these move ups, it truly let's the child set the pace. Once they are on their way we look forward to welcoming a few new faces after winter break.
In the last week of November I will be traveling to Texas with the other YCC guides. We have several visits planned in a variety of Montessori environments and I'm really looking forward to that experience. I always feel so rejuvenated in my work after observing and interacting with other Montessorians. I'll let you know how that goes in a further classroom highlight.
Have a wonderful rest of the week!
October 25, 2018
Every morning in the Nido I sing good morning to the children. I say each of their names and let them know I'm happy to see them. We gather together, with shakers in hand, and I continue to sing a couple of familiar songs. Trot Old Joe is a definite favorite! Some of the one-year-olds are even trying to say some of the words or follow my actions. It's really sweet.
This month I've also sung about apples and pumpkins, in anticipation of our pumpkin fun day on the 31st. On the 31st we will do a little activity and enjoy something with pumpkin for a snack.
Over the years I have been affiliated with one of our local baby pantries, they largely serve teen parents in our community. It is a nice time of year fill those pantries. I'm happy to collect any gently used baby items, "cool" clothes, diapers, food items, etc. at carline and I will drop them off at the pantry.
Have a wonderful weekend.
October 11, 2018
Last Saturday many of our students, and their families, met at the home of the Beers family. Despite a little bit of drizzle early on, we were very content to gather in their barn, share a snack, and get to know each other better. Once the weather cleared we all climbed onto a tractor trailer and took a ride around the Beers farm. We stopped a couple times along the way in order to select a few pumpkins to bring home with us. They had a wonderful selection and variety of pumpkins and the children were excited about the adventure! Those that attended with their older siblings also enjoyed a bit of fishing in the pond as well. Thank you to everyone that came and thank you to the Beers family for hosting us, it was wonderful!
On Sunday several of us gathered again for the all school harvest festival. I had the fun task of scooping ice cream at the event. I delighted in seeing so many of my students, past and present, come through the dessert line!
In the classroom we are enjoying the newly settled environment and I think everyone is feeling right at home in our care. Thank goodness for the times we are able to venture outside too because everyone has really enjoyed that.
You may have noticed that school wide conferences coming up. As we discussed at parent orientation I do not offer them at the same intervals as the rest of the school. If you missed the orientation, I do like to meet with you around two important milestones; first when a child is starting solid foods and again as we look ahead to their transition to the YCC. Please do be in touch at any other time if you wish to meet with me.
Have a great rest of the week.
September 27, 2018
The Nido continues to make strides in becoming a settled environment. The adults and new children are now familiar enough with each other to anticipate their wants and needs and we are seeing lots of moments of joy. We have started to venture out of the classroom more and more. We're enjoying trips to the gym, wagon rides, and regular playground time.
The junior high students have started to visit us regularly, in the afternoon, and the infants love seeing them. The older students read to the children, do activities, and help to feed and diaper them. In exchange, they are rewarded with the adoration of the babies and the experience of giving back to their own community. Next week we look forward to welcoming two more additions to our classroom. Heidi, a parent at TCH, will be on hand to assist our room as we transition them in.
This month we happened to ring in four first birthdays. Happiest of birthdays to Brooks, James, Rose, and Sloane
September 13, 2018
On the first day of the new school year we were definitely off and running with a bang! We welcomed several new children to our community and a few were very aware of being in a new environment without their usual familiar faces. However, by the end of the week we were already noticing a comfortableness settle in, and on Monday we experienced more of what will be our regular routine. Things have gone exactly as I had expected they would; no matter how much detail and planning goes into starting a new year there will always be a period of settling in. I always try to keep in mind that once we move through the early stages we always come out on the other side as a well bonded and familial group.
Thank you to all who attended our parent orientation night. Please save the date and watch for an email about our October 6th class picnic, taking place at the home of the Beers family. If you need more information about any of the details of our classroom please reach out to me.
Have a wonderful weekend, and keep an eye on your email inbox for tomorrow's Compass, it's packed full of information that will keep you organized and informed.