A Montessori environment is unique in many ways. From the child-size furniture to the art hanging just at their level, it is a truly special place. With such gratitude, I look forward to the year ahead getting to know each of your children and families, and watching them learn and grow. My goal for each child is to feel at home, empowered, and inspired to follow his or her own unique interests. Your partnership is so important in this journey and in building our classroom community!

I look forward to a wonderful school year!

Best,

Britny Tollstam
Britny@traversechildrenshouse.org

"That humanity which is revealed in all its intellectual splendor during the tender age of childhood should be respected with a kind of religious veneration. It is like the sun which appears at dawn or a flower just beginning to bloom. Education cannot be effective unless it helps a child open himself up to life." - Maria Montessori


Britny Tollstam, Primary Guide
Anna Foulkrod, Classroom Support
Bridget Bernhard, Classroom Support




Room Parents
Kristin Hansen
Katie Short



Classroom Highlights
2/23/23
Happy Thursday snow day!
We are finding our groove. I have paused several times lately to gaze around the classroom and am pleased to observe children joyfully choosing work and engaging with each other. Now that Anna, Bridget, and I have had some solid time together, we are operating in a good flow. I can tell that the children feel it too. They are working harder and more intentionally than I have previously seen- this inspires me to do the same. I am constantly thinking of fresh materials and lessons and experiences for your children!
The passing of sweet Gus was handled very well by the class. While we are not certain about why he died, we understand that guinea pigs do not live very long (about 3 years), Gus lived a long and happy life. He truly enjoyed the children and greeted them with delighted squeals each day. He will be missed. We will continue to care for our snail colony and hope that they are enough of a classroom pet for now.
Parents visiting day is rescheduled to Wednesday, March 1. We are happy to welcome just one parent at a time- our space only allows so much room.
Conferences are on the horizon, March 8-10. Please be sure to sign up!
1/25/23
Happy Friday!
As my first official week as the guide for Primary East comes to a close, I am reflecting on the progress and pitfalls we have surmounted. Several children wanted to test the boundaries of our new relationship, as I expected they would, and we had several conversations about how I will often do things differently than Allie - and that's ok. In general, I think we are finding our footing and ending the week in a good place.
I have received news that Anna will be returning to us on February 6th. We have all missed her and will be excited to have her join us once again! Penny will be our sub until Anna returns.
Last Friday, we gathered in the gym for a wonderful musical experience! Jordan Hamilton brought his two cellos to present to the children, one electric and one acoustic. He was very engaging with the children and we got to participate with him.
Thank you to the parents who joined us in Megan's room to learn about the kindergarten year. If you were unable to attend, please reach out if you have any questions about what that looks like.
Water bottles being brought from home each day is a leftover habit from our Covid days. Our classroom drinking fountain has been turned on and we have plenty of drinking cups. If your child is attached to the idea of a water bottle from home, that is just fine too, but it is not a requirement anymore.
We have had a lot of interest in bringing things from home for show and tell. I have decided to adopt an idea that some of the other classes use. I will be placing a museum tray out in the classroom and the children can add objects of interest. The item should belong to the following categories : objects from nature, mementos from travelling, photographs, and hand made art.
Make sure you received the note that we sent home about Valentine's Day, if you did not- please let me know.
Have a wonderful weekend!
Allie
1/12/23
Hello and happy Thursday!
This week, we have welcomed Britny Tolstom to our classroom community. She has had both an opportunity to observe and now joins us as a member of the team. Britny had an opportunity to give a formal introduction on Wednesday, sharing with the children both about her new role in the classroom and little background about herself and her family. The children loved seeing photographs of her children and family and hearing about her life! Britny and I have had lots of opportunities to connect and plan for this transition (which will continue into next week) and I feel confident that she steps into this role with lots of information about each of your children and all that they bring to our classroom community. I am enjoying soaking up each moment with your children as I transition out of the role of their guide. Thank you for the warmth and support you've provided to me. I am so grateful for this community and look forward to seeing each of you in a "parent" role as we continue to support our children here at TCH.
The interest in Geometry in our classroom has exploded upon returning from winter break! Children have enjoyed utilizing many materials from different areas of the classroom to create patterns, match shapes, and think about dimension. We have a set of 2 dimensional cards on the shelves currently that match the 3 dimensional shapes of the Geometric Solids. Children have sorted pictures of common everyday items such as a gift box (Cube), tent (Triangular Prism), and and ice cream cone (Cone). They have taken the material a step further to find objects in the classroom that match the solid forms as well. It is the intuitive and creative nature of children and our classroom environment that make these special learning opportunities possible! Children have also enjoyed creating their own 3 dimensional shape to take home by carefully cutting, folding, and taping seams to make a Triangle Based Pyramid. There is also great interest in using our Metal Insets to create repetitive patterns based on designs children have created with rubber bands and pegs on our Geometric Board. The interconnected nature of a Montessori classroom is truly a marvel!
We have introduced a new art material on our shelves-monoprinting! The children have enjoyed experimenting with painting a plexiglass board and drawing shapes and using materials to create images within their thinly painted surface. Then, they place cardstock on the surface and use a roller to print their image on the paper. Children were surprised to see the reversals or mirror imaging of what they designed, learn about "negative space", and the unique nature of no two prints looking exactly the same. We will continue to talk about how the origins of this art form in Japan, some specific artists who utilized the style, and I will even share a few types of printmaking I have experience with from a college class that I took. We plan to discuss in detail a few types including relief printing, intaglio, lithography, monoprinting, and screen printing. The children have enjoyed learning about this specific style of art and have even started to notice the style both in the art hanging on the walls in our classroom and in the school hallways!
12/15/22
Hello and happy mid-December! I simply cannot believe our calendar year is already coming to a close. The growth, friendships, and community mindset of our classroom continue to be a bright spot of each day. From children volunteering to assist their young peers in putting on warm winter clothing to washing the easel simply because it was messy, it is lovely to witness. As the busy-ness of this time of year feels apparent and the children are feeling energetic about winter break and their own celebrations, I have enjoyed celebrating our many year end birthdays. Hearing about each child's life, connecting with the families, and participating in the lovely journeys around our sun candle has brought such light to these dreary days. Thank you for participating in this special tradition with us!
We have started walking Gus, our classroom guinea pig, each afternoon! Each day, two children wait as I patiently adjust his tiny harness. Their extreme care and patience in giving him exercise is simply the sweetest. We have practiced giving him extra space from our feet, walking only when he walks, and stopping to give him opportunities to explore. We've noticed things in our hallways that we may have overlooked otherwise! One of Gus's favorite things to explore are the "tunnel benches". Seeing the joy in the children as they watch him go through these obstacle-courses makes our walks extra special. Children have also enjoyed filling his water, food bowl, timothy hay, chopping carrots, and giving him his daily bay leaf treat. Gus has a beautiful display of art work made by the children on his cage and is beloved by all. Here are a few snaps from the last weeks with Gus.
We have spent the last few weeks learning about the many traditions and holidays some families celebrate this time of year. We have talked about Winter Solstice and made a traditional craft (your child's holiday gift to you!), Hanukkah, Kwanzaa, and Christmas. The children have enjoyed learning songs, seeing a Menorah, and playing dreidel. Children have also enjoyed paper weaving on the art shelf, a tradition shared during Kwanza. We have explored how people celebrate Christmas both in the United States and in other parts of the world. The children were surprised by some of the European and Spanish traditions around this holiday! Our classroom has been filled with music as the year comes to a close. We are very excited to wear pajamas and sing together in the gym as a whole school community on Friday. I wish you all warmth, time spent together, and light as we enjoy our winter break. See you in the New Year!
Best, Allie
12/01/22
Welcome back from our fall break! I hope you enjoyed the sunny weather and some extra time spent with family. Before our time apart, we started thinking about indigenous cultures in our classroom. We read legends and stories from the Wampanoag tribes and the children were surprised and delighted to hear that they were written from the perspective of animals and plants. We talked about how in many indigenous cultures, there is a deep connection, appreciation and gratitude for the natural world. We read "Keepunumuk: Weeachumun's Thanksgiving Story" and talked about the people who first lived in the United States. This story was written from the perspective of the "three sisters", corn, squash, and bean seeds. It discussed the way that native people lived, their generosity to newcomers, and the unfair nature of how they were treated as their land was colonized by the newcomers in 1621. We made a traditional Wampanoag "nasamp", a cornmeal based dish similar to oatmeal and the children enjoyed tasting this cultural meal. This week, we read a beautiful book called "Still This Love Goes On", written by Buffy Sainte-Marie, a Cree woman who wrote the lyrics as an ode to her love for the land. We also enjoyed listening to the song, discovering that the chorus was stuck in our heads during the afternoon work time!
We have lots of new animal cards on the shelf this week! The children have enjoyed matching animal tracks to photographs of the animals that make them. They have also practiced tracing the tracks to make books. We look forward to snowfall when we can see mouse and rabbit tracks on our playground. It is always a magical time to connect our outdoor environment with the materials in the classroom! We have also started to discuss hibernation, migration, and animals that adapt to changing weather. The children have enjoyed guessing which animals fall into each category and then checking their work with our control chart. They were surprised to hear that frogs bury themselves in the mud at the bottom of ponds to hibernate, ermines shed their dark fur to be replaced with a white camouflage fur, and whales swim to new waters to mate. We will continue thinking about the animals we see living in our area and how they change as the cold weather arrives.
Thank you so much for the incredibly generous book donations on Horizon Book Day. Most titles had a donation tag, but if you donated a Science research book please know that we are already enjoying it-thank you! Not only has our library been updated with beautiful new titles, but our school also benefited from many donations as we shopped our community. We live in a special place and are part of an incredible school community. I feel grateful each day to be a part of it. As we spend our last few weeks together before the end of the calendar year, I've enjoyed reflecting on all the ways we've learned and grown together as a classroom. A few notable dates! We will begin collecting donations for Generations Ahead this week and collect through break. Please see the information page I sent home with your child and reach out if you have any questions. On December 16 (the last day of our break and our Seasonal Sing), we will enjoy some time together in our pajamas! Your child may wear pajamas to school as we share a fun-filled day together. Please leave special stuffed animals and slippers at home and ensure that your child is able to dress independently in the pajamas they choose to wear. Thanks!
Music with Kindergarten
The Kindergarteners have started their ukulele journey! They have been eager to get underway playing and learning all about their new instruments. They have learned the name of several different parts of the ukulele, how to hold and strum, and are getting the hang of their first few chords. They eagerly ask when they are going to get a new chord to learn. So far we have several songs to play and sing for each chord individually and one song that they are learning how to change between three different chords. Ask them which one is their favorite!
Art with Kindergarten
For our first class together this year the students and I drew penguins together. We started with the number 8 for our penguin bodies, first in pencil and then in black crayon. We added one eye with our crayons and talked about how it looks different when something is looking to the side instead of straight on. After filling in our penguins with black, leaving the bellies and the eyes white, we added orange beaks and flipper feet. We then discussed how to make the penguin look like they were standing on ice with a blue painted sky. The students painted a line on both sides of the belly and filled in the sky above. They were a fantastic group of kids to work with for the first time and their penguins turned out fabulous!
11/10/22
Congratulations to the Gysbers family on their baby girl, Ava! Ava was born on Saturday, November 5 and their family is doing well. Please check out the meal train to help their family during this time of transition!
Thank you so much for taking the time to meet with me for conferences last week! Our communication and partnership is an incredibly important part of each child's time in a Montessori environment. I enjoyed sharing anecdotes, hearing about your children teaching you things they've learned, and getting to know each of your families better. In the next few weeks, look for a google questionnaire I will put together and send (thinking about favorite celebrations, what you call grandparents, pets if any, etc). This questionnaire will help me get to know you and your family on a deeper level and I hope will be a bridge to integrating important customs, celebrations, and cultures into our classroom. My goal is for our classroom to feel like an extension of family and I look forward to you sharing your expertise with me.
Last week, the children awake in the afternoon created an art project with Katie. We were able to enjoy the sunny mild fall temperatures and think about art ideas such as symmetry, utilizing natural materials, and patterning. Children enjoyed collecting pine needles, walnuts, beautiful stones, and gathering sand to make mandalas inspired by our playground and their own imagination. The basketball court provided not only a "blank canvas" but a flat space to showcase their work. This structured time to connect with our playground was enjoyed by all! The team work and creativity involved was incredible to see. The children were proud to share their creations both with other classrooms and the adults on the playground at the end of the day.
This week, we will start to think about our harvest feast celebration that will take place on November 22. We will begin talking about gratitude and this important time we will gather together to share a meal as a classroom community. My favorite part of our yearly harvest feast tradition is each child's role in choosing a dish to prepare or food to bring. This week, we will sit together at group and talk about some of the foods we may bring. We will think about protein, grains, fruits, and vegetables that we can combine to create a balanced meal for each member of our classroom. The creative ideas and favorite foods that children suggest always make me laugh! Look for information coming home soon that will outline what your child hopes to bring and more details about our gathering.
Music 11/09/22 - Kindergarten
The Kindergarteners have started their ukulele journey! They have been eager to get underway playing and learning all about their new instruments. They have learned the name of several different parts of the ukulele, how to hold and strum, and are getting the hang of their first few chords. They eagerly ask when they are going to get a new chord to learn. So far we have several songs to play and sing for each chord individually and one song that they are learning how to change between three different chords. Ask them which one is their favorite!
10/27/22
Happy Thursday!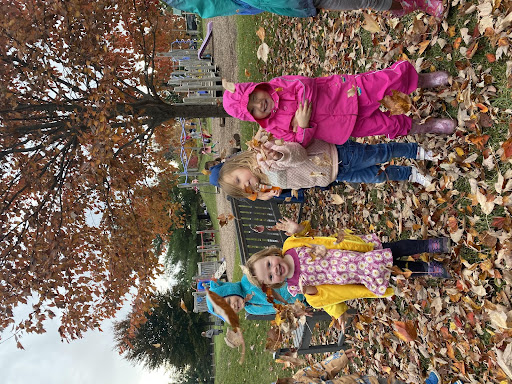 I hope you have all enjoyed the beautiful fall weather! Please remember that we play outside every day for a minimum of 30 minutes. Your children will need weather appropriate gear for the cold days! The mild weather days have allowed us to enjoy and appreciate the stunning trees on our playground including a Japanese maple and red maple. The children have also enjoyed collecting dried pine needles and fallen leaves to create cozy nests! Fall is a time for gathering and connection. I look so forward to connecting with each of you at parent teacher conferences! If you haven't already, please sign up in an available slot. This is the time we have to discuss what each child is working on in the classroom and a great opportunity for me to answer any questions you may have. It is helpful to send your questions in advance so that I am able to answer them thoroughly and completely during the very short conference time we have. This time together is a parent-only opportunity to connect-please ensure you have a childcare option. Your communication and partnership is so important.
https://www.signupgenius.com/go/30e0b48ada729a1f58-allies1
Last week, the Kindergarteners took part in a presentation by Good Will Food Rescue. The children learned about how food is grown, what food waste is and why it happens, and opportunities to prevent this waste. The children weighed and repackaged salvaged "imperfect" carrots and decorated food delivery bags. They loved learning more about the process and organization and helping those in need. We will bring this model into our classroom as we talk about how food is grown and ways we can reduce waste and compost. This is also a great chance to discuss volunteer opportunities and sharing abundance with those in need. We read "Saturday at the Food Pantry" by Diane O'Neill and "Last Stop on Market Street" by Matt De La Pena. The kindergarteners were able to connect these resources for those in need with the same need that Good Will Food Rescue fills. It was amazing to hear their ideas about how we can help in our community!
On Fridays, I share opportunities for the children to learn simple Spanish at our morning group. Since we have started thinking about the skeletal system and the bones in our bodies, we have also learned the names of body parts. We have been practicing the song "Head, Shoulders, Knees and Toes" in Spanish. The lyrics are as follows:
Cabeza, hombros, rodillas y dedos,
rodillas y dedos.
Cabeza, hombros, rodillas y dedos,
rodillas y dedos.
Ojos y orejas y boca y nariz.
Cabeza, hombros, rodillas y dedos,
rodillas y dedos.
It has been sweet to hear the children singing in Spanish independently during our work time! Perhaps your child will share the lyrics and motions with you at home or tell you the names of some of the bones in the body that they have learned.
10/12/22
We warmly welcome Elowen Gysbers to our classroom community this week! Look for our classroom roster coming home soon. It is wonderful to put a face with the names we hear our children share at home.
At group, we have been learning the verses of the poem "Come Little Leaves" by George Cooper. The children have memorized:
"Come little leaves, said the wind one day
Come over the meadow with me and play.
Put on your dresses of red and gold,
For summer is gone and the days grow cold."
We talked about the author's use of personification in saying that the leaves were wearing clothing to describe the lovely way they change colors this time of year. We also thought about rhymes, words with the same ending sounds, and found each one in this first verse. The children thought of some other words that rhyme and we played a game where I thought of a starting word and they shared rhyming words. We also discussed using rhyme as a style of poetry, as we know that not all poems have this quality.
At group, we dissected a pumpkin. The children eagerly discovered the stem, skin, seeds, fibrous strands, and the pulp. We also reminded ourselves that pumpkins belong to the squash family and grow on a vine with curly tendrils and leaves. After the dissection, we placed soil inside. We will keep the soil moist and plan to watch as the seeds grow inside the pumpkin into sprouts. We know that plants also need light, so the children chose a place on the shelf near a window to facilitate this growth. On the shelves, we have language cards for pumpkin life cycle sequencing, parts of a pumpkin book making, and also cards with different types of squash. Many children have enjoyed sharing their pumpkin harvesting adventures at group!
We have enjoyed having Angela in our classroom each week to host our group time. She has brought a few instruments, including a finger piano and a wave drum. At this time, we have an opportunity to try to play the instrument and hear about what part of the world it comes from. Angela has shared about the idea of resonance and how this changes for each instrument. The finger piano created resonance (sound waves) outside of the instrument whereas the wave drum creates this vibration of sound inside the instrument. We have also learned two new songs that we will continue to practice in the classroom, "Lil Liza Jane" and a rhythm song from Zimbabwe. The children enjoyed singing and attempting to keep the beat simultaneously. We were surprised about just how tricky this was! We will continue practicing this skill as Angela works with us each week to bring new music, songs, and instruments.
We look forward to welcoming you to Parent's Visiting Day on the 19th! Please drop your child off in carline and park. Reminder, we ask each child to have one parent or special friend to join them in the classroom. We have a second visiting day in the spring when the other parent or friend can attend. The space in the classroom gets very crowded when each child has multiple people, and we want the children to each have enough space to move and work so you can get the best example of what they do here at school each day! Thank you.
9/29/22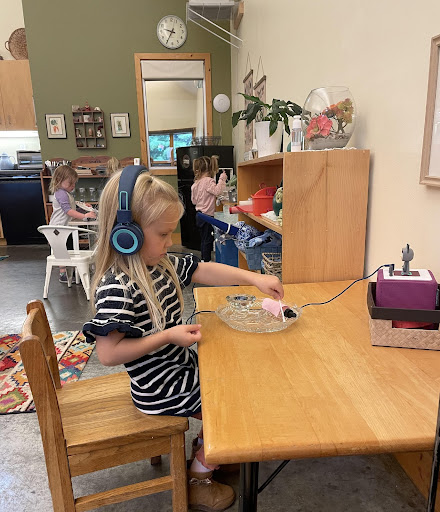 How wonderful it was to embrace the fall weather and connect with each of you at the class picnic! Thank you for making the time to gather and build our classroom community. The children were thrilled to see one another and talk about our time together at Jacob's Farm this week! We have been working hard to build community in our classroom as we settle into routines with one another. In a primary environment, one way we do this is with Grace and Courtesy lessons. We have practiced introducing ourselves, walking around someone's work rug, asking to observe, and speaking to someone across the room by moving closer to them. Explicit practice of these essential skills will help our classroom to function with a manner of kindness, respect, and self-discipline. We warmly welcome Nicholas Pozios to our classroom community from YCC this week! The children have been so helpful and thoughtful as he settles in.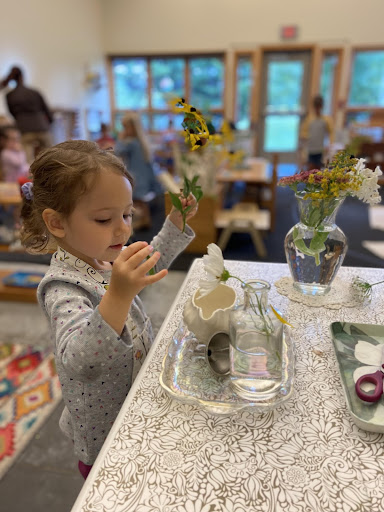 The children have enjoyed a new addition to our classroom this year, a listening station! Our listening speaker is currently stocked with two books that I've recorded myself reading aloud from our classroom library along with a reading of Little Red Riding Hood and a sea life series by marine biologist Cristina Mittermeier. It is in constant use! I will continue to update our listening station with books from our library, music, and information based on what we are learning about in the classroom. As the year goes on, please let me know if there is a book that you would like to read (via voice recording sent to me) and lend to our classroom. I would love to have one or two guest readers each month to lend their voice to our eager listeners! When thinking about a book your child may want you to read, please remember we hope to share books that are realistic, appropriate, and relevant.
Please mark your calendars and join us for an exciting learning opportunity in early October! This event is a great chance for us to spend time together in the classroom for a hands on look at our day-to-day happenings and materials in a Primary classroom.
Montessori Up Close: Diving into the Primary Curriculum
Monday, October 10, 2022
4 - 5:30 p.m. at The Children's House
Come learn more about your child's home away from home: How they go about their day learning, being curious, caring for themselves and their environment, and becoming more and more independent. Don't miss this special and interactive presentation by our Primary faculty! For parents and caregivers of children ages 3 to 5. Childcare is available.
Finally, thank you for your partnership and excitement in bringing flowers for our classroom and signing up to read with children this year! Our space has an extra sense of loveliness with these beautiful floral contributions and the time each of you have committed to our readers.
9/15/22
What an exciting time to gather together once again! Our classroom is buzzing with children happy to see each other each day and eager to review new skills they've learned. We have practiced introducing ourselves and have warmly welcomed the new children to our environment. We have noticed a change in weather, Michigan's false fall! This is a great time to think about checking the weather each day with your child. A morning check can help you both feel prepared for the day with appropriate clothing to go outdoors. You are welcome to leave rain suits, rain boots, and an extra sweatshirt at school for the sometimes unpredictable changes in weather. I will assume that these things can stay at school unless I hear from you.
We have also welcomed our classroom pet snails back into our room with the addition of two new snails. At group, we talked about how snails fall into the category of invertebrates and have started thinking together about some other animals that do not have a backbone. I will put out language cards of vertebrates and invertebrates this week for the children to sort and explore. We also discussed their class in the animal kingdom as shelled gastropods. We will continue learning about gastropods and their attributes as well as how to care for our pet snails. You may hear about your child misting their enclosure, cutting fresh vegetables for them to eat, or filling their water dish. We take such pride in caring for our interesting pets!
Our food preparation shelves are in constant use! What a gift it is to meet a child's need to independently care for themselves by preparing food. We are currently enjoying peeling clementines, snipping chives, cutting bananas, spreading jam or cream cheese on crackers, grinding coffee, and making lemon water. The children have also enjoyed baking granola. This material requires preparing a workspace, reading a recipe, carefully measuring ingredients, patience, and often collaboration. I hope that you've gotten to enjoy (or will soon enjoy) this delicious treat! Cooking and baking with your child not only helps alleviate a household task, but helps a child participate and provide for their family community and is an excellent opportunity to connect! Let me know if I can suggest recipes or food preparation tools for you to try at home.