"…the child's intelligence (is) a fertile field in which seeds may be sown, to grow under the heat of flaming imagination." - Maria Montessori

This year we look forward to developing a curious, kind, and inspired community together. We hope to ignite imagination in each other and help discover new passions and curiosities.

-Jamie

Jamie Schaub, Upper Elementary Guide
Jaime Janiszewski, classroom support

Room Parents
Classroom Highlights
5/11/22
Last week we finished our classroom poetry project and the students assembled them into books to take home. Each student chose a poem they wrote this year, or wrote a new one, and typed them in order to print a classroom book of poetry. I hope that they shared them with you, if not ask them to show you!
We are so happy to be spending more time outdoors. On Friday we all helped out local landscapes for our Earth Day Outings. Our 4th and 5th years helped re-create paths and weed around the plants at Deyoung Natural Area. They also learned how to divide and propagate plants. This is a location that is part of the Edible Trails Project, so I encouraged them to stop by throughout the summer to check for snacks.
The 6th year traveled with the Junior High to help the public parks downtown, specifically the park along the river on 6th street. Hopefully, they will go back to visit and make sure it is still looking cleaned up.
We have been reviewing plant classification and the jobs of each part of the plant, perhaps they can review with you to test their memory!
Finally, our students are singing True Colors for Grandparents' Day and are learning sign language to go along with the song. Here is the video if they would like to practice at home: https://www.youtube.com/watch?v=F2DGxKPLOcc&t=41s
4/28/22
Currently in our book, "The Blackbird Girls," we are learning that Valentina's grandmother (Babulya) must practice her Jewish tradition of Shabbat in secret due to the laws against
practicing religion in the Soviet Union at the time of this book (1984). Valentina is interested in learning more about her religion and so she begins the dangerous act of practicing in secret with her grandmother.
Meanwhile, we are also discussing the branches of government, the constitution, and the amendments. Students connected the first amendment (freedom of religion) to our story and realized that there are differences in laws among countries.
The interconnectedness of education is what makes Montessori classrooms so fun, interesting, and meaningful. Students are not sitting in science class and then language arts, dividing up the subjects. They are making connections between lesson concepts, and this helps solidify their knowledge and bring meaning and understanding to what they are learning.
Movement is also very important, and so following a lesson about perimeter, students are measuring every room, hallway, and part of the playground that they can! Soon they'll be ready to design and build a home.
4/15/22
Recently we finished our class art project that will become an auction item for the Bright Futures Celebration. Each student helped paint one square that will be assembled into a complete painting. In under-grad I studied community art projects and their benefits. The list is endless, but some include: collaboration, encouragement, teaching and helping each other, trying something new, getting to know each other better, and building connections. It was beautiful to hear compliments, suggestions, confidence, and connection from the students during this process.
One student came to me once we arranged the squares together into one big painting and remarked, "was the point of doing this that we all have different artistic styles and we can see them come together?"
This made me smile thinking about how much the students have learned through the reflecting we do in our journals almost daily. They stop and think about the bigger picture or meaning. They think about themselves, their peers, and the lives of those they do not know. We read about current and historical events, celebrations of other cultures, and life skills. Many times they are asked "what would you do?" and "how would you feel?" in an effort to build compassion.
3/21/22
Today begins our Upper Elementary Theatre Week! Students are learning theatre games gaining skills in projection, articulation, improvisation, and stage direction. They also will begin practicing skits to perform on Friday 3/25 at 2pm! We hope you will join us for the performance. Please let me know if your child will NOT be present on Friday so that Rachael can plan accordingly.
Our 6th years have returned from an incredible trip to New York City after participating in Montessori Model United Nations. Together they worked with Montessori students from around the U.S. and the world to come up with solutions to real-world problems that the United Nations is working on. We are proud of their collaboration and creative ideas!
Music
We have finished our time on Orff instruments that we were working on following Winter break. In that time the students were able to put together seven different parts between the mallet instruments and the hand percussion on an arrangement of Havana. This work allowed them to focus on their own parts and also listen to the ensemble simultaneously. They surprised themselves by being able to do this and take charge of the steady beat that is so important to ensemble playing. We recently started a focus on found instruments as a way to expand their ears to different sounds. We will be learning some basic rudiments to then allow the students to pick three sounds that they like and apply the rudiments to their own compositions.
2/24/22
Recently we have needed to revisit our classroom agreement with each other in order to remind us how we hope to be in community together. I thought I would share the sections they wrote with you:
We would like to feel:
excited for work, safe, included, confident, happy, welcomed, challenged, ready to learn, understood, listened to, and appreciated.
We agree to:
participate, help others, treat others how we want to be treated, include others, help people when they are hurt, and protect each other.
We agree to be:
kind, safe, helpful, careful, thoughtful, positive, ready to work, organized, fun, thorough, respectful, courageous, motivated, creative, and aware of our volume.
They are so thoughtful in their brainstorming and reflections, so we are hoping that they can remember their agreement in the moments in between.
The upper elementary students have spent some time recently working with food groups and nutrients. We've played a few games to identify which foods belong to which group as well as discussing nutrients and how each is necessary for a healthy body. It is always interesting when we mention fat as an essential nutrient, how it helps with absorption of vitamins and minerals, builds new cells and aids brain function. Students often think of fat as only a bad thing and I think it's fun to share its role in a healthy lifestyle. Expending energy in the gym is important, the food we choose that gives us that energy is important as well. I hope the a few bits of info I am able to share support what you all share at home.
2/9/22
Every few days we read from the book "Life Skills" by Keilly Swift. This is a book from Horizon Book Day and includes sections about problem solving, ways of thinking, communicating, understanding feelings, and coping skills. There are meditation techniques as well as general life lessons. The children reflect on which lessons they would like to work on and they try the meditation techniques. This is a wonderful book, if you'd like to share it as a family.
I have been meeting one-on-one with your children to discuss their studies, lessons, and any questions or concerns they have. We also sort their work in order to prepare for your visit in a couple of weeks! They are looking forward to sharing their work with you. Please make sure to sign up here if you haven't already.
Our sixth year students are in the final stretch of their United Nations work, preparing speeches, posters, and flags! It is an exciting time and one to be proud of!
Students will share their Secret Valentines over the next few days and Monday has an additional offering from Ava, Gwennie, and Natalie for their bake sale which is benefitting The Cherryland Humane Society. Your family can help them by either baking some treats and bringing them Monday morning or purchasing some treats on Monday at carline.
Looking forward, we are planning to have Theatre Week March 21-25!
1/27/22
Deep winter is settling in at the Children's House and we all begin to get used to the days and days of cold and snow, like they have been with us forever. I always think of this time of year as a lesson in resilience against the dark, the cold and the winter days ahead. Even though I am still new, I feel like this month has presented more than its share of such lessons, with Covid keeping all of us on our collective toes. I say all of this because though we all come to school with open eyes and an understanding of our challenges, I am continually impressed with the sheer amount of enthusiasm, joy and kindness that the students and staff bring each day.
Our week with Jamie's class was truly awesome. We have been working through the freezer this month trying to use up as much as we can, so there wasn't as much prep work as in weeks past, so we spent the time baking quite a bit. Banana bread, muffins, cookies all made the list, but the sleeper hit came at the end of the week when we made the focaccia bread. I never know how messy kids really want to get, but I'm learning that more mess is usually better than less. Bread presents quite an opportunity for mess, and it's even more exciting because you mix it by hand and you can't wear gloves. Two groups took turns adding flour to yeast and water and squeezing, kneading and squishing it through fingers until they each had a perfectly soft dough. The next morning I baked the bread to go with a warm and cheesy broccoli soup, and it was, I'm not just saying this, the best batch of bread we have had since I have started. Food is always better when you have a little fun cooking it, and right now, finding opportunities to laugh and play while cooking seems like the thing we all might need to make it through until spring.
1/13/22
Recently we started our new read aloud book called "How I Became a Spy" by, Deborah Hopkinson which is one of the Battle of the Books assigned readings. This book tells the story of a young boy who lives in London during World War II and two friends who help solve a mystery during the Nazi attacks. The spy team is formed by Bertie, the main character who lives with his dad, Eleanor, an American girl, and David, a Jewish refugee living with foster parents. The learners will get to know more about World War II and about collaborating with people who have very different lives from each other.
We read the chapter in Tiffany Jewell's book "This Book is Anti-Racist" in which she talks about resistance to racism. She mentions several people in history who have resisted and our students decided to make a biography work called "Resisters" that features these people. Each student learned about a person, typed a short biography, and will be working on making cards and portraits for them. It was a joy to see their excitement.
We have been learning about Dr. Martin Luther King Jr.'s life and legacy. We talked about ways we can honor his intentions including: helping others, standing up for each other, supporting causes we believe in, solving problems peacefully, and using our words to share our thoughts. Another opportunity is helping with Gwennie and Ava's project for helping provide home goods for families through the Northwest Michigan Coalition to End Homelessness on Monday at 10am in the gym. You can sign up and find items to donate through The Compass.
Students also enjoyed listening to and singing this song about Dr. King.
12/16/21
We have had the pleasure of listening to many completed research studies this week! Many students have had such a wonderful feeling of accomplishment by sharing their work. Our sixth years are beginning to type their position papers and think about solutions to their United Nations topics.
We have also talked about winter solstice traditions including sharing stories and poems, gathering around fires, and lighting candles. We are also learning about printmaking and the children have engaged in this multi-step project this week.
See you at the sing-a-long on Friday and I hope that you all have a wonderful winter break and I look forward to seeing your children in the new year!
12/02/21
Recently I started reading aloud the book "Ugly" a memoir by Robert Hoge. It was recommended to me by a student who read it and it was previously on the Battle of the Books list. This book tells Robert's story as a kid growing up looking different. As a baby he had a tumor in the middle of his face and his legs weren't formed normally. Together we are learning about his experience with prosthetic legs and a face that isn't considered "normal." This book is quite funny, sad, real, disappointing, and hopeful. It is my hope to continue our conversations about differences and help the learners develop compassion for those who don't fit into the "normal box."
We have been so excited about the new books in our room from the Horizon Book Day! I often see children reading them throughout the day. Thank you so much!
Something really beautiful in our room each day is the time when students share "positive thoughts." Before lunch the learners have the opportunity to send positive thoughts to those who need it. Sometimes it is a relative who is sick, a dog who passed away, or people who are affected by a natural disaster. I love hearing what the students are thinking about, they are so thoughtful.
Music Highlights: This Fall we began by reviewing the fundamentals of reading music and rhythms and then applied those to our first instrument cycle, recorders. The students learned a piece, Spanish Blade, start to finish and were able to play with the accompaniment track and in ensemble with each other. The next cycle we are currently working on is Music and Movement. In this we explore music that is intended to have some sort of movement, or dance, involved. So far we have covered Tchaikovsky's Nutcracker, Copland's Appalachian Spring, and this week we engaged with Bernstein's West Side Story. Later this week the students will be voting on their selection for the Holiday Sing and we will start working on that next week.
11/11/21
It was a pleasure to meet with all of you for conferences last week. It is a joy to get to know your children and support them in a variety of ways from learning, being a community member, to building confidence.
Many students are completing their studies and getting ready to present to the classroom. We are hoping to wrap up all of the studies from the beginning of the year in the next couple of weeks so that they can begin learning about something new.
Our sixth year students have started researching their MMUN topics which include:
Protection of Global Climate for Present and Future Generations of Humankind,

Ensuring Access to Affordable, Reliable,

Sustainable and Modern Energy for All,

Improving Youth Well-being and Mental Health,

Leaving No One Behind,

Green Jobs as an Effective Framework for Sustainable Agriculture, and

Addressing Climate Change and Other Environment-related Matters in Fisheries and Aquaculture.
If any of these topics are of particular interest or knowledge to you, please let me know. I am sure that the learners would benefit from discussing with you.
A reminder that there is an in-person conversation about technology use for elementary and junior high aged students TONIGHT at 7pm in the gym. Many of you discussed wanting to scale back the amount of technology used by your children, perhaps you can connect with each other at this meeting or in another way.
Physical Education
The fall has been a good time for me with this group. I see them each day at 11:25, right before lunch. We have been playing several games involving overhand throws and catching. We have also worked some character strengths into our time together, so far we have addressed grit, self-control, kindness, optimism and gratitude. The gym seems like a perfect place to work on these skills as well as their physical health. I hope I will see some of you soon and look forward to my days with your kids.
10/27/21
Recently we have been discussing the importance of recognizing our strengths and the things that we are good at. Your children have made lists for the times that they are not feeling positive about themselves or they hear the negative self-talk happening in their minds. I would like to encourage you to help them make a positive list at home to reference as well.
Our fifth year students read an article for reading comprehension about minimalism and happiness. The challenge from the article was to count the number of things in their room. They learned about a family that lives in a tiny house with a total of 305 items, including each fork and each piece of clothing. Many of the students thought they might want to get rid of some things. Please encourage them to do the counting in their rooms, they thought that they will be surprised and might like to bring a box to sort as they go. Fourth and sixth year students can join in too!
It has been wonderful to have you spend time with your children at school so that they can show you many of the things that they are learning. They were excited to make a plan of lessons to share and work to show during your visit. I am looking forward to meeting with you for conferences next week, if you need to sign up for a time please do that here.
Students are able to wear non gory and non scary costumes on Friday afternoon (10/29) inside our classroom. They should be in their backpack when they arrive at school. They should not have things that cover their face, aside from their protective face mask (wigs, hats, and things on top of their heads are okay inside the room).
10/14/21
We had such a wonderful and inspiring time at The Dennos Museum on Friday. The learners were so engaged and compassionate while exploring the Indian Boarding School Exhibit and the Migration Exhibit. They loved the animal prints in the Inuit art and the optical illusion in the contemporary art exhibit. Many said that they enjoyed the Indian Boarding School Exhibit the most, even if it was sad. There was a station where they could write letters to the boarding school students and many of them wrote such kind notes to them. It was a joy to bring them to the museum to learn and be inspired.
Our sixth years have been working hard in order to get to know the countries they are representing for Montessori Model United Nations this year, Myanmar and Iceland. We are excited for them to present their country research in the coming weeks.
Many students have been excited about making graphs in our room after taking surveys around the school. Some have learned to find average, some have made bar graphs, and others have learned to make pie charts. Perhaps they will have questions for you at home.
Please make sure to sign up for a time to visit with your child in the next two weeks here
Conference sign up is here
9/30/21
Recently your children have been reflecting on their identities. We're reading from "This Book is Anti-Racist" by Tiffany Jewell. The first three chapters help them think about who they are in the world. Their journals show a word map filled with descriptions like, "a reader, a sibling, tall, female, an artist…" Then they wrote about their race, ethnicity, gender, abilities, and family structure. A few were not sure about their ethnic and racial identities, so I sent them home to ask all of you to help them know more about their ancestors.
We finished our classroom agreement and three students created a piece of art to display in our room. I have attached a photo to this email. The learners came up with how they would like to feel and how they will be in the classroom. This is something that we reference if it ever feels like some learners are not following the agreement. It is a wonderful process hearing about their hopes for the classroom, enjoy reading what they think!
We've also enjoyed writing poetry starting with a collaborative poem about peace last week and writing haiku poems outside this week. Perhaps you'll write a poem together as a family in this beautiful fall weather.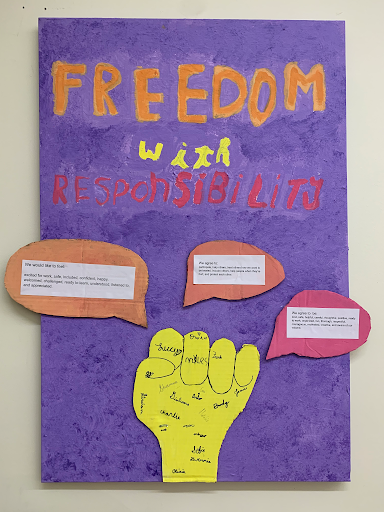 Jamie's Class - Art 9/29/21
Welcome back to afternoon art classes! As per tradition, the students have been working to design their placemats to use for the year during lunch. As always, and especially in upper el, the designs are extensive and fairly detailed. I always enjoy seeing the student's personalities come through in their art, notably so when it is such a personal project to them. Every year I hear multiple students tell me, as they are working on their current placemat, that they already know what they will be creating the following year! I love this enthusiasm and look just as forward to this project each year as much as the students do.
Della Terra
Where on earth is carbon found? What is a carbon cycle? How does our work in the gardens play a role in the carbon cycle? These are some big ideas that we are talking about in Della Terra with the upper elementary students. I enjoy being able to make connections between our time in the garden classroom and lessons that they have in their classroom. We remember the timeline of life and when the plants came out of the water and figured out how to live on land. We are grateful that the plants started the cycle of taking the carbon out of the air and moving it into the ground to improve the soil. We remember the leaf chart where we can imagine the big work that goes on in the leaf to help the leaf create food for the plant. We have also enjoyed this lovely fall weather and the chance to get into our garden and explore.
9/15/21
It is so great to be all together again! It is as though we have not been apart. The children slid right into our routine and their work. Our classroom community welcomed three new children this fall and they are also diving right in and catching onto the schedule of our day. They are all beginning to understand the freedoms and boundaries that the primary classroom encompasses.
With any new school year, we always review the grace and courtesy lessons which are a big part of our community's ability to work together. The kindergartners play a big part in being the role models for these lessons. At group time this week and last week, we have been practicing some grace and courtesy. For example, how do we walk around other children's work on the floor, how do we observe someone working, how do we wait for help from an adult without interrupting and if we need to get by someone we would say, "Excuse me." These lessons will continue through the school year as the children build respect for each other and the classroom and its materials.
As you know, our weather can be unpredictable during this time of year. We are trying to take advantage of the nice weather we are experiencing these days. The children have the opportunity to use our outside classroom environment. Some of them may be choosing to hammer nails or sand wood while others observe nature by using the binoculars. Nature can also be a great palette for creativity. The children like to take their art projects outside and let nature guide their vision.
With change there can be resistance or uncertainty. Your child may be exhibiting some of these behaviors these days since school has started. It is common for children to test their ability to control certain situations. It is our job as adults, to reassure them and let them know you have their best interest at heart. Be strong for your child and give them positive words of encouragement.