Classroom Highlights
4/27/23
Happy May Day!
I can hardly believe it is almost the month of May and in May we celebrate May Day! Every spring (May 1st) The Children's House celebrates May Day with songs and dance, among other special traditions.
At The Children's House, we have a long standing tradition of pausing each year on our journey around the sun to honor the coming of spring. On May Day, we gather to recognize the astronomical midpoint between the Vernal Equinox and the Summer Solstice. Our celebration starts with the crowning of the new May Queen, complete with hand picked bouquet and student created scepter. The primary children don handmade hats, carry "branches of May," and dance around the May Pole holding ribbons the colors of spring flowers. The May Day Carol is sung, and Wild Mountain Thyme is performed by the elementary musicians. It's a pause before we enter into the year end traditions such as camping trips, a visit to the dunes, graduations, and the Dance of the Cosmos.
Every May the toddlers love watching the dance in the courtyard as the kindergarteners skip and gallop around the Maypole.We have begun practicing the songs Branch of May and Wild Mountain Thyme at group time.
We had a fun discovery while outside last week,as we were digging in the sandbox and we found a WORM!!! The children were fascinated by this wiggly creature. We talked about how we had to use the gentleness of hands so we would not hurt the worm. We further discussed that worms live in the soil and love to be in gardens. We made sure our friend worm was placed safely in our garden before we went inside for the day. Being such a hot topic I made sure to put our worm life cycle out on our language shelf. I loved waiting to see what the children would say about the worm activity and if they would remember the worm we had discovered outside… they sure did!
Warmy,
Betsy
4/13/23
Hello!
I hope everyone had a restful Spring break!
It's apparent that many of the children spent time at the beach somewhere warm over the break. I found a spot on our language shelf for some sea shells. We have a big shell that the children like to hold to their ear to hear the "ocean waves". I also set out language objects that are beach themed, there is a small bucket and shovel, beach towel, life vest and swim goggles. I love seeing the children trying to put on doll size goggles.
Easter fun has also been a big topic this week. I've heard stories of decorating eggs, finding eggs and eating candy. I brought in one of my decorated eggs for lunch and the children were mesmerized. I peeled it to show the egg inside and they thought it was very cool.
We welcomed a new child to our community last week, welcome Annie!! It is her second week and she has adjusted well. The older children have been very helpful showing Annie around the room.
The temps this week have been a game changer for outside! The freedom of just applying sunblock instead of all the outerwear is so freeing for the children and the adults.If you have a sunblock preference other than our school sunblock feel free to send some along with your child. A sun hat is handy too!
Warmly,
Betsy
3/16/23
Oh how I love conferences. I enjoyed the time chatting with you about your child's days at school. The parallels of home life and school life are so fascinating to hear about. Thank you for sharing your children with me, I look forward to seeing every child each and every day. I'm so fortunate.
Plant care has really become a hit these past two weeks! Maybe it's the feeling of spring in the air or all the flower bouquets we have been arranging. Plants are watered, leaves are dusted and washed.
Taking care of plants can be a wonderful opportunity for young children to have the experience of caring for another living thing. We have at least three materials on our shelves for plant care: watering plants, washing leaves, and dusting leaves.
Watering plants is an excellent way to practice the coordination of movement. In the classroom, we use small watering cans, but at home, you might have to be a bit more creative. Any vessel with a spout or narrow neck could be used to water plants. Liquid measuring cups, creamers, or plastic bottles all make great makeshift watering cans. At school, we choose plants that can handle a fair amount of watering, but at home, you might need to help your child find other plants to water. Many children like to carry very full watering cans; this allows them the chance to practice balancing all that water. It also provides many opportunities for wiping up spills.
Washing and dusting leaves helps to remove dust and dirt and allows the plants to better photosynthesize. In the classroom, we use a dry roving puff for dusting but at home cotton balls or a very small dry cloth could also work. We also have a special leaf-shaped sponge for washing leaves. At home, you could use a small sponge, a tiny rag, or an old baby washcloth. For washing, we pre-moisten the sponge for the children. For both washing and dusting, we show them how to gently support the leaf with one hand underneath and wipe slowly down the top with the sponge or the dusting



2/23/23
Scissors! Toddlers love scissors. We often introduce scissor use around the two year mark. In order to be successful the child needs to have the hand strength to maneuver them. The child at first may spend their time with this activity by just opening and shutting them over and over.
If the hand strength to open and close the scissors isn't there yet, ripping strips of paper can be a way to introduce this activity. Just provide your child with a container of strips of paper and a container into which they can place the torn pieces.
For cutting with scissors, we start with thin paper strips first. The paper should be somewhat sturdy, construction paper works well. The thin strip allows the child to cut across the width with just one snip, which offers less frustration when they are first introduced. That first snip can be tricky and the less in the way the better. Once the child has the one snip down, we will offer a thicker strip that may take 2 to 3 snips.
Here are some examples of cutting strips, I used a card stock paper. I have set them out in the order of use, first a thin cutting strip, then a wider strip and then even wider, as they advance.
Thank you for all the flower bouquets last week! We made so many flower arrangements that we were able to make floral deliveries to different areas of the school. We loved sharing some Valentine's
2/9/23
Hello!!
As you all have seen, a new roster came home with your child last week. We have welcomed our friend Sage from Nido! They officially started this week and everyone is happy to show Sage the ropes. We have all learned very quickly that Sage loves to talk about the moon and we have spent ample time each morning looking out the window to see if we can find it. When the sun popped out Monday afternoon everyone was quite sure it was the long lost moon we've been searching for but Wednesday morning's clear skies made everyone's dream come true… what a beautiful full moon!
We have had an interest in flower arranging, it started right before break when Agnes class gathered some greenery from campus and shared them with us to place in vases around the room. The children frequently request to do floral arranging. They find pouring water from a small pitcher into a tiny funnel very intriguing. They love watching the water trickle down into the vase causing the water level to rise. We talk about how we have to have the water level high enough to cover the stem so the flower can have a drink! Once the flowers have found a home nestled in the vase it's time to find the perfect place to set their bouquet in the classroom to be admired by all.
The children and I placed some plant cuttings in water to sprout some roots. We check daily to see how big the roots are getting and to make sure there is enough water. They will be ready for soil soon!
If anyone would like to bring in a bouquet of flowers for arranging it would be greatly appreciated! Who doesn't need some flowers to brighten the room in the dead of winter?!
1/25/23
I cannot tell you how happy we are to have snow on the playground!!! The last two weeks have really escalated our fun outside as the children can sled to their heart's content!
I've been very impressed with the independence these kiddos have shown in this activity. They pull the sleds all the way up the hill and when they reach the top they carefully step and lower themselves in. Many times they offer other friends to sit beside them, it's so sweet to see. The adult's only task is aiming the sled in a safe direction and maybe a push. It's so fun!!
On the subject of independence… Another area the children are excelling at is getting ready to go outside. We get ready to go in the same order every day, which provides the children the opportunity to sequence and also fulfills their need for order. Many of the older children are doing most of these steps independently now! We will be working through the winter to further this independence in dressing for the weather. The order of getting ready is:
Snow pants (snowsuit)
Boots
Coat
Hat
Mittens
Have a wonderful weekend in the snow!
1/12/23
Hello!
I was so happy to see all my smiling YCC West friends after break, they seemed ready for some routine and order in their lives after the holidays and I couldn't agree more. The transition back was smooth and friends were so very happy to see each other. Our older children got to work right away, watering plants, checking in on Fonzie pig's food and water status and sweeping and mopping. The younger children were eager to discover the new materials and books on the shelves. The classroom had a productive hustle and bustle about it. Speaking of hustle and bustle….
We have been hard at work practicing restoring order in our environment these days as new (younger) children join our community; we are constantly gently reminding the children to put their work away when they are done with it. One of the most important aspects in an environment designed for toddlers is order. In The Absorbent Mind, Dr. Maria Montessori says, "...the little child's need for order is one of the most powerful incentives to dominate his early life." We try to provide the child with an orderly environment to help the child develop an orderly mind. Toddlers can be very good at creating disorder, but they are still developing the ability to restore order to their environments. This is why it is so important for us to try to establish a clear order for the child. This can be as simple as having a specific place for all of the child's things. For example, there can be consistent places for the child's coat and boots to go. We are practicing restoring order in the coat room after we undress from our time outside. The older children are eager to help the littles remove their outdoor clothing. They hang everything on hooks and set boots under the bench. It creates a natural lesson of caring for the environment and helping a friend.
Warmly,
Betsy
12/15/22
Hello!
It is hard to believe we have reached the end of the first semester, how time has flown! The past four months have been filled many new words and language expressions adding more conversations to our snack table and group time together. We had quite a big toileting crew! Our 5 oldest are now very independent with their bathroom use. And last but not least, our littlest is now walking!! So much has changed and I look forward to the coming months as they continue to learn and explore.
Our friend John has been visiting Primary this week as he moves to Alison after the winter break. I enjoy being able to visit with him and see all the wonder he is observing in the Primary environment. We will miss you John, your humor, sense of order, your ability to keep your peers on track… We can't wait to see what you will accomplish with Alison, Taylor and Marisa. We will welcome Emmey to our YCC West community from Nido, who has been visiting this week filling our room with more cheerful explorations.
A shout out to all of you for the wonderful books purchased at the Horizon Book Day event! The children have been excited for new reading material and often spend the first part of their morning reading with a peer. The adults in the room are thankful too, as repetition is a toddler's favorite form of learning and we like to add something new to the mix every now and then. Thank you! Thank you! Thank you!
Have a restful winter break and I will see you in the New Year!
12/01/22
Hello!!
I hope you all had an amazing time with loved ones this past Thanksgiving Holiday. We had a wonderful feast in our YCC West community with all the delicious dishes shared. We enjoyed thanking our friends for the meal they brought and talked about the food they might have shared with their family and friends.
This week we have included some holiday songs as we move into the Holiday Season. The biggest favorite is "Jingle Bells", in which we have real bells to shake and jingle. I introduced "Oh Hanukkah" and "Fire's Burning". We also have been singing " A Winter Wonderland" as we look through a book with the lyrics. This is fast becoming a number one requested song at group.
Our sweet Josephine is moving into her new classroom in Primary next week. She will be in Taylor's class and has been visiting this week. The older children are very curious about where Josephine is going and why. I've been talking about how as they get older they are ready for bigger work and we call this "moving up" to Primary. We wish Josephine the best! She is ready and very excited to be in her new environment.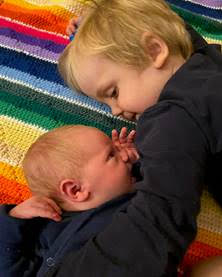 I've include a note from Jeanette:
To my YCC West Family,

I miss you all, and I'm so excited to announce that in the early morning hours of November 15th, Laszlo Jean made his appearance. He was 9 lbs and 11oz and 22 inches long. We are all doing well, and Sascha is loving his new baby brother. Thank you to everyone who has sent congratulations; we are loving being a family of four.
All my best, Jeanette
11/10/22
Happy November!!
Thank you for all taking the time to come and talk about your child with us during conferences. I always find sharing the joys and tribulations of toddlerhood to be cathartic and overall amusing. Thanks again and always remember to email anytime when you feel the need for some extra support.
This week at group the children are very excited about our two newer dismissal songs, they can choose to be a bird or a dog and then they jump and dance in the middle before washing hands for lunch. If they choose a bird they also get to choose a color too..
Blue, Blue bird through my window
Blue bird, Blue bird through my window
Blue bird, Blue bird through my window
(child's name) is my Blue bird today!
When they choose a dog it goes like this…
My dog (child's name) likes to roam, one day (child's name) left his home.
He/she came back so nice and clean, where oh where has (child's name) been?
(child's name) been? (child's name) been?
Where oh where has (child's name) been?
I love the way each child dances, some have big jumps while others just shake their hips. They all have the biggest smile regardless of their dance style.
The time for planning our Thanksgiving Harvest Feast has arrived! The meal will take place on Tuesday, November 22nd and will be served as lunch. Our tradition is that each child brings a dish prepared at home to share at our feast. This is such an important event for our classroom as it provides your children with another experience of how we come together as a community to celebrate Thanksgiving. Please note your assigned dish to bring. Our only request is that we ask that you not include nuts in any dish.
Please send the dish with your child on the morning of Tuesday, November 22nd.
| | |
| --- | --- |
| Turkey/Chicken | Asher |
| Stuffing | Ella |
| Corn Dish | John |
| Potato Dish | Linden C |
| Cranberry Sauce | Lennon |
| Sweet Potato Dish | Linden G |
| Green Beans | Lydia |
| Bread or Rolls | Esmeray |
| Apple Cider | Fiona |
| Dessert | Josephine |
| Decorations | Maggie |
| Fruit Salad | Lucille |
10/27/22
I love observing the hustle and bustle of the children during the morning work cycle. They move about the room in an independent fashion, working with the materials and exhibiting a strong sense of confidence and drive.
I especially see this in our older friends as they help to get our daily tasks done, such as placemat washing, mopping up spills (that is a result of placemat washing) and washing our dishes after food prep. Many of our younger toddlers are joining and getting some lessons from their peers.
Lately a very favorite activity is singing "Down at Grandpa's Farm". I'm sure you have heard bits and pieces of this loved tune at home. It's a language activity that seems to attract the entire class so we often choose group as a time to partake. We have a basket with a variety of farm animals, this basket is offered to a child so they can choose an animal. We name the animal and describe it, such as "big brown horse" then we sing about it and make the noise the animal makes.
Down on Grandpa's farm their is a big brown horse.
Down on Grandpa's farm their is a big brown horse.
The horse it goes along like this… Neigh!
The horse it goes along like this...Neigh!
We're on our way
We're on our way
On our way to grandpa's farm.
We're on our way
We're on our way
On our way to grandpa's farm.
Hands down this is their absolute favorite! If you hear this song being sung at home maybe try and join in, they will be ecstatic!! It's even a bigger hit the "Old McDonald"!
10/12/22
Hello YCC West Families!
Recently, some of the older members of our community have made quite a shift from parallel play to cooperative play. The children are finding ways to work with another friend with a material on a rug. Jeanette and I have been observing more and more of this behavior as friendships develop.
As a recap, parallel play is playing on their own beside another child. They will often show an indifference if another child touches their work or they feel their space is being infringed upon. Cooperative play is interacting together with the same material in agreement.
We often mention that toddlers don't share, it's not where they are in their mindset. Toddlers are very much involved in self mastery and that is a solo journey. The shift happens sometimes around 2.5 years but most often we see it closer to 3. It's a fun dynamic to observe as they develop these relationships.
Next week we will welcome Lydia to our YCC community! During her visits the children have loved showing her around and bringing her materials to explore.
You will notice a new class roster has gone home with your child this week! The children have enjoyed seeing the updated photos.
9/29/22
Happy Fall! We have been having a wonderful time talking about all of the changes we see in fall. Thank you to Asher's family for bringing in the basket of gourds and pumpkins for our language area. We talk about them every day, and someone always puts the tiny pumpkin on top of the big pumpkin every day. A few fall songs have made it into our daily singing rotation as well. Singing songs, reading poetry, and sharing books are key tools in enriching language development for the young child. We read books throughout the day and we frequently talk about how to care for and respect books. One of the children's current favorite songs is Five Little Pumpkins. Ask your child to show you the hand motions that go along with these words:
Five little pumpkins sitting on a gate,
The first one said "Oh my, it's getting late!"
The second one said "There are bats in the air,"
The third one said "...but we don't care!"
The fourth one said "Let's run and run and run."
The fifth one said "I'm ready for some fun!"
Oooo oooo went the wind, and out went the lights,
And the five little pumpkins rolled out of sight.
The children have adapted to going to the coatroom to put on coats before we go outside, and we are working on independence in this area every day. As the weather tends to shift throughout the day, please be sure your child is prepared for anything that might come. Thank you so much for sending rain suits; the children thoroughly enjoyed splashing and running through the rain we experienced earlier this week. We are working on remembering to keep hoods up when it's cold, and it's not too early to start practicing hats and mittens if you have some to send.
9/15/22
Hello YCC West Families!
Welcome to the 2022-2023 school year! It was so wonderful to get to spend time with so many of you last week at Back to School night. I'm thankful that we had the opportunity to talk about the day-to-day activities in our classroom. As we discussed, here is a list of the songs that we sing at Group. I'm sure there are others that I missed, but this should give you a really good start on ideas of songs that we sing on a regular basis.
We have been settling into the new school year; the children have all welcomed Esmeray to our classroom. They are curious about getting to know her and have been practicing saying her name when saying hello to her or pointing her out to the adults and other children. We are celebrating our first birthday of the year this week with muffins baked for sweet Fiona who is now two! If your child has begun singing "Happy Birthday" unexpectedly at home, it might be because we have been singing to her in the classroom.
The children continue to prepare snack for the next day nearly every morning. So far, we have had oatmeal, banana and applesauce muffins, bread, and waffles. If there are any recipes that your family enjoys surrounding seasons or celebrations, please send them my way, and I will try to translate them into something the children can prepare in the classroom. Here is the link to the questionnaire we talked about last week. Thank you to those who have already filled it out.
As I mentioned at our Back to School night last week, we have an Adult Learning Opportunity next month. We are having a book club style discussion about Simone Davies' book The Montessori Toddler on October 6th at 4pm. I am hoping that this will be a facilitated conversation wherein all the 0-3 guides can help answer questions about how to translate what happens in the classroom to your lives at home with your children. There is a signup on the linked webpage so that we can adequately prepare childcare.