Welcome to YCC South! The Young Children's Community is a place that supports both individual development and learning how to live harmoniously in our community. Our days will be filled with opportunities for baking, exploring, developing independence, acquiring new language and challenging motor abilities, just to name a few. I am happy to welcome your child to our sweet community and I look forward to the year ahead.

"Joy, feeling one's own value, being appreciated and loved by others, feeling useful and capable of production are all factors of enormous value for the human soul."
~Dr. Montessori

-Jenny
Jenny@traversechildrenshouse.org




Jenny Lamble, YCC Guide
Emily Palmer, Classroom Support
Emily Walton, Classroom Support
Katie Burley, Classroom Support




Classroom Highlights
4/26/23
In the classroom, the children have enjoyed exploring language materials that depict life cycles - right now, we have a set for frog development (from frog egg, to stages of a tadpole, to adult frog) and a set for plant development (a seed germinating, pushing up a radicle and growing into a small plant). Given the season, these seemed appropriate, but they have also recently enjoyed learning about the life cycle of ants, turtles, chicken, stag beetles, bees and more. At times, we have books about these topics and it's common for the children to make the connection between the language materials and the books - sometimes they even match the language objects to the images they see in the book.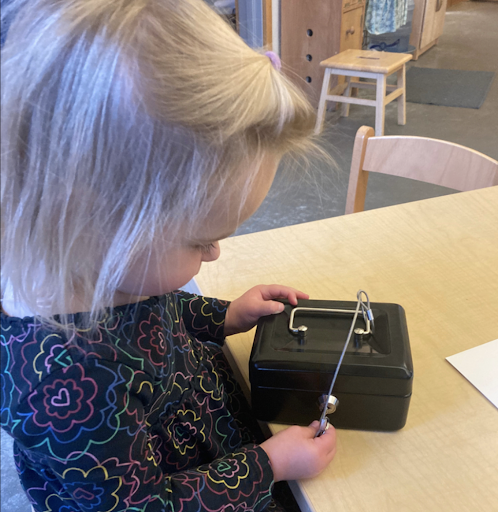 They have also been very interested in locks and keys. We have several different lock boxes and this is my favorite. I attach the key to the box with a short metal cable (you could use a ribbon at home) and a split ring. This prevents us from losing or mixing up the keys. One lockbox is always placed on the art shelf, it holds small bead stringing, but other lock boxes are placed in the manipulative area of the classroom. I switch out the contents of the lockbox - presently, it holds finger puppets. At other times, it's held different manipulatives or sensorial materials, a small music box or small musical instrument, a flashlight or some other fun treasure.
With the weather slowly warming up, you might be switching out your child's winter and summer clothing… if you have any extra socks at home, or you might have ended up with loaner TCH socks, please send them to school. We are always in need of socks.
Finally, with May right around the corner, we have been talking about the May Day celebration. The celebration of May Day (which we will celebrate on Monday, May 1st) dates back to Medieval times, and is a celebration of spring. Every spring, The Children's House has celebrated May Day with songs and dance, Beltane Cookies and other special traditions. We're thrilled to mark this special celebration and have been practicing the songs with the children. Curious about what it has looked like in years past? Check this out. We're preparing the children by singing Wild Mountain Thyme and the May Day Carol. Follow the links to the songs to sing these at home with your child. Need lyrics? Click here and scroll down to pages 18 & 19 for the May Day song lyrics.
Welcome May!
4/13/23
WELCOME SPRING!
The beautiful spring weather has allowed us to open up an outdoor classroom environment. The children are busy reading, drawing with chalk and tempera sticks, glass cleaning, easel scrubbing, sweeping and doing lots of yoga. We even brought out the water table! Naturally, with warmer weather and more time spent outside, we apply sunscreen 2-3 times each day. We use a gentle tear-free, spf 50, child-specific mineral based sunscreen, but if you'd prefer your child to use a specific brand, feel free to provide that. We have several school sunglasses and sun hats that the children enjoy wearing - so if your child is asking for 'sunnies' at home - this might be why. And even though it's been very warm this week, we're still holding onto snowsuits and rainsuits for any cold and wet spring weather that pops up later on this month.
| | |
| --- | --- |
| | |
Winston recently moved up to Primary. Congratulations Winnie! We will miss you. We also welcomed Nolan Popa. As with every new student, the children have welcomed Nolan with loving arms. Welcome, Nolan, we're so happy you're here!
3/16/23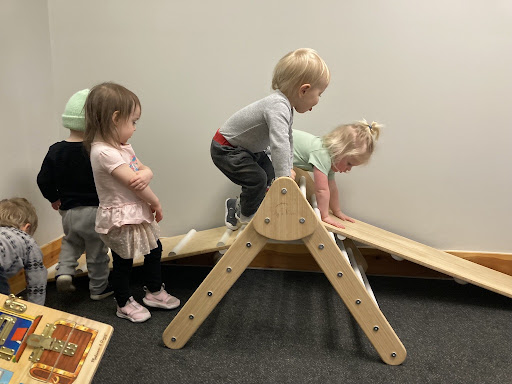 Thank you for meeting with me last week at Parent Teacher Conferences. As always, conferences remain one of my favorite times of the year. It has been a privilege to watch your children grow and learn and evolve and also to partner with you and I look forward to the weeks of fun we will share together in the last three months of this school year.
Have you heard about Momo? Let's Find Momo is an I Spy book about a dog, Momo, and the different scenes in which he hides. Since receiving our first copy, it has been one of the favorite books in the YCC. Our newest version is Let's Find Momo Outdoors! is quickly turning into another favorite. Momo is black and white and easy to spot, but now he has a new pal, Boo, who is also black and white - which makes for a fun challenge for the children. They love finding the hidden items, locating Momo and Boo and talking about the silly things Momo and Boo are up to. Around two years old, children typically develop an acute attention to detail, often able to hone in on small elements and details that might otherwise escape our notice. I Spy or hidden object books are a fun way to support this growing awareness, while also discussing the elements of the story or images - our conversations support their growing vocabulary and language stills and we have provided them an opportunity to test their discovery skills. Wimmelbooks are another example of a rich I Spy adventure, and with more than a dozen different topics, there's bound to be a book that your child would love. Have you found an I Spy-styled book that your child loves? Please share, we love to learn about new titles!
In the classroom, the children are once again enjoying the Pikler Triangle. This climbing apparatus allows us to meet the gross motor needs of the children inside our classroom environment. It often attracts the attention of several children at once, which naturally leads to the children learning to take turns, negotiate who is moving where and to learn how to navigate their bodies in a challenging space with others. Opportunities like these help the children learn the soft skills around sharing space with others and it's a great place to practice their evolving gross motor skills. Remember, even though your child is walking well and sturdy on their feet, they're still acquiring and refining gross motor skills - jumping on two feet, kicking a ball, pedaling a bike, walking up and down stairs, walking backwards - all of these things happen after 2 years. So if your child is climbing things at home, try to meet their need with encouraging safe places to climb - this could be a pile of pillows or cushions, supervised on a staircase, walking along a curb or parking block, climbing into and out of large shipping boxes or through a box tunnel, hiking (or even crawling) up uneven terrain or even bouncing on a small trampoline.
2/23/23
Valentine's Day pink pancakes were a big hit. Have you ever tried adding beets to your pancakes at home? It's simple! I roasted up 2 large beets, peeled and pureed them and added them to a batch of regular pancake batter. They cooked up a very deep pink color and were thick and fluffy. The children LOVED them.
In the classroom, we have a new I Spy container filled with quinoa and miniature animal figurines. The children enjoy spinning it to uncover the animals. The quinoa makes a nice sound. It's a fun multi-sensory activity - as they engage their eyes and ears. I used a plastic mason jar (with lid glued on) and selected a set of miniature animal figurines that match a set of our larger animal language objects - this has been a fun connection for several of the older children who noticed that they match.
The children love our daily songs and dance, and they've also been enjoying yoga with Emily W. If you've ever seen Emily in action at a musical circle, then you know of her incredible vocal and musical skills - well, she's just as captivating in yoga. Yoga provides a physical outlet for busy bodies. Additionally, we practice deep breathing and affirmations to help ground the children and increase their bodily awareness. Yoga can be invigorating and fun while also providing the children an opportunity to become in tune with their bodies. The children love following Emily's poses, especially with animal names and sounds. She makes this activity fun and easily accessible for the children.
Henry transitioned up to Primary. We will miss you Henry! We welcomed Rafferty Early into the YCC. Rafferty moved up from the Nido. We're so happy to have you Rafferty. And, as always, the children have been very welcoming and helpful with new friends. Watching them grow together, love one another and even struggle at times with one another (and then resolve the issue or problem solve) - it's all a lovely reminder of the incredible capacity of the young child. It is a privilege to watch this every day and I sincerely hope you get a chance to observe our little community hard at work, too. Between 9:00-10:00 - that's the best time to pop into the observation room. I hope you can make it!
Conferences are right around the corner. Please sign up here.
2/9/23
Happy February! With Valentine's Day this week, we have switched out some of our art materials to reflect the holiday theme. You may have seen some heart shaped glue collages, some pink and red painted creations or a sticker collage with glitter hearts. As with many holidays, themes and images that we associate with the holiday are typically rather abstract. In the YCC, we use Valentine's Day language cards (with images of things typically associated with the holiday - cards, flowers, hearts, etc) to start a conversation about the things they might be seeing at home, or when they're out and about. Our aim is to give them some language around these things and to talk with them about their loved ones.
In the YCC, we keep the holiday celebration pretty simple. While we do not do a formal card exchange (that's too abstract for most of the children), we celebrate by making pink (from beet juice) Valentine's Day pancakes.
Reagan recently transitioned up to Primary. Congratulations Reagan, we will miss you, but we are so happy for you. We have recently welcomed two new friends into the YCC - Oscar Lutke joined us and Maeve Bukowski transitioned up from the Nido. The children have been very welcoming to their new peers. It's lovely to see them helping their new friends by hanging their coats in their cubbies, holding hands while we walk down to the gym and singing out their names when we sing the Good Morning song. Welcome Maeve & Oscar - We're so glad you're here!
1/25/23
Morning snack time is often a time when we discuss what we did over the weekend or the previous evening. We discuss what we ate for dinner, I ask the children what they did during the weekend. We talk about silly things their pets do at home (the pet photo language cards have come in very handy for this, as now the children can conceptualize one another's pets) and they love to hear all about my dog, Pepper. We talk about wild animals that we saw in our yards, or on the way to school. And of course, we talk about your families and any adventures that you've had. My family is very active in the winter. We love to downhill ski, ice skate and play hockey on local rinks, XC ski and skijore our dogs (never heard of it? look it up - it's a way to exercise your dogs and turn up the fun with XC skiing). Naturally, when the children hear an activity or experience with which they have had experience, their faces light up. They tell me about sledding and building snowmen. Some of them have even talked about going skiing!
You've all undoubtedly had some fun, active weekends - but maybe you need some fresh ideas on what to do with your child in the middle of winter?
Build a snowman or a snowdog or a snow deer - your children have very active imaginations and love being creative with snow. You can use paint or food coloring a spray bottles to give it some color

Fill some water balloons and leave them outside to freeze. Kick them around, play a game, or even bring one inside to play with as it melts.

Visit a different library - have you checked out a library in a different area? Take a trip down to Interlochen, or out to Empire or up to Leland and spend a morning exploring new surroundings and check out a new (to you) coffee or sandwich shop for a tasty treat

Go to the beach - just be prepared to pack an entire set of clothing, as young children are magnetically drawn to water and will, inevitably, get wet. Collect some rocks to take home and polish (you can use olive oil for this) or paint or even just play with in the bathtub

Visit a local ice rink - there are great rinks in Suttons Bay, Leland and TC. No, your child doesn't have to have skates, but watching you (or others) skate is fun and testing out the feeling of taking a few steps on ice is a really new experience.

Visit a playground in a nearby town

Bake a batch of cookies or a simple loaf of bread
I can't wait to hear all about your weekend adventures when we sit down for our Monday morning snack time.
1/12/23
The children have had a wonderful return to school after break. They have been happily working every day and lately, it's not uncommon for us to realize we've been working with such focus and for so long that we've almost missed snack time.
If you come to observe, you'll see evidence of this hard work - wet floors, paint on tables, flour spilled on the floor, some bubbles left over from cleaning work. What could look like a very messy classroom to some is, in our eyes, evidence of busy, working children. An environment that works for its children and children who do important developmental work in their environment - a community of young people doing exactly what their inner guides are telling them to do.
Also, if you stop into the classroom, you'll notice our classroom got a fresh coat of paint. New to the classroom is lotion work. We switched out foot scrubbing (it's too cold for this right now) for lotion work (who doesn't need some hand lotion right now?!) and the children have loved getting moisturized. Young children are eager to pump out as much lotion as possible and thus, we have provided them with a small pump bottle that holds just the right amount. We have also introduced the idea of a hand massage - where they can apply hand lotion to others' hands. This has been quite a hit. Give it a try at home. Just remember - just like with dish soap, shampoo, hand soap, etc, toddlers are motivated to use everything you give them, so it might be a good idea to grab a small travel-sized bottle.
On our shelves, you'll see our new lotion work, some new tools for playdough, truck stickers that they're all excited about, a tap light that they're enjoying exploring in our 'book nook', language cards about different vehicles or modes of transportation that are used on ice or snow (chair lift, gondola, snow plow, Zamboni), and many others. We continue to bake nearly every day, there's always lots of song and dance and sometimes, there's even a kazoo orchestra. I hope you are able to find some time in the coming weeks to pop into the observation room to watch your little one and their peers hard at work. It really is amazing to see a dynamic group of young people hard at work and enjoying their day together.
12/15/22
What a wonderful fall semester we've had! We have had lots of fun, we've grown as individuals and in our relationships and, most importantly, we've grown together as a community. As always, the children are a joy to spend our days with - thank you for sharing them. Juniper recently moved up to Primary. Congratulations Juniper. We are excited for you, but we will miss you!
In the classroom, the children have been very interested in language cards which feature the holiday season - Hanukkah, Three Kings Day, St. Nicholas Day, Yule and Las Posadas. We also have a small evergreen tree which they've enjoyed decorating (and redecorating and redecorating) with small ornaments. They also created a fingerprint 'string of lights' ornament for your home.
Going home this week, you should have received a new copy of our classroom photo roster. I've found that these help to have at home during longer breaks - so you can talk with your child all about their friends. We'll also send home all of your child's extra clothing, so you can take stock and return what you wish come January.
I hope you have a wonderful Winter Break. I can't wait to hear all about your time together as a family and your outdoor adventures - maybe I'll even see you out on the slopes.
See you in January!
12/01/22
Welcome Winter!
Thank you for the delicious dishes for our Harvest Feast meal last week. After a busy morning and playing outside, the children loved walking into the classroom to see the tables all pulled together, set with a beautiful floral arrangement and the delicious food. They loved the meal (and we did, too)!
I hope you had a wonderful Thanksgiving weekend. The children were thrilled to see one another after the long weekend. We also welcomed Andrew Schmidt into our classroom. We had been talking about Andrew's arrival for several weeks. We had Andrew's photo card and family photo in the classroom for the last two weeks - the children were all very curious about this new friend - so they were all very excited to meet him when he joined us on Monday. It has been lovely to watch them all be so kind and helpful with our new friend. Welcome Andrew, we are so happy to have you join our class!
As we have shifted into winter mode, our conversations often center around snow, winter activities and playing in the snow. The children are growing quite good at dressing in outdoor gear. Here at school, we have neck gaiters for the children to wear outside when it's especially snowy and windy. There are two designs - one with dogs, one with bananas. The children often refer to them as 'puppy neck' or 'banana neck' - so if your child is asking for a 'puppy neck' at home, now you know what they're referring to. On the playground, we've enjoyed building snowmen, eating snow and sledding. Inside the classroom, we have several books about winter and a new set of winter sports language cards. The children have also enjoyed some winter themed shape punching (snowflakes) and stickers (snowmen and snowflakes), playing with snow inside the classroom and singing winter and holiday themed songs.
11/10/22
Thank you for coming to conferences. It's always nice to have that time together. Remember, if ever you need more support, have questions or concerns or would just like to hear about your child's development in more depth, please reach out. I'm here to partner with and support you.
With Thanksgiving only days away, we will start reading books about giving thanks and will discuss some of the foods families commonly eat at Thanksgiving. Remember, like any other seasonal celebration or holiday, each family often has traditions and routines that differ from everyday life and it can be confusing for a toddler. Young children can benefit from a little explanation and a little more exposure, especially to seldom-experienced food. Maybe this weekend would be a good time to prepare a dish that you typically only eat during Thanksgiving. Include your young child in the preparation and maybe your child will be more open to trying and eating it at your Thanksgiving meal. In the classroom, our language cards feature images of foods that are commonly eaten at Thanksgiving and our Harvest Feast on November 22 will give them an opportunity to experience these flavors at school. Please sign up for our YCC South Harvest Feast.
It may only be the beginning of November, but the holidays are right around the corner. For those of you who celebrate these holidays by giving and receiving gifts, you may have fielded some questions from friends and family about holiday gift giving for your child. I have created a Holiday Gift Giving Guide with suggestions of materials your child is sure to love, that will provide more opportunities for connecting with your child at home (reading, baking, creating art together) and won't completely overwhelm you and your household.
Finally, with snow in our 10-day forecast, I'm sure we're all thinking about what our children will wear in the next season. Check out this Winter Clothing Guide for more information on how we approach dressing for winter in the YCC and suggestions on what to look for in your child's outdoor gear.
10/12/22
With Fall in full swing, we are enjoying lots of elements of fall. On the playground, we've been raking and gathering leaves and we've found that pumpkins are especially fun to roll down the hill. In the classroom, we've enjoyed scrubbing pumpkins (thank you to the Maxson family for their generous donation of mini pumpkins), books about fall and reciting Five Little Pumpkins. In this poem, each verse has a hand movement. Give it a try at home. Maybe your child can teach you!
Five little pumpkins sitting on a gate.
The first one said, "Oh my, it's getting late"
The second one said, "There are bats in the air."
The third one said, "But we don't care."
The fourth one said, "Let's run and run and run!"
The fifth one said, "I'm ready for some fun!"
Woooooosh went the wind
And OUT went the lights.
And five little pumpkins roooollllled out of sight.
Another fall treat is grapes - with grapes in season, we have enjoyed them several times for snack. In the YCC, we must quarter the grapes for the children (due to potential choking hazard) and this task has been simplified with grape slicers. With a little practice, the children have been able to independently operate the slicer. I've found that they are easiest to use when you show the child how to place the slicer flat on the table, pop the grape into the slot, hold the slicer down on the surface with one hand and squeeze the plunger with the other hand. With a little effort (and increasing hand strength), the grape pops out of the end, perfectly quartered.
Last week we had an Adult Learning event, The Montessori Toddler. It was lovely to have several of you join us for the chat. If you weren't able to join us, we reviewed some of the topics from The Montessori Toddler, by Simone Davies. This book is a great starting point for ideas on how to weave the Montessori approach into your own home and routines. And always remember, we are just sharing ideas with you. Take what resonates with you and leave the rest. No matter your style or approach, regardless of the toys you have, the books you read, the foods you enjoy together - no matter what - you are the perfect parent to your child. Your unique style, your quirks, the fun and loving way you nurture your child - it is exactly what your child needs.
Finally, Parent Teacher Conferences are right around the corner (Nov 3 &4). Check out Waypoints this Friday for the link to sign up for a conference. I look forward to meeting with you!
9/29/22
With fall weather upon us, the children are enjoying the cooler weather outside - sun and rain, wind, falling leaves, wet sand and slippery grass - regardless, they're happy to be outside. With the wet conditions, the children have been wearing their rain boots outside each day. While removing one's own boots off is typically a pretty easy skill to master, putting boots on can present a challenge. We like to use the 'bench trick' here at school.
Here's how it works: We position boots on the floor along the backside of a bench and instruct the child to stand behind their boots, hold onto the backrest of the bench and step into their boots. Holding onto the bench provides the support the child needs to do this while standing. By stepping down into the boot, the child often has the strength to get their heel all the way down into the boot and can start to learn how much effort they have to exert in order to get their foot into the boot.
Give it a try at home. Don't have a short bench at home? Try using a step stool, the seat of a chair or even that extra Amazon box you have sitting by the backdoor.
9/15/22
Welcome Back!
What a pleasure it has been to return to the classroom. Having spent much of the summer in their regular school routine, the children are settled, the classroom is busy and the usual beginning-of-semester adjustments have been minor. This summer, the children welcomed two new peers, Charlotte Sleder and Juniper Spaulding, and this fall, we welcomed Leo Kolassa. The children have embraced their new peers and it has been really special watching them welcome our newest arrivals to our little community.
Outside, the children have enjoyed going on walks, collecting flowers and vegetables from the garden. Last week, we tasted tomatillos. Knowing how toddlers enjoy peeling things open - tomatillos are a perfect treat. This week we made salsa verde and the children loved it! If you've never tried tomatillos at home, it's time! They're in season right now, they're delicious (yes, even raw) and making a batch of salsa verde with your toddler is a simple process.
Here's the recipe we followed:
Ingredients
1 pound tomatillos

2 garlic cloves, peeled, whole

1 tsp salt

1/2 cup cilantro chopped

1 medium onion chopped into large pieces
Instructions
Remove the husk and stems from the tomatillos, and rinse well.

Place the tomatillos upside down (to keep them from rolling around) onto a baking sheet. Bake at 425ºF for 15 minutes.

Place the tomatillos, and all other ingredients into a blender and blend about 1-2 minutes, until smooth.

Store in an air-tight container, or devour while still warm (which is my favorite) with tortilla chips, slather it on some veggies, turn it into green enchiladas, etc…
Finally, our next Adult Learning Opportunity is right around the corner - The Montessori Toddler - on Thursday, October 6th. We will be using The Montessori Toddler, by Simone Davies, as our guide for the discussion. While the book is dense, by no means do you have to read the entire book to participate in the conversation in October (nor do you have to read the book 'in order'). Peruse the Table of Contents to see which topic speaks to you and bring your thoughts and questions. I hope to see you there. Please RSVP for the event (and arrange for child care, if needed).