Welcome to YCC South! The Young Children's Community is a place that supports both individual development and learning how to live harmoniously in our community. Our days will be filled with opportunities for baking, exploring, developing independence, acquiring new language and challenging motor abilities, just to name a few. I am happy to welcome your child to our sweet community and I look forward to the year ahead.

"Joy, feeling one's own value, being appreciated and loved by others, feeling useful and capable of production are all factors of enormous value for the human soul."
~Dr. Montessori

Jenny Lamble, Nido Guide
Annie Botsford, Classroom Support
Taylor Fielding, Classroom Support

Room Parent

October 10, 2019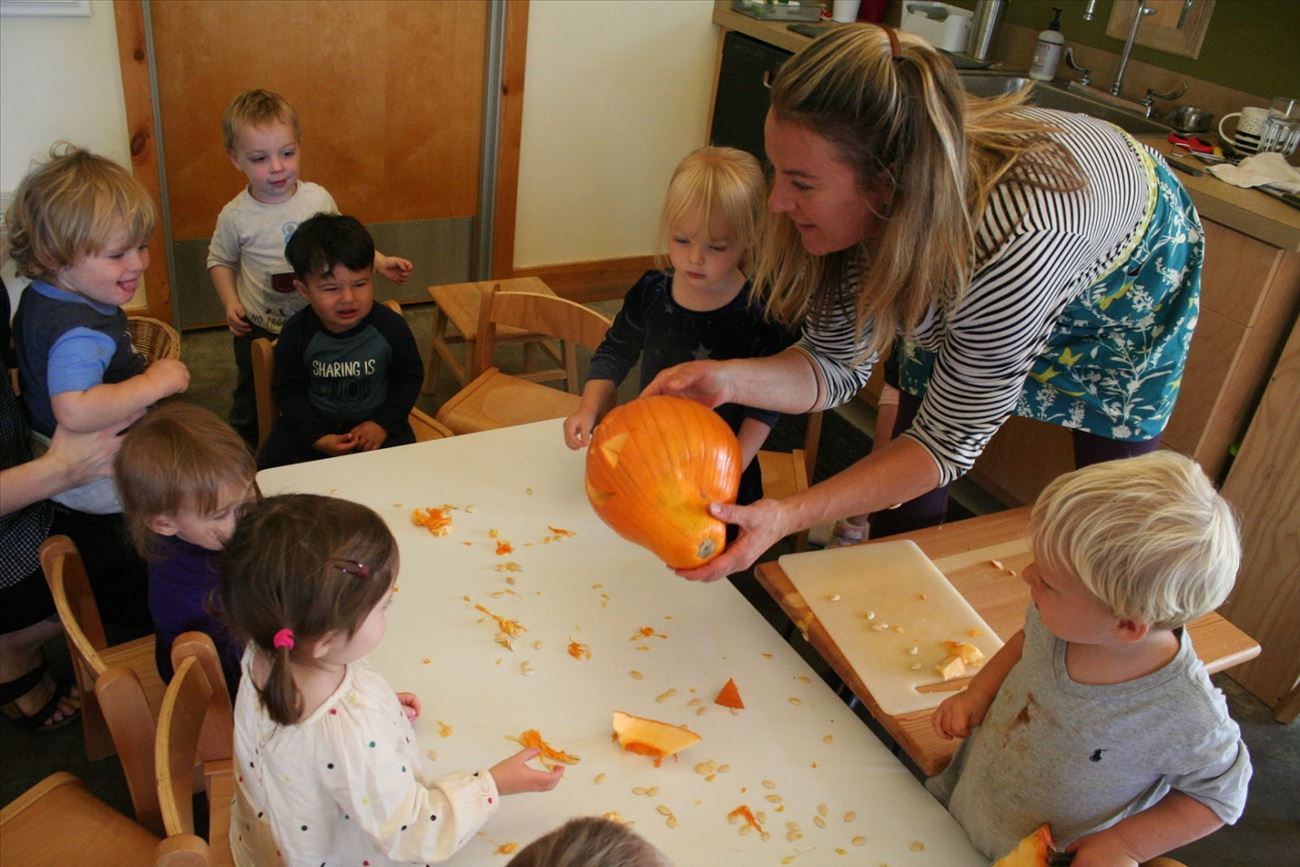 Last week we explored some squash and pumpkins from my garden as a language material - learning the names of the different varieties, touching the skin, feeling how heavy they are. At the end of the week, we baked a pumpkin. This week, we used that baked pumpkin in pumpkin cake, which was a huge hit among the children. We also carved a pumpkin into a jack-o'-lantern. The children had an opportunity to touch the inside of the pumpkin, explore the seeds and to help pull out the sections that I cut out for eyes and a mouth. The sensation of putting your hand into a cold, wet, somewhat slimy pumpkin is unlike anything else. I highly recommend doing this with your child at home. Don't be surprised if your child insists on first scrubbing the pumpkin, as this is what we do at school. Once you've cut into it, your child can be a great help at scooping out the pulp and seeds and in helping remove the seeds for roasting.
In the spirit of the season, we've been reciting this pumpkin poem everyday. I'm sure your child would enjoy saying it with you. We have hand movements for each line - perhaps your child can teach you at home.
Five little pumpkins sitting on a gate.
The first one said, "Oh my, it's getting late"
The second one said, "There are bats in the air."
The third one said, "But we don't care."
The fourth one said, "Let's run and run and run!"
The fifth one said, "I'm ready for some fun!"
Woooooosh went the wind
And OUT went the lights.
And five little pumpkins roooollllled out of sight.
And finally, If you haven't signed up for a conference yet, please do so (hint: you'll need to read the Compass for the link). This is a great opportunity for us to discuss all that your child is doing, learning and exploring.
September 25, 2019
Well into our fall routine, the children are fully settled in and have been enjoying new manipulative materials such as stacking rings, hanging leaves, a car ramp and nesting dolls. We have also been exploring new language fish, an expansion of our set of fish that includes some big freshwater species such as the Goliath Tigerfish, the Goonch Catfish and the Piranha. The matching language cards include some fun facts about these predacious fish, which has made for some fun conversations with the children. Also new to the language shelf this week is squash. Straight from my garden, I brought in a butternut, a delicata, a kabocha and a koginut, which is a delicious pumpkin. For the next few days, we will explore these squash like any other language material - exploring them, talking about them, expanding our understanding of squash, but soon we will be tasting these materials.
We sing many songs with the children, but one that we have been singing every day is Down on Grandpa's Farm, by Raffi. We often sing it with the set of farm animal replica language material, but it can be adapted for any animal. Here's the link, so you, too, can learn the tune. If you have some farm animal replicas at home, I'm sure your child would love singing this song with you.
September 12, 2019
Welcome Back!
I am thrilled to have all of the children back in the environment again. It was lovely to watch them be reunited with friends who were away this summer and become acquainted with new friends who have joined us this fall. Their hugs, smiles and greetings upon arrival really demonstrated the strength and importance of our little community. We should never discount the importance of one's community, regardless of the age of the child, for it is a place of love and acceptance, collaboration and belonging and it is a privilege to be part of it. That said, I hope you can join us for a celebration of our community at the YCC Social at Silver Lake Recreation Area on Tuesday, September 17th from 5:00-7:00.
Now over a week into the school year, the children are settling into their routine. We are focusing on the basics of functioning in the environment that allow them to be both self-directed and independent - these include using napkins to wipe their faces and hands, pushing chairs in behind us when we leave the table (this really makes for a much safer space in which to move) and becoming independent with the soap dispenser. For each of these skills, we break the activity down into the smallest, most essential movements. For example, take the soap dispenser - the essential movement that is required is pushing down on the nozzle to get the soap to come out. As practiced adults, we do this in a very quick movement, often times too fast for the children to see what we're doing. To help young children learn how to use this important tool, we must slow down and exaggerate our movements. The essential movement - pushing down on the nozzle - when you do this, show your hand placed far above the nozzle, slowly lower your hand, pressing on the nozzle (at this time, I often say 'press') and then lift your hand up (again, far above the nozzle), further emphasizing the up/down movement that is required. In no time, your child will have figured out the mystery behind the operation of the soap dispenser. This idea can be utilized with just about anything - opening jars, zipping zippers, operating Velcro on shoes - the possibilities are endless. Give your child the gift of this information, take the time to slow down and emphasize your hands and watch your child's understanding and skills blossom
June 6, 2019
We have had an absolutely magical year. It has been a joy to watch your child grow and learn over the last year. Making new friends, building this community together and partnering with you, as parents, has been a pleasure. Thank you for sharing your child with us. Have a wonderful summer. I hope to see you all soon.
May 22, 2019
Now well into spring, we're enjoying weekly walks through the campus grounds. We have been exploring all of the flowers coming up, testing our climbing skills on the wooden stairs around the playgrounds and visiting the greenhouse. In the greenhouse, we explore the many different plants - touching and smelling the leaves and soil - and, of course, we water anything within reach. The children have been using water cans of all sizes, even volunteering to lift the heavy ones. Young children want to do what they see us do. They often want to take on new physical challenges. As adults, we sometimes feel inclined to step in and prevent a young child from lifting something heavy. Obviously, when a child is trying to lift something that could result in danger or a tragic spill - say trying to pick up baby brother - we must step. However, with gardening tasks, this is the perfect opportunity to allow children to be productive, help out and test their bodies. Lifting full watering cans, bags of potting soil, helping to put gardening tools away, helping to push a wheelbarrow - all of these are opportunities for them to find out what they can do, negotiate different gross motor experiences with their bodies and be productive and helpful. The worst thing that's going to happen is a spill of water, soil or plants and, yet again, these are further opportunities to help - sweeping a spill, repotting a plant. I encourage you to allow your child to help - even with the tasks that seem somewhat beyond his strength or ability. You'd be surprised what he can do!
We have been enjoying lots of new books, language cards about different types of artists and famous works of art, making bubbles with beaters and transferring water. We're looking forward to welcoming your child's Grandparents to our classroom for Grandparents' Day. I'm sure the children will be thrilled to show their grandparents the environment. They have lots to share; maybe even a homemade treat.
May 8, 2019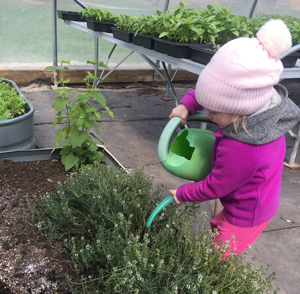 The children have been loving the warm weather and exploring our outdoor environment. We have enjoyed walks looking for the many different flowers that have been popping up and to the greenhouse for watering the lettuce and herbs. We also placed a picnic table in one of the sandboxes. With many different pans and buckets, shovels and spatulas, it has become a bit of a sand kitchen and the children just love it. We have also incorporated the chives that are growing right outside our door into some of our baking projects. Indeed, there are many new opportunities with the change of season.
New to the environment we have a lock and key, colored peg sorting and music appreciation - a headband with a set of wireless speakers (with child-safe volume control), with classical instrumental solos playing. We have also been talking about the frog life cycle with our set of tadpole and frog language objects and cards. If we're lucky, we will have another family of frogs that chooses to live in the storm drain on our playground again this year. What spring adventures do you have planned? So far, I have been hearing about fishing and planting. Remember, if you ever want to share photos of your child (and family) in any sort of outdoor adventure, we would love to see, as this makes for wonderful conversation with the children and is a fun expansion of the home life-school life connection.
April 25, 2019
Happy Spring!
With May Day right around the corner, flowers popping up all around our playground and weather that's warm enough to finally shed the winter snow gear, we're excited to welcome this new season. I'm sure you're also celebrating at home. Perhaps you're planning gardening projects, starting seeds or you're about to do a big spring clean. If spring cleaning is on your 'to do' list, I have some recommendations of things to consider for your young child.
Does your child have a hook for his coat and jacket? If you put up a hook for your child when he was one year old, is it still at the right height for your child, who has undoubtedly grown taller over the winter? Does your child have a spot to store his sunglasses and sun hat? Spring cleaning can also occur with your child's toys, books and play space. All of those books and toys that you've accumulated over the winter holidays - are they piling up? It's time to sort through - select some for your child's workspace, and store the rest. Choose clear storage bins that allow you to easily view and rotate out 'new' toys. You might consider storing these bins in your child's closet, so they're close at hand. Rotating toys, books and art supplies is a nice way to keep clutter to a minimum, allows your child to be independent in managing his materials (since it's easier to take care of a few things than many) and also holds your child's interest in an evolving set of materials. When providing materials on a shelf, you may consider placing the toy or material in a basket or tray. This helps your child to carry the toy and to contain all of the parts and pieces. And remember, something that your child seems 'done' with, or has never sparked his interest isn't necessarily worth getting rid of. Rather, store it for a few weeks and offer it again - you never know if it will, once again, spark his interest.
In the classroom, our materials are ever evolving. This week, we're enjoying stamps, stickers ('garage sale dots' are perfect for toddlers), spreading work (jam, cream cheese and hummus), lots and lots of orange juicing and we're getting a hoot out of a new set of binoculars. Once they figure out how to look through the eyepieces, it's just priceless to see their reaction to seeing others so large. They immediately pull the binoculars down to see the other child and put them right back up, often giggling at the new, expanded view. A change in perspective and a change in season, always a delight!
April 11, 2019
Has your child shared with you about our newest addition? We have an ant farm with harvester ants. This has been an exciting and engaging opportunity to see the ants hard at work, right before our eyes. We have marveled at the tunnels and how much the ant environment changes each day. We give them a little food (seeds) and water every few days. So far, their favorite food was a small piece of bread from one of our homemade loaves.
Thank you to the families who donated items from the Gala wish list. The children love the new materials, including a scooter, insects set in resin and a child-sized accordion, just to name a few. More new materials to the shelves include stamp work, a new set of nesting doll dogs and potted herbs, which we plan to include in our baking.
Finally, Welcome Vera! We are thrilled to have you join our community.
March 21, 2019
Welcome Spring!
Back from my trip to Florida, we have been exploring shells that I brought back from the beach. It has also been lovely to share more time outside in the sunshine and warmer weather with the children. I am sure we will continue to use snow gear for several weeks to come, but you might also consider sending sunglasses for your child, as the sun's reflection off of the snow is really bright.
Last time, I spoke about surveying your home, looking for places where your child can be independent and encouraged you to make your home more accessible to your young child. When we build in more elements of independence, more opportunities for inclusion, we must also consider the ways in which young children can participate. Most household routines are comprised of many steps, which is fine for adults, but often a little too much for young children. Including young children in these tasks means that we must look at each task and break it down to its separate elements.
Take the act of doing the laundry: This single word refers to a somewhat complicated, multi-step, multi-sensory activity. We do it out of routine, likely without giving it a lot of thought and, if you're like me, as fast as possible so we can get onto other things.
Consider the many steps that go into taking just one load from dirty to clean. Break the task into its steps and consider the outcome. And don't forget the language and many, many ideas you've shared with your child. Indeed, every step feeds the cognition.
Collecting laundry and carrying it (in a child-size laundry basket) is gross motor work
Sorting colors practices color matching and categorizing
Checking pockets for forgotten treasure engages fine motor and stereognostic sense
Placing items in washer is gross motor work
Adding soap (depending on the method for dispensing) is fine motor work
Pushing buttons or selecting wash cycle is fine motor work
Watching drum fill with water is sensory work
Listening to cycle is sensory work
Waiting for wash cycle to end practices patience
Placing wet clothing into dryer is gross motor work
Removing air-dry items practices sensorial discrimination
Hanging up items to dry engages fine motor
Removing lint from the lint screen is fine motor work
Starting the dryer is fine motor work
Waiting for it to finish drying practices patience
Feeling the dry, clean laundry to check for dryness is sensory work
Sorting socks allows practice in sorting and matching
Folding laundry is fine motor work
Carrying it to respective rooms is gross motor work
Putting laundry away is sorting work
Now, does this mean that your child must participate in every step? No. Start with steps that you think your child can be most independent and purposeful. Does this mean that your child must participate in every load? Goodness no. For the sake of getting things done in a timely manner, this would likely be an unrealistic use of your time. Rather, maybe this means having your child participate in two loads, over the weekend, when you're not pressed for time.
When we do this, we give young children information about sequence, cause and effect, we help them classify (darks and lights), match (socks), fold and expose them to so much language. And finally, we demystify the act of doing laundry. Now, think about the many other tasks you have around the house - loading and unloading the dishwasher, doing dishes, filling the bird feeder, sweeping and vacuuming, dusting, etc. I bet you can find many ways in which your child can participate and offer real help in your home, one step at a time. And that look of pride and satisfaction on his face, knowing that his efforts made a difference in his home, his family, his life - priceless!
March 7, 2019
Thank you to all of you who were able to attended conferences this past week. I enjoy meeting with you and discussing everything your child has accomplished in the last few months.
New to the environment this week is Rock Polishing. This new Practical Life material allows the children to select a rock and polish it up (using olive oil). Like other Practical Life materials, this material offers the children multiple steps, open-ended exploration, opportunities to repeat their work and a chance to make a difference in their community. Plus, it's fun to explore rocks right now, considering that we're buried under several feet of snow and it will likely be weeks before we see rocks and soil once again. Right now, most of the rocks are from local beaches, lakes and stream. However, if you have any rocks at home or find any rocks in your travels, feel free to send them in with your child for polishing. We would love to explore new rocks and that's a fun way for your child to share his home life and special finds with our community.
The children are eager helpers - be it polishing rocks, wiping down tables, filling a crockpot with water for cooking beans, sweeping up a mess, etc. As a Young Children's Community guide, I regularly encourage you to invite your child to take part in these activities at home. While it's easy to suggest that children take part in these activities, it's also important to remember that our homes are largely set up for adults. We have adult-height countertops, tables and chairs. Light switches and faucets are almost always out of reach. Kitchen tools, silverware and cups, plates and bowls are often in a cupboard or drawer up high. Obviously, many things are located out of reach for safety reasons and all of this is ok. This is just a reminder that, in order for our young children to participate in this activities, we usually have to take an extra step to ensure access.
Therefore, when we consider including young children in household routines it's important to get on your child's level and consider what he or she realistically has access to and with what he or she can realistically be successfully independent. Take a moment to crouch down low and slowly scan each room from your child's perspective. I encourage you to ask yourself, what is at your child's height that he or she can easily access and naturally reach to help around the house? Is there anything that you're doing up on adult-height counter that you could do at your child's low table? Are there step stools handy for things that are out of reach? Is there anything that you can move to a lower height (for instance, a small dust pan and dust brush, a sponge or towel) to allow your child freedom and independence?
Get down low, take a seat on the ground and try to take on the perspective of your child. His or her vantage point can be a springboard for many creative adventures with your child.
February 21, 2019
I'm sure your child has already told you about our classroom fish, but did you know that we also have shrimp? Yes, we have several Ghost Shrimp that live with the fish. The shrimp are about an inch long and are almost transparent, hence the name, Ghost Shrimp. The children watched their introduction into the tank back in December, but, due to their appearance, largely had a difficult time distinguishing them against the rocks and foliage. We recently rearranged the tank, creating a bit of a cave for the shrimp against the front of the tank - and now they're on full display. The children are able to see them and point them out, watch them swim around (they're very fast!) and sometimes eat the fish food. Many times each day, you can hear a happy exclamation of "I see shrimp!". It's been a fun experience to observe and care for new creatures.
New to the environment are several different fine motor manipulatives, a kaleidoscope, water transferring with a baster, some new stereognostic items (including a really fun measuring tape) and a musical ratchet. The ratchet challenges the children in many ways - you must hold one leg to stabilize it, while also turning the crank to create the sound. This material asks the children to use both hands simultaneously, but in two very different ways - another challenge to their developing fine motor skills. If you're not familiar with a ratchet, you can check one out here. Press play to hear the exciting sound it makes.
As you may also have heard, we made cookies this week. Yes, breakfast cookies. They were such a hit! This is the perfect baking project for you and your child. Here's the recipe:
3 bananas, mashed
1 3/4 cup oats
1/2 cup raisins or dried cherries
Heat oven to 350. Mash bananas, mix in oats and fruit. On a parchment lined baking sheet, place approx. 1/4 c. balls of dough, bake for 15-20 minutes, until they give a little resistance when touched. Cool and enjoy!
February 7, 2018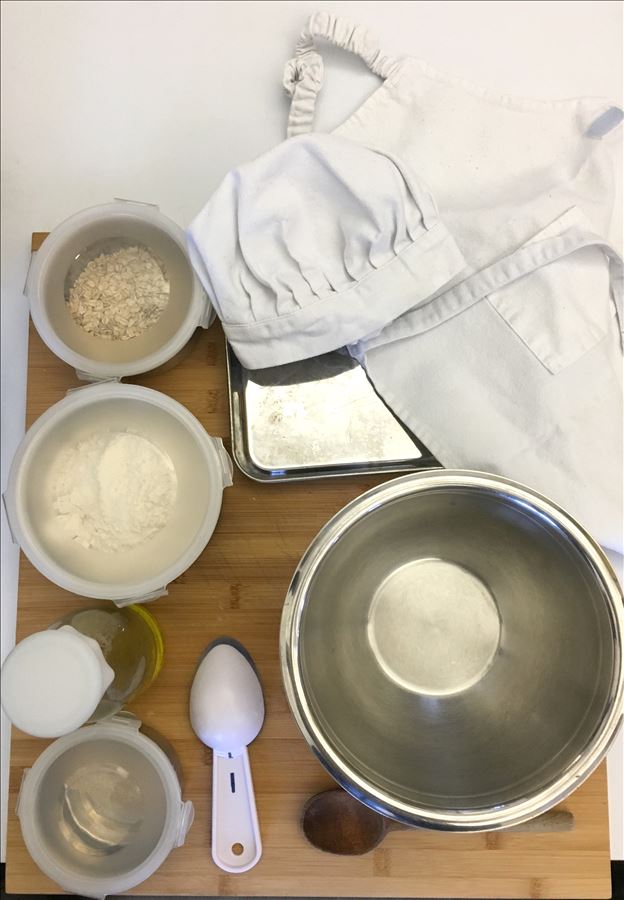 After so many snow days, it has been great to be back in the classroom with the children. It's amazing how much they all seem to grow after a week. The children were eager to get back to work and have been enthusiastic bread bakers. This week we have enjoyed dried cherry bread, oat bread and garlic bread. After nearly six months of daily break baking adventures, we have learned a lot. Our process is uncomplicated and forgiving and the children have enjoyed every single loaf.
We begin with a basic recipe and adapt it when we're experimenting with new flavors and ingredients. Regardless of the ingredients, the layout on the bread board is always the same. The children work from the front to the back, scooping or pouring each ingredient into the large mixing bowl. There are always 4 containers, 3 of which hold dry ingredients and utilize lifting/snap clasps which are easy for young hands to operate. The first holds the yeast and sugar, the next container (a silicone-lidded milk bottle) holds olive oil and warm water, the third container holds flour and salt and finally, the fourth container holds whatever the special ingredient may be - oats, dried cherries, garlic, cheese, cinnamon and raisins, etc. The children are encouraged to mix each ingredient in the bowl and shape it into a loaf on a sheet pan. Sometimes the children are adventurous enough to knead the dough. We have found that a little kneading leads to a much better loaf, although it isn't necessary. After leaving the loaf to rise for 30-60 minutes, we bake it in the toaster oven at 350* for about 45 minutes. This daily ritual has become one of the favorite elements of our routine, and who doesn't love the smell of fresh bread?
I would encourage you to do try this with your child at home. When you take on a new project like this, planning is key. Set up everything ahead of time, making sure every ingredient is measured and ready to go. Choose containers that will fit in your child's hands and are easy for him or her to manage. Consider positioning the project down at your child's level - it's best if he or she can see down into the bowl. Make sure the mixing utensils fit his or her hands. And don't worry about spills. You'd be surprised how well it comes together and rises when only half of the yeast was added, because most of it spilled on the floor.
Basic Bread Recipe
2 tsp. active dry yeast
2 tsp. sugar
1/4 c. olive oil
1/3 c. warm water (approx.)
2 c. all-purpose flour
1 tsp. salt
1/2 c. oats (or whatever you have on hand - cloves of roasted garlic, sliced kalamata olives, cinnamon and raisins, parmesan cheese and minced garlic, etc)
I cannot wait to hear about your baking adventures! Enjoy!
January 17, 2019
I hope you had a fun and restful holiday break. I spent the break with lots of family time, lots of ice skating and sewing. It has been lovely to welcome all of the children back into the classroom. One of my favorite moments of the first day back is to watch the children in the entryway of the classroom - smiling, announcing one another's arrival, embracing, genuinely thrilled to see one another again. They have a special bond and it is a sweet reminder of how lucky we are to have this community. We also welcomed a new friend, Emma, to our community. Welcome Emma, we are happy to have you join us.
Since returning from break, we have enjoyed dried cherry bread, lots of citrus juicing and exploring lots of new materials. New materials includes new manipulatives to challenge their fine motor skills, musical instruments, smelling jars and a colored-oil hourglass, which they have found just fascinating. New language materials include garden tools, kitchen utensils, life cycle of a frog and lots of new books. One new book features a zebra that is hiding somewhere in the image on each page. The children have enjoyed finding 'Zeb' and it's been fun to watch them get the hang of this skill. You probably have books like this at home - give it a try and see what you and your child can find. One book you're sure to have - Goodnight Moon - see if you and your child can find the white mouse on each page. Enjoy!
December 13, 2018
I hope that you are all doing well now that winter seems to be fully upon us. We've had such a wonderful fall semester, and I am so thankful that I have gotten to spend it with your children.
As this semester draws to a close, I wanted to discuss our school's tradition of having a Seasonal Sing-a-long. The Sing-a-long will be next Friday (December 21st) from 2:00-3:00 in the gym. We ask that parents of full day students please pick up their child by 1:45. There will be no afternoon carline on Friday, so please park in the parking lot and come to our classroom to pick up your child. You can then join us in the the gym for the festivities! Our class has been singing many seasonal songs for the past few weeks, and the children have been enthusiastically picking up some of the lyrics here and there. After the Sing-a-long, the school's campus will close for the winter break. I am adjusting our schedule so that prior to the 1:45 pickup, the children will have had an early lunch and a nap.
If your child does not attend school on Friday or only attends until 12:30, you are welcome to join us with your child in the gym at 2:00 on Friday, December 21st to take part in the sing.
I will also be sending home all of your child's artwork, extra clothing and school shoes, so that you can sort through it and remove anything that doesn't fit. If you need your child's extra snow clothing sent home for the break, please let me know and I would be happy to package that up, as well.
Again, thank you for sharing your children with us this fall! I'm looking forward to the new experiences that 2018 will bring our class!
November 29, 2018
Welcome Back! I hope you had a nice Thanksgiving weekend. We enjoyed a delightful Harvest Feast. Thank you for sending all of the delicious dishes. It was fun to see the children dive right in and see them have such pride in their contribution to the meal.
Returning back this week, we welcomed a new student into our community, Sloane, who is moving up from the Nido. As always, the children love to welcome a new friend and have been offering help and providing great role modeling. Welcome Sloane, we are thrilled to have you join our community.
The children have enjoyed new materials, including new musical instruments, puzzles and new language materials, such as tools and land-air-water transportation sorting work. We also continue to enjoy books, especially the new books that we were gifted from Horizon Book Day. Thank you to all of you who donated books. New this fall to our library is coffee table books. Every month I have placed a new coffee table book on a low table. The children have an opportunity to peruse the pages and explore the images. Right now, we're enjoying a book about ocean life. If you have any coffee table books at home, I would encourage you to share them with your child. The large scale is something new to the children and the images spark lots of great conversation.
November 8, 2018
This week, we welcomed a new student, Linden, into our community. The children have enjoyed making a new friend and showing him all about our classroom and community. They have been great role models and have enjoyed helping him learn all about working with the materials, teaching him our new songs, cleaning up after meals, using the playground equipment, etc. It's been lovely to watch many of the children step into a leadership role. Welcome Linden, we are happy to have you.
This week we will also start hair brushing. Just like we teach getting dressed and wiping one's nose, hair brushing is another important element of caring for one's self. Each child will have his or her own brush, which is clearly photo-labeled and available at any time. Hair brushing lessons will include how to hold a brush, how to pull it down the length of one's hair and even how to style one's hair with a clip or hair tie. We look forward to this new element of independence and many fun hairstyles.
With Thanksgiving right around the corner, we will introduce a new set of language materials - images of Thanksgiving dinner. The Thanksgiving meal, with its many, many dishes can be an overwhelming dining experience for young children. In hopes of helping the children become more comfortable with some of the foods they might see on their Thanksgiving table, these language cards will lead to discussions about what they might eat, smell, touch, etc. If you have any suggestions for dishes to include, I would love to hear all about them.
Finally, thank you for meeting with me last week for your child's conference. I love these opportunities to discuss your child's progress and lovely person that he or she is becoming.
October 25, 2018
After a week of discussing pumpkins, exploring a pumpkin from my garden and reading books about pumpkins, this week we cut into the pumpkin. The children explored the pumpkin by separating the pulp from the seeds. We then baked the pumpkin and tasted it at snack - it was delicious. We also roasted and tasted the seeds and we used the extra baked pumpkin in pumpkin bread - our new favorite!
New language materials include new poetry cards, a rock and mineral study, different kind of watercraft and Halloween-themed language cards. Halloween, while fun and exciting, can be a bit confusing and overwhelming for toddlers. This new set of Halloween cards includes images of things they will likely see - carved pumpkins, children in costumes, decorated houses - in hopes of making the children more comfortable with some of the things they may encounter in their neighborhoods in the next week. For Pumpkin Fun Day next week, we will carve a large pumpkin and roast the seeds.
Next week is Parent-Teacher Conferences. If you have not yet signed up, please do so. I am excited to share your child's progress and lots of photos with you.
October 11, 2018
The arrival of Fall has brought with it new and exciting things to explore. We have been baking pumpkin bread, exploring Fall-themed language cards, reading books about Fall, pumpkins and Halloween, exploring a pumpkin (which we will bake and eat next week) and singing Fall-themed songs and finger plays. Perhaps your child has shared 5 Little Pumpkins with you. We use different hand motions for each pumpkin. I encourage you to share this with your child and see what happens.
Five little pumpkins sitting on a gate,
The first one said "Oh my, it's getting late!"
The second one said "There are bats in the air," (original lyrics say 'witches in the air')
The third one said "but we don't care!"
The fourth one said "Let's run and run and run."
The fifth one said "I'm ready for some fun!"
Ooo ooo went the wind, and out went the lights,
And five little pumpkins rolled out of sight.
While we're thinking about rhymes, hand games and finger plays, it's important to remember to share these with our children. There are many language opportunities with which we can expose young children - books, conversation, oral stories, language cards and song, but one area that might get overlooked is poetry. This year, we have a new language material in our environment, poetry cards. Each card is comprised of a poem and a related photo. The children are free to choose the cards and explore the image, or listen to the poem with the help from an adult. Poetry exposes the children to a form, style and cadence in language that they may not otherwise hear in their everyday language environment. Remember those old rhymes that your grandmother shared with you as a young child? It's time to get nostalgic and share them with your little one, who is sure to find them captivating.
September 27, 2018
Now into our fourth week at school, bread baking has become a regular element in our morning routine. All of the children have had an opportunity to bake bread for their peers and are always pleased with their efforts. And who doesn't love an afternoon snack of bread that is still warm from the oven?
This week, we also made our first batch of hummus. To begin, on Monday we rinsed and soaked the beans. On Tuesday, we rinsed and cooked the beans in a crockpot. And on Wednesday, we made the hummus. For our first time, we stuck to a basic hummus recipe - chickpeas, tahini, garlic, lemon juice, salt and olive oil, but we have plans to experiment with other beans and ingredients. Also for the first time, we used a garlic wheel. It's a round hand-held device that has internal blades and wheels. When the child 'drives' it across the tabletop, the blades chop the garlic. Open it up and you have perfectly chopped garlic. Hummus is a perfect activity for toddlers, as it offers multiple opportunities for scooping, pouring, lemon juicing and garlic peeling. The children enjoyed experiencing the many sights and smells of the ingredients and devoured the hummus for snack.
I hope you find opportunities like this to invite your child to help prepare food at home. Remember, your child's contribution can start with the smallest element - carrying ingredients from the refrigerator or pantry to the countertop, helping scoop or pour ingredients into a bowl, stirring everything up, cleaning up the work surface, or even setting the table for the meal. Just remember that, as with every activity with a young child, it is the process and not the end product, that is the most important element. I can't wait to hear about what you and your child create!
September 13, 2018
Welcome Back!
I am thrilled to have all of the children back in the environment again. It was lovely to watch them be reunited with friends who were away this summer. Their hugs, smiles and greetings upon arrival really demonstrated the strength and importance of our little community. We should never discount the importance of one's community, regardless of the age of the child, for it is a place of love and acceptance, collaboration and belonging and it is a privilege to be part of it. That said, I hope you can join us for a celebration of our community at the Classroom Social at Darrow Park on September 23rd.
Now over a week into the school year, the children have embraced a few new routines and new materials, including daily bread baking. Every day one child will have the opportunity to bake bread for his or her friends. For half day students, a slice of bread will go home with the child at noon carline. For children who stay the full day, the bread will become our afternoon snack. We started out the year with a simple olive oil oat bread recipe, but will branch out each month with new flavors and recipes. I look forward to sharing what we create and I'm sure your child will be excited to tell you about this important contribution to his or her community.