Welcome!

Children are often asked to adjust to our adult world. In the hope that every child has a place where they can "just be", our environment has been especially designed to include every aspect of life for your children. I invite you to read our classroom highlights to get a glimpse of your child's world at school.

Your children are often working independently to meet individual interests and needs, but this page will give you updates on our work as a community. I will share group discussions, class trends, community goals, and relevant Montessori concepts.

Please know I feel honored to observe and support your child's development this year. Thank you for sharing them with me!

Megan Andrews, Primary Guide
Allie Bukowski, classroom support
Rachel Goodman, classroom support

Room Parents
Erin Gartland
eeprasse@gmail.com
October 9, 2019
Last week we read a non-fiction book about the way apples grow. We learned about the year long process of buds turning into sepals which bloom into flowers. The ovaries of the flower grow into apples ready to be harvested in the fall. We also cut a cross section of an apple to see the five seeds stored inside and tasted some apples from Berkley's family orchard.
This week we have had a trainee from the Montessori Institute of San Diego observing our environment. Your children have practiced introducing themselves to Teresa and carrying on with their normal day as if no one is watching. Observation is the cornerstone of the Montessori Method so your children have become accustomed to letting observers do their important work. Teresa has spent most of her time monitoring concentration levels and creating graphs to show how our concentration changes throughout the day and overtime. It is always a pleasure to support someone on their journey to become a Montessori guide.
We recently added a new glass prism to our environment for children to polish. We quickly realized the children were very interested in the way light refracts to make a rainbow, so we followed their interest! We've been reading books about light and will continue to explore this interest in the next few weeks. Interest combined with activity of the hand produces the most meaningful work!
Please remember picture day is on Monday, October 14th and Parents Visiting Day is on Wednesday, October 16th. We can't wait to share our work with you!
September 25, 2019
Many of the older children in our environment are reaching a new level of independence. They are beginning to use their knowledge of letter sounds and phonograms to read. To achieve fluent reading, children need repeated and frequent opportunities to practice decoding and deciphering text. If you would like to volunteer to listen to our emerging readers on a Tuesday afternoon, please click the link to select a slot: https://signup.com/go/KepjoWr We are also still in need of flowers and food on some Mondays. You can sign up for your 2 weeks by clicking this link: https://signup.com/go/ttEGwMz. As always, let me know if you have questions about this. We can't do it without your help!
Last week I gave the first group presentation of an exercise called Walking on the Line. The Line is a material specifically designed by Dr. Montessori to build up a child's control of movement. She observed movement to be essential for cognitive development. Walking on the Line supports the child to develop balance and equilibrium while also supporting him to realize that he is in charge of his own actions. The ellipse on our floor acts as a guide for our feet. As we master balance and equilibrium, we will add more complexity to the activity by balancing a bean bag on our head or holding a bell without letting it make a sound.
Lunch time is a special part of our day that is unique to a Montessori Environment. The older children work to move furniture, unfold table cloths, set the table with real dishes, add flower centerpieces and place name cards. When children sit down for lunch, some children help serve while others help those around them unpack their lunch. You'll often hear children say "please pass the pitcher!" before pouring a glass of water for themselves. We do our best to use the polite manners expected of adults during mealtime, so we wait until everyone is served and place our napkins on our laps. When everyone is ready, we sing our lunch song and enjoy quiet conversation with our neighbors. This time of day brings us together as a community and embeds so many learning opportunities. Invite your child to sing the lunch song for you or help you set the table!
September 12, 2019
We are almost through our first full week of school and it feels good to be back. We've welcomed six new children and adjusted to some changes in the environment. I am reminded of children's strong sense of order when I notice them bumping into shelves that are in new places and accidentally placing their shoes in last year's cubby spots. To support the child's sense of order we make sure every material has a specific spot and our daily routine is the same. Physical order gives the child mental order.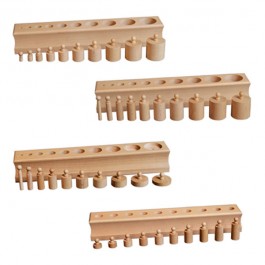 Throughout the year, I will highlight materials that all children will experience at some point in their primary experience. This week I'd like to highlight a material that new children are using and older children are revisiting - The Cylinder Blocks. Maria Montessori designed four wooden blocks that are displayed together in our classroom. The material's direct purpose is to help the child become conscious of size and dimension by means of the visual sense. When a cylinder does not fit in the hole, the child is able to self-correct his mistake. Indirectly, the material prepares the child for writing by refining their pencil grip, for movement by developing control and precision and for mathematics by offering a set of 10 as they will see in the decimal system. After mastering the original presentation, older children use the cylinder blocks to play games, learn new language, write labels and measure the dimensions. The work builds upon itself and allows for deep exploration. Ask your child if they've used a cylinder block recently!
We have also been practicing grace and courtesy lessons in small and whole groups. These lessons allow children to navigate social situations independently and help us live together as a group. We have practiced what to do when the room feels too loud, when we need someone's attention, when we want to observe someone work, when someone is in our way and many more. We'll continue to act out new scenarios throughout the year!
June 6, 2019
Another fabulous year has come and gone. I recently looked back to my observations from the beginning of the year and took time to reflect on our growth. Some children were learning letter sounds in September and are now writing full sentences! Other children were counting number rods in the fall and doing dynamic addition by the spring. The Kindergarteners that were once challenged to get enough plates on the table for lunch are now adding elaborate center pieces for everyone to enjoy. Your children are kind, creative, curious, funny and thoughtful. Thank you for sharing them with me!
Wherever your summer takes you, I hope the next few months are filled with warm weather, family and relaxation. Please don't hesitate to reach out before we return in September. Have a wonderful summer!
May 22, 2019
The school gathered to watch TCH alum and professional singer Sarah Mikulski perform on Tuesday. She sang one song from a musical and one song from a French opera. Sarah explained each song and answered some of our questions. Children wondered if she felt nervous when she sang on stage and how she started singing as a child. It was wonderful for the class to hear how hard Sarah had to practice to get good at something. Sometimes you have to do the uncomfortable to get to the comfortable!
The children have been preparing for Grandparents Day all week. We thought carefully about which materials to show our families and practiced some songs for our group gathering. The children also made sure our environment was tidy and beautiful. It is wonderful to watch children take ownership of our space this time of year. It brings them genuine joy. I hope everyone enjoyed seeing a glimpse of our life at school!
I can't believe we are entering our last two weeks of school. TCH is buzzing with busy planning and excitement. Kindergarteners are visiting lower elementary, five year olds are taking on some new responsibilities, the class is giving feedback to elementary students so they can plan the perfect field day and Junior High students are creating materials for our room as part of an end of the year project. I've even watched our children play soccer with elementary students during recess and visit younger siblings in YCC environments. The movement between classrooms and age levels at this time of year is a reminder that the school wide Dance of the Cosmos is truly symbolic of the way our community functions as a group. We all learn from each other!
May 9, 2019
We are nearing the end of Screen Free week. We've had many conversations about what children enjoy when they're not using screens. They were excited to come up with new ideas like playing pretend outside and collecting stones. If you're ever hoping to talk about developmentally appropriate practices related to technology and screens, please reach out!
Last week, children met Kasey and Kallie the firedogs. The Kasey Program was started in 1995 by Jeff Owens as a way to teach children about fire & life safety. They use two black Labrador Retrievers to demonstrate the safety skills frequently taught to children. Kasey and Kallie reminded us to make sure we know two ways out of our house and to stay out once we get out. To cap off our fire prevention week, we had out last fire drill of the year on Wednesday. Your children are experts and know how to stay safe during an emergency!
At birthday celebrations throughout the year, we discuss different aspects of our solar system. At Mayday, we celebrate our community's trip around the sun and the arrival of another spring season. At Dance of the Cosmos, we celebrate children's transitions and their place in the larger school community. Kindergarteners are beginning to research planets, comets, and asteroids to prepare for this culminating moment on the last day of school. We are excited to hear parts of the their research at our group gatherings this month.
April 25, 2019
Last week, primary children attended the Poetry Jam held by Junior High students. We participated in activities that allowed us to explore similes, hyperboles, acrostic poems and rhyming. Our class often enjoys listening to poetry and now we have some new elements to think about!
We also celebrated No Ruz or Iranian New Year. Kindergarteners learned about the holiday with Rose Hollander at Great Books and shared the celebration with the rest of the class on Thursday. We celebrated the new life ahead of us by hopping over a pretend flame and enjoying symbolic foods. Children especially enjoyed trying a dash of sumac on their hard boiled egg.
Next week we will celebrate May Day and watch our community dance around the maypole. In preparation of this annual tradition, children are decorating hats and learning a special song. As we approach the first day of May, we are also preparing our outdoor environment. Maria Montessori believed the classroom space should expand beyond our walls. When the weather allows, the children will have the opportunity to choose an outdoor workspace. This additional freedom of movement allows children to absorb every part of the environment with their senses.
April 11, 2019
Last Friday, the class attended the Elementary Talent Show. We practiced being polite audience members and cheered for many of our friends. Every child has unique strengths and it's wonderful for the primary children to see that showcased on our very own stage. Kindergartners are already planning their acts for next year!
We have also been having important conversations about the meaning of community. The children agreed that strong community members work on tasks until they are completed, even if it means doing more work than someone else. They also agreed that community members help each other even when it doesn't directly benefit them. As we hone in on our definition of community, children are reminding each other of our responsibilities throughout the day. They are holding each other accountable and reaching a new level of independence.
Children are really interested in food preparation work this month. We have a new work on our shelves that allows children to independently grind garlic, garbanzo beans, olive oil, lemon juice and salt to make hummus. As the weather gets warmer, we hope to grow vegetables and herbs in our raised garden beds to create new recipes. Cooking for ourselves and others gives us a powerful sense of ownership and prompts discussions about wastefulness, food production and sanitation practices.
March 21, 2019
Last week, we spent each day reading a Saint Patrick's Day book. We read some nonfiction books with information about the origin of the holiday and some fictional stories based in Ireland. We ended the week with Fiona's Lace by Michigan born author Patricia Polacco. The book is an authentic immigration story of an Irish family arriving in Chicago. Children made many wonderful connections to their own experiences in Chicago, family members from Ireland and memories of Saint Patrick's Day celebrations.
On Friday, Wings of Wonder visited TCH. The primary children met a great horned owl, a red tailed hawk and a turkey vulture. They felt and observed raptor talons, wings and pellets. We learned so many interesting facts, including the purpose of a turkey vulture's extra large nostrils. The holes allow the vulture to continue breathing while inside a dead animal's carcass! Ask your child what they remember from the exciting presentation.
We are practicing a new song to learn the days of the week in Spanish. The song is sung to the tune of Frere Jacques. Use these lyrics to sing a long with your child:
Lunes, Martes
Lunes, Martes
Mier-co-les
Mier-co-les
Jueves y Viernes
Jueves y Viernes
Sa-ba-do
Do-min-go
Whether you are enjoying the first warmer days in Traverse City or traveling over spring break, I hope you have a wonderful week! I look forward to hearing everyone's stories when we return.
March 7, 2019
Thank you for meeting with me for conferences last week. 100% of our families made time for an individual meeting about their child. I am inspired by all the adults in our community thinking thoughtfully about how to raise a child for our unpredictable future.
In many of our meetings, I found myself talking about Dr. Montessori's three stages of obedience. The young child begins by only following requests that align with his own desires. With time and experience, the child begins to follow requests because he sees they are good for the group. The last stage describes children finding joy in obeying others. In other words, once a child has internal discipline, he can begin to respond to the requests of a community. It is important to remember that our children are on a long continuum of development.
Children have Spanish on their minds this week! Their ability to pick up nuances of the Spanish accent and recall new vocabulary always surprises me. Many children are teaching the names of colors in Spanish to our new children and learning the names of family members. Mom is mama and dad is papa. Sister is hermana and brother is hermano. Ask your child what else he can share with you!
February 21, 2019
I spent the last weekend in New Orleans attending the American Montessori Internationale 2019 Refresher Course. It is amazing to see how many trained guides are working to bring quality Montessori to all children. The primary portion of the conference honed in on the sensorial area of the 3-6 environment. This area is so unique to the Montessori Method, but can also be the hardest to appreciate. The materials in the area were specifically designed to refine the child's senses. But what does this mean?
Each sensorial material isolates a specific quality. For example, the Pink Tower requires the child to use his visual sense to discriminate dimension as he grades the cubes from smallest to largest. As a child works with these materials, he is developing the ability to discern between two qualities, which eventually can translate to the ability to discern between two world views. The child will acquire the capacity for clear judgment and the ability to see beauty in the nuances of the world. Going forward, I hope we can start a dialogue about the sensorial area and make it feel more accessible.
We have also welcomed Silvio to our environment this week. Silvio transitioned from Jeanette's Young Children's Community across the hall. After a few visits, the children are excited to have him with us full time! At this point in the year, it is wonderful to have more opportunities to practice helping a friend before you help yourself. This important grace and courtesy lesson supports the children to honor communal life and understand that each of us has strengths to offer the group.
I look forward to meeting with all of you at conferences next week! Please be sure to sign up for a 30 minute time slot by Friday.
February 7, 2019
Welcome back! I hope everyone stayed warm during our unexpected January break. Before the snow days, our class had some wonderful discussions about Martin Luther King. Children shared information with each other and reacted with disbelief when I explained segregation. They wanted to know why anyone would disagree with MLK's dream and even reflected on parts of their own lives that were affected by his work. The children's comments were proof that our community is educating for peace.
Rose Hollander has started talking about Chinese New Year with the Kindergartners at Great Books. They have learned about life in China and will help explain the special holiday to the rest of our class. With Rose's help, we will have the opportunity to practice Chinese character writing, decorate the dragon, learn Chinese words and taste Chinese food. On Thursday, we gathered in the gym to watch Kindergarteners perform the annual Dragon Dance!
At the end of last week, we read a book about Groundhog Day. We learned about Punxsutawney Phil and how the holiday started. Although the famous groundhog has only accurately predicted spring 39% of the time, we were excited to see the result last Saturday. It is hard to believe but Phil thinks spring is on the way!
Valentine's Day is coming up. We use this holiday to talk about friendship and express gratitude for the people we love. Pease let me know if you did not receive a copy of the handout that outlines our guidelines for Valentine cards. Also, don't forget it's the last week to help put together our gala basket. Please drop donations at the front desk or contact Erin Gartland with questions.
January 17, 2019
After two weeks away from the children, I felt absolutely in awe of our community when we returned. With a fresh perspective, I observed the children take care of each other and our space. I observed incredible perseverance, compassion and humility. It made me think about the skills they will carry into the world as contributing members of society.
For example, one child practiced time management as he planned to do his handwriting work at the same time each afternoon so he would finish before gym. Another pair of children independently agreed they needed to clean the easel so it would be beautiful when we all arrived to school the next day. Another child reminded a friend to use less paper because our community is trying to be mindful of wasting resources. An older child told a young friend to practice patience and never interrupt another person's concentration. The list goes on and on.
Our class has been thinking about Traverse City artist and TCH performer, Levi Britton. Levi has been very ill and recently underwent heart surgery. We have added him to our Kindness Tray and plan to send a package in the next couple of weeks. Your children have written the most thoughtful notes to Levi. In an egocentric stage of development, it is so important to give children opportunities to put themselves in other's shoes. It can be difficult to understand that someone else's needs are different than your own, but your children have done a beautiful job.
Also, please remember we have open spots for volunteers to listen to emerging readers. The children look forward to this every week! The sign up link is:http://signup.com/go/iyLaYjU
December 13, 2018
Last Friday, our kindergarteners had their first art class with Alison Hoffman. They learned about different types of lines and practiced mixing mediums. The materials are now on our art shelf so kindergarteners can share their knowledge by giving the presentation to a friend. Giving presentations to others promotes children to think about their own thought processes, otherwise known as metacognition.
Maria Montessori had a vision of world peace. In an effort to honor this important piece of the method, I will introduce a new material called The Kindness Tray. The tray will allow children to write notes or draw pictures for someone the class is thinking about. It will help children become conscious of other's needs and challenges outside of our small community. The person featured on the tray will change throughout the year, so please let me know if you someone in your life could use an envelope of well wishes from our class!
The children are preparing for our Seasonal Sing-a-Long performance on Friday, December 21st at 2pm. The kindergarteners will perform songs on stage and the rest of the class will sing from an area in front of the stage. If your child does not usually attend school on Fridays, they are still welcome to participate! Please send me an email if you're planning to send them in the morning or before the performance. I look forward to seeing everyone before we part for winter break!
November 29, 2018
Thank you for all your work to make our Harvest Feast a success! Your children shared sweet moments from their year and did a wonderful job serving our delicious meal. They were patient as they made sure every child had a full plate before taking a bite. Sharing a meal is a wonderful way to say goodbye before a break from school. I hope you all had a wonderful few days with family.
Last week, Allie returned from a trip to Hawaii and brought many souvenirs for the class. She gifted us a book called "Baby Honu's Incredible Journey" by Tammy Yee. It is the story of a young turtle that travels from the beach to the sea. The book talked about the process of hatching and introduced us to some new Hawain words. Allie also brought pieces of sea coral and lava rock for us to feel and observe. We are thrilled to have her back and look forward to hearing more stories about her travels.
Our class also attended a performance by local artist Chris Smith. We sang along to a few familiar songs and practiced being audience members. We will have more performances by local artists throughout the year. These are wonderful opportunities to be a part of the greater community and be inspired by new instruments.
Ask your child about the new member of our community! We welcomed Lucy to our primary environment on Monday. She transitioned from Jenny's YCC room and has already become an important member of the group. Your children look forward to introducing you soon!
November 8, 2018
Thank you for making time in your busy schedules to meet with me last week. I always appreciate your insight and feel grateful for our supportive partnerships.
Last week, we celebrated Pumpkin Fun Day. Children participated in a pumpkin hammering work, pumpkin crafts, face painting and a pumpkin cooking project. Our exciting morning ended with a Halloween performance by the West Senior High Drumline. Their showcase inspired children to try out their own beats the rest of the day! In the afternoon, we collaborated to draw a face on our pumpkin and carve a jack-o-lantern. We roasted pumpkin seeds and watched our jack-o-lantern glow in the dark.
A big part of the child's work in a primary environment is learning to regulate his or her emotions. We support children by labeling feelings (frustration, sadness, anger), practicing strategies in neutral moments, facilitating conversations and bringing awareness to others' emotions. It is so important to honor these difficult and real feelings while supporting them to react in appropriate ways. If you're interested, I am always happy to chat about this topic!
Many of you may have heard about Ariel, our observer and trainee from Montessori Northwest training center in Portland, Oregon. Ariel is observing our environment for two full weeks. It has been a great opportunity to practice introducing ourselves, greeting an observer and working in front of others. The Montessori Method is an observational method, so Ariel is working to perfect her observational skills by using objectivity and evidence based analysis. Please let me know if you'e hoping to be an observer in our environment.
October 25, 2018
As many of you heard, we welcomed a new child to our community on Tuesday. Rilla transitioned from the YCC and is now in our room full time. Mid-year move ups provide new opportunities for mentorship and leadership. We are trying our best to be role models and help our new friend feel welcomed.
We are also beginning to prepare for Pumpkin Fun Day on Wednesday, October 31st! Children are taking turns washing our pumpkin so it is ready for carving. We will collaborate to decide on a jack-o-lantern face and prepare the seeds for roasting. Please save costumes and candy for your after school celebrations.
Every Thursday, Amanda joins our class to lead a group gathering. Amanda has introduced our class to many new songs, finger plays, and instruments. This week, we are learning to keep the beat of a song with castanets.
Fall conferences begin next week! Please make sure to sign up for a 30 minute meeting with me by clicking this link: https://www.signupgenius.com/go/30e0b48ada729a1f58-megan1 I look forward to meeting with all of you!
October 11, 2018
Many of the older children in our environment are reaching a new level of independence. They are beginning to use their knowledge of letter sounds and phonograms to read. To achieve fluent reading, children need repeated and frequent opportunities to practice decoding and deciphering text. If you would like to volunteer to listen to our emerging readers, please click the link to select a time slot: http://signup.com/go/iyLaYjU . The children will be excited to share what they've been learning!
Last week, we introduced an important activity to our new children called Walking on the Line. The Line is a material specifically designed by Dr. Montessori to build up a child's control of movement. She called movement essential for cognitive development. Walking on the Line supports the child to develop balance and equilibrium while also supporting him to realize that he is in charge of his own actions. The ellipse on our floor acts as a guide for our feet. As we master balance and equilibrium, we will add more complexity to the activity by balancing a bean bag on our head or holding a bell without letting it make a sound.
Parent's Visiting Day is on Wednesday, October 17th from 8:30 to 9:30. Please drop your child at morning carline and then park to come in the building. This is a wonderful opportunity to see what your child has been working on and engage with some of the materials. Your children have been working hard and can't wait to share a piece of their life at school! Please let me know if you have any questions about this special day.
September 27, 2018
Last week we started a special collaboration with Junior High students. Two students are joining us on Monday, Tuesday and Wednesday afternoons to support children's work, lead small groups and get a glimpse of our community. The children are excited to show them around and seem especially motivated to take care of our environment. The partnership is bridging the gap between the many age levels at our school and reminding us that mixed-age learning can happen outside of our room too! There is something so sweet about overhearing a three year old asking a thirteen year old to cross his legs at group time!
We also started talking about the many plans our school has to keep us safe. Children had discussions about the safest way to exit our building and supported the new children with these routines. We participated in two fire drills and will practice wind and lockdown drills next.
I have spent the last week thinking about self regulation and self directed learning. As all of you know, a Montessori environment looks different than a traditional classroom. These differences go far beyond the aesthetics of our space. Adults guide instead of instruct, support instead of correct and observe instead of test. All of these pieces work together to promote self regulated learning. I have attached an article by Laura Flores Shaw that does a wonderful job of explaining the importance of empowering children to be their own teachers. I hope you find it interesting and helpful!
September 13, 2018
Wow! It has only been two weeks and our community is functioning smoothly with love, kindness, and support. We have been giving many grace and courtesy lessons to help children navigate social interactions in a community of people. Grace and courtesy lessons allow children to practice responding to a variety of situations in neutral moments. For example, we have practiced observing another child's work, getting an adult's attention, walking carefully in our room and introducing yourself to a new friend. We will continue practicing grace and courtesy in small and large groups throughout the year.
A few children spent their recess time harvesting vegetables from our tower garden. After inspecting each vegetable, they decided the sugar snap peas and lettuce were ready to eat. The children asked if we could use the vegetables to prepare a salad for our afternoon snack, so the whole class had an opportunity to serve themselves a garden salad later that day. We are anxiously waiting to add our growing tomatoes to the next salad!
We also started making butter this week. We pass around and shake a special container of heavy whipping cream and sing a butter song. This will be the start of an effort to contribute to our community meals. Children will have opportunities to prepare new snacks for the group that reinforce chopping, peeling, measuring, and recipe reading skills. Cooking for a community also supports children to try new foods, think about the needs of others, collaborate with a partner and practice kitchen hygiene and safety procedures.
Your child's unstructured time outside is so important to his or her success, so we will go outside in most weather! Please send your child with appropriate outside gear for rain, mud and colder temperatures. Thank you for your hep!