Welcome!

Children are often asked to adjust to our adult world. In the hope that every child has a place where they can "just be", our environment has been especially designed to include every aspect of life for your children. I invite you to read our classroom highlights to get a glimpse of your child's world at school.

Your children are often working independently to meet individual interests and needs, but this page will give you updates on our work as a community. I will share group discussions, class trends, community goals, and relevant Montessori concepts.

Please know I feel honored to observe and support your child's development this year. Thank you for sharing them with me!

-Megan
Megan@traversechildrenshouse.org




Megan Fellows, Primary Guide
Brooke Loseke, Classroom Support
Merissa Lamie, Classroom Support




Room Parents
Lauren Magnatta
Halley Brandsen



Classroom Highlights
3/16/23
Thank you for making time to join me at parent teacher conferences last week. Our meetings are invaluable. Your insight, anecdotes and vulnerability make it possible for us to provide a truly individualized experience for your children. Thank you for partnering with me.
We have spent our group time leading up to St. Patrick's Day learning about Ireland, listening to Irish music and reading stories by Irish immigrants. Many children have worked with the Europe Puzzle Map and used their understanding of land and water forms to notice that Ireland is an island. These natural connections between materials happen everyday and take the children's learning to the next level.
Our classroom is also preparing to welcome a new child to our community. Lyle will be moving up from Agnes' Young Children's Community after spring break. Our group of children has never been so prepared for this task! They are ready to model appropriate behavior, notice when help should be offered and introduce themselves by name. We can't wait for his first day!
Update from Angela about Kindergarten Music:
The Kindergarteners have all worked very hard to get their fingers and hands to do what they want them to do. This means that they have had success with five one finger chords and one two finger chord. The two finger chords will start to increase with the songs that we will be doing between now and the end of the year. This week a few of the kindergarten students brought their diagrams of a ukulele to class to show everyone with all the parts of the ukulele labeled. This is a great way for them to continue to engage with their ukuleles outside of ukulele class.
2/23/23
Parent Visiting Day Update:
Primary Parent Visiting Day has been rescheduled for Wednesday, March 1st 8:30-9:30. Please drop your child at morning carline, park your car and meet your child in the classroom. Remember, we ask that each child only bring one family member to avoid an overcrowded classroom and to make sure you get the most accurate picture of your child's day.
You have most likely heard through your children that Merissa Lamie is pregnant with her first child! We have been excited to see her ultrasound photos and follow the growth of her baby over time. Tomorrow, I will share with your children that I am also pregnant! Merissa is due in August and I am due in September. Your children have had wonderful questions related to the baby's growth and are also feeling curious about how this will impact our classroom. I will keep you informed every step of the way and do everything I can to make it a seamless transition in the fall. I feel grateful to have all you as models for beautiful families as I start my own. Thank you for all your support.
Many materials in our classroom evolve over time and change based on the children's interests. Recently, children have been using a variety of materials to build three dimensional structures. To satisfy this new curiosity, we will be introducing a three dimensional collage work to the art shelf. Your children have mastered pasting two dimensional shapes and are showing a need for more complex building opportunities. The activity will also be a natural way to weave in exploration of shadows and the names of three dimensional figures. Similarly, many of your children have been talking about taking trips with their families. We are providing for this interest by reintroducing suitcase packing. They are invited to think about the weather in their destination, choose from a variety of clothes and fold each item. Ask your child to help you pack their own suitcase or help you write a list of what they will need on an upcoming trip!
Parent teacher conferences are coming up! Please be sure to reserve a 30 minute slot by clicking here. Feel free to email me specific questions ahead of our meeting so I can prioritize our time together. I look forward to strengthening our partnerships in support of your extraordinary children.
2/9/23
February is Black History Month. I want children to have a positive experience with Black history by centering joy, love and celebration. By the end of the month, I hope to increase children's understanding of Blackness through multiple representations. Rather than learning about extraordinary black changemakers, we'll use this month to talk about black folks that have interesting professions, exciting accomplishments and relatable life stories. We'll start by celebrating Joseph Lee (baker and inventor of the bread machine), Mary Lou Williams (child prodigy and jazz pianist) and Allyson Felix (the most decorated woman in Olympic track and field history). We'll also center joy by moving our bodies to fun songs by Black artists. Use this playlist to continue listening with your children at home!
Want to learn more? Watch Britt Hawthorne's webinar on how to celebrate Black History Month with 3-6 year olds. In 30 minutes, she shares movies that center black joy for family movie night, book recommendations and guidance around when to introduce concepts like stereotypes and discrimination.
The children are busy preparing for Valentine's Day! They have decorated special bags to collect their valentine's next week and are thinking about what love means to them. Some children shared that "love is snuggling with my mom and sister" and "love is getting woken up by tickles from mom". Love means something different to each of us and we have a lot of it in our room! Valentine's Day is also a wonderful opportunity to remember our grace and courtesy lessons about giving compliments, checking on a friend and asking for a hug. We'll be practicing all of these as we prepare for our Valentine exchange. If you did not receive a paper with details about the day or if you have questions about what to prepare, please let me know.


1/25/23
On Friday afternoon, we were invited to a performance by cellist and vocalist, Jordan Hamilton. He introduced us to the acoustic and electric cello by playing a variety of current and original songs. The children were asked to notice the instruments' differences, clap along to a rhythm and even help him sing parts of a song. Jordan played a combination of classical, folk, R&B and hip hop music before ending with a Q & A session. It was a great opportunity for us to practice being in an audience and learn about the path of becoming a professional musician!
This morning, we were fortunate to welcome Violet's family to our classroom to teach us about Chin National Day that is celebrated in February. Violet's family is from Chin state in Burma (Myanmar) and is part of the Hakha-Chin tribe. They shared a brief history of the holiday, showed us traditional clothing and accessories, performed a traditional dance and shared a delicious snack of sticky rice in banana leaves. Violet also shared her favorite Chin song that promotes being proud of who you are. We've enjoyed dancing to the song at school and you can click here to continue listening at home!
As we begin the second half of the year, the children are feeling confident in our routines and many are beginning to take on new roles. Our youngest children are asking for help less often and next year's incoming kindergarteners are asking if they can join in on some of the bigger responsibilities. All of your children are showing traits of inner discipline, an internal impulse that guides them to make appropriate choices and respond to the needs of others without external rewards or punishments. Internal discipline is seen when a child stops his work to help a friend clean up a spill without anyone asking or when a child checks in on someone that looks frustrated even if they weren't part of the conflict. The combination of our environment's freedoms, clear limits and community minded values slowly builds up this type of discipline. It is such a gift to watch a community of individuals work in harmony.
1/12/23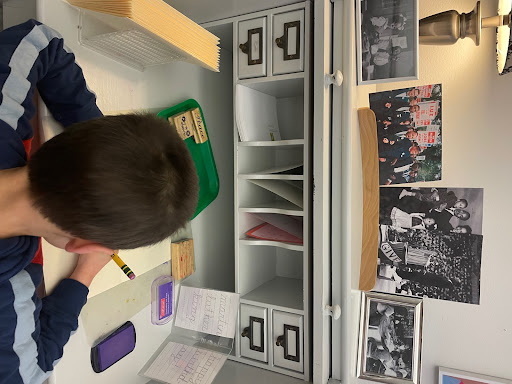 Martin Luther King Jr. Day is approaching. Our classroom learns about Dr. King by preparing for a celebration of life in honor of his birthday. Children have had opportunities to make a card for Dr. King, look through photographs of his life and listen to Stevie Wonders' "Happy Birthday" song. We've also read several books about peace, marching for change and injustice. We will gather at the end of the week to share what we admire about Dr. King, hear the story about his life and enjoy one of Dr. King's favorite desserts, a homemade peach cobbler.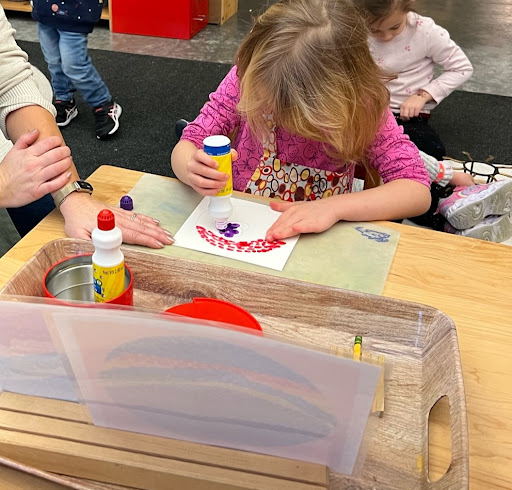 We have also started a new artist study. Your children have been learning about the great American painter, Alma Thomas. Alma lived through segregation and worked hard to bring art education to children of color. She taught art until she turned 70 and then began making her own paintings. Alma is known for her bright patterns inspired by nature. Your children are exploring her style by creating their own patterns within a circle. See the attached photo of one of Alma's paintings and another of a child trying the activity in our classroom!
Next week, we'll begin talking about the Lunar New Year that begins on January 22nd. We will enjoy books written by authors that celebrate the holiday and admire different red artifacts, like lai see packets and red banners used to bring good luck around this time of year. Your children will also have opportunities to study and practice forming several Chinese characters. The art of handwriting connects all humans and is a tangible way for children to see our shared need for written expression. Towards the end of our study, we'll enjoy some longevity noodles with chopsticks. This dish is thought to bring good luck, prosperity and a long life in the new year.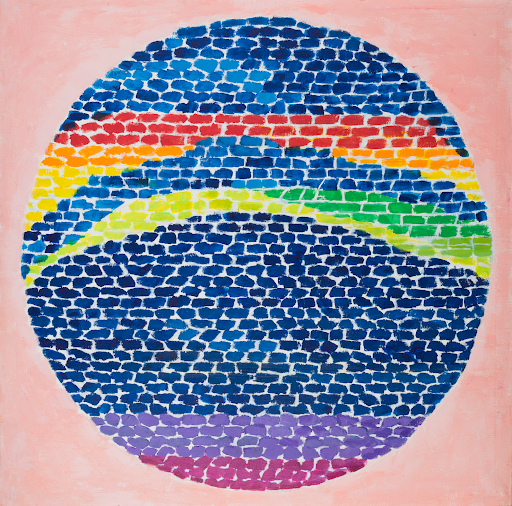 Please note there is another primary adult learning opportunity coming up on January 25th! We'll be talking about the Kindergarten year and answering all of your questions. Your RSVP is requested. For parents and caregivers of Primary students who are not yet in Kindergarten. Childcare is available, sign up here.
12/15/22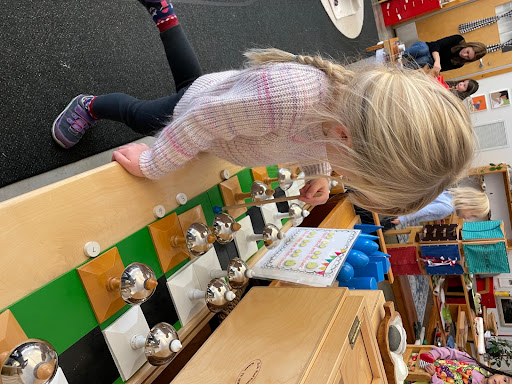 This week, I'd like to highlight a Montessori material from the primary curriculum called The Bell Cabinet (see attached photo). The Bells are a sensorial material that support children to refine their auditory sense through the discrimination of pitch. They also support children to appreciate musical experiences and learn the order and pattern of music. Dr. Montessori wanted children to see that you do not need to be a special person to play music. She believed music should be for the child's enjoyment and not taught in isolation through a didactic process. Therefore, lessons in pitch, reading music, composition and notation with the bells are all integrated into the primary experience. The Bells give children the key to the world of music.
As we approach winter break, our class has been learning and incorporating elements of each child's winter traditions. We have a biscotti recipe from Anders and a sugar cookie recipe from Bryson that we will try as a group. We also had the Magnatta family come in to share some of their Polish traditions. Even if many of us celebrate the same holiday, we often have our own unique ways of celebrating. I hope you'll continue to share your family's traditions with us.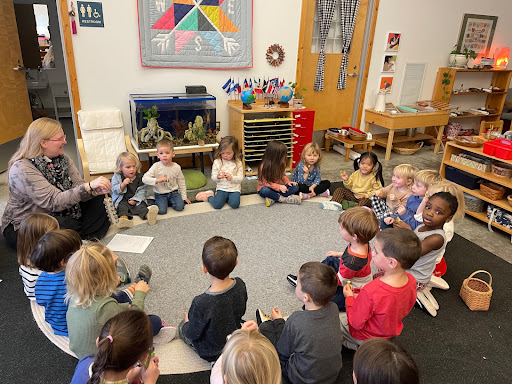 I look forward to seeing all of you at our Seasonal Sing tomorrow at 3:00. The children have been practicing two songs with Angela (see attached photo). If your child is picked up at 12:30 on Fridays, they are welcome to return to the classroom at 2:45 to sing with our class during the performance. They are also welcome to stay with you and watch from the audience. I hope all of you have a healthy and rejuvenating winter break. Looking forward to more time together in 2023!
12/01/22
Before Thanksgiving break, we added an artist study to our shelves. The children have read several books about Jackson Pollock and admired his paintings before trying his technique on their own. While we aren't able to do action painting inside, we've tried using various objects in paint to make designs and added his signature black paint at the end. We also learned that Jackon Pollock used expressionism and conveyed his feelings through painting. Your children are encouraged to think about a feeling while they are painting too!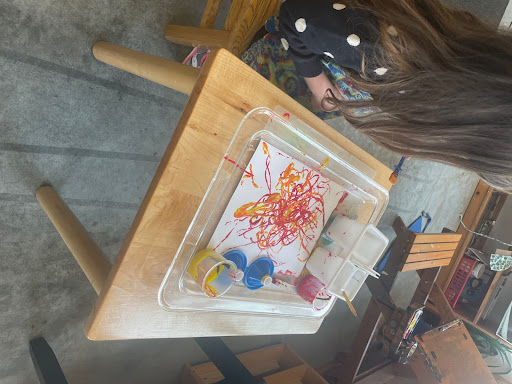 We have started preparing for the busy holiday season by making gifts for loved ones. This activity supports children to think about others and develop empathy. Gift giving is an act of kindness that requires children to put themselves in other's shoes. It's also a wonderful opportunity to practice gratitude and think about responsible consumption. In the classroom, we chose to use children's easel paintings as wrapping paper to model recycling materials. To support the social aspect of gift giving, we will give grace and courtesy lessons about how to politely receive and give a gift.
Along with making gifts for loved ones, we also encourage acts of service around this time of year. The children will have additional opportunities to show kindness to others in our school community, like folding another classroom's laundry or baking a treat for an administrator. On Friday, the kindergarteners will learn about The Salvation Army's mission and make some cards for holiday baskets they plan to distribute to families in need. After kindergarteners decorate the cards, all primary children will add messages and well wishes inside before they are picked up by The Salvation Army.
Primary children will say goodbye to each other before winter break by celebrating Pajama Day on Friday, December 16th. Please do not send slippers, stuffed animals or sleep accessories. Looking forward to a cozy day together!
Music with Kindergarten
The Kindergarteners have started their ukulele journey! They have been eager to get underway playing and learning all about their new instruments. They have learned the name of several different parts of the ukulele, how to hold and strum, and are getting the hang of their first few chords. They eagerly ask when they are going to get a new chord to learn. So far we have several songs to play and sing for each chord individually and one song that they are learning how to change between three different chords. Ask them which one is their favorite!
Art with Kindergarten
For our first class together this year the students and I drew penguins together. We started with the number 8 for our penguin bodies, first in pencil and then in black crayon. We added one eye with our crayons and talked about how it looks different when something is looking to the side instead of straight on. After filling in our penguins with black, leaving the bellies and the eyes white, we added orange beaks and flipper feet. We then discussed how to make the penguin look like they were standing on ice with a blue painted sky. The students painted a line on both sides of the belly and filled in the sky above. They were a fantastic group of kids to work with for the first time and their penguins turned out fabulous!
11/10/22
Thank you for taking time for parent teacher conferences last week. I am grateful for your insight and the strong partnerships we've developed over time. Each of your children has unique strengths and together they form a well-rounded, interesting and open-minded group of people. You have given them the gift of understanding what it means to be part of a community - the feeling of sharing common attitudes, leaning on one another and supporting those in need. I hope you feel this from our parent community too.
We have started planning for our Harvest Feast on Tuesday, November 22nd! Your children have each chosen a dish they want to contribute to our meal. The class will decide on the menu, place cards and table decor. The event is a fun way to say goodbye before Thanksgiving break, but also a chance to take ownership of an event and execute it as a team. Leading up to the feast, we'll talk about the sad story that led to the Thanksgiving holiday and practice expressing gratitude. Look for a handout coming home soon!
We introduced our listening station last week. The children are able to use bluetooth headphones to listen to different music genres throughout the year. We listened to music from Mexico to celebrate Day of the Dead, but are now transitioning to mindfulness stories and breathing techniques. This week, your children have the opportunity to listen to a recording from Brooke reading the book I Think, I Am by Louise Hay. The book promotes positive self-talk, reinforces that we are in control of our own thoughts and gives children tools to regulate their emotions. Click here to access Brooke's recording from home!
Music 11/09/22 - Kindergarten
The Kindergarteners have started their ukulele journey! They have been eager to get underway playing and learning all about their new instruments. They have learned the name of several different parts of the ukulele, how to hold and strum, and are getting the hang of their first few chords. They eagerly ask when they are going to get a new chord to learn. So far we have several songs to play and sing for each chord individually and one song that they are learning how to change between three different chords. Ask them which one is their favorite!
10/27/22
Parent teacher conferences are approaching. This in person connection is essential to developing a strong partnership in support of your child. Please feel free to send any specific questions or topics ahead of time so I can plan for our 30 minutes together. Click here to sign up for a time slot if you haven't already. Looking forward to seeing each of you!
We are all aligned in our goal to support children in their quest for independence. We know 3-6 year olds yearn to act without our help. Supporting this need begins with self care in the coat room and bathroom. Please continue to be mindful about sending your child to school with shoes and clothing they can put on and take off on their own. If a child isn't able to take off her outfit, they aren't able to use the bathroom independently or change when they get wet in the rain. Similarly, shoes should reflect the skill level of your child. If they aren't actively learning how to tie bows, shoes with laces are an obstacle to independence. This guideline can be applied to lunch boxes, snow pants and even hair accessories! Invite your child to practice undressing, unpacking a lunch box or zipping their backpack at home if specific steps need to be mastered for success.
Pumpkin Fun Day is on Monday! Please remember to save your child's costumes for the evening festivities. We'll be enjoying pumpkin snacks, carving a jack-o-lantern and creating pumpkin crafts. Later in the week, we'll be talking about a holiday that families in Mexico and central and south america celebrate at the beginning of November called Dia de los Muertos or Day of the Dead. This holiday is often misrepresented as a Mexican Halloween but has very different origins and meanings. Celebrants remember deceased loved ones by cleaning their graves, singing, dancing, preparing food and displaying colorful decorations in their honor. It is also the time of year that monarch butterflies migrate across Mexico, which are believed to be a sign of their loved ones being close by. The holiday is a wonderful opportunity to evoke empathy and talk about loved ones. I will share photographs of my time in Mexico with families that shared their traditions with me and we will taste a special day of the dead bread.
10/12/22
Part of the primary curriculum is introducing children to the Spanish language. Every Wednesday, we'll be reviewing and learning new vocabulary by singing songs and playing games at our group gathering. Last week, we learned names of several colors and continued adding new ones this week. After the initial introduction of words, Spanish language cards are added to our language shelf. Your children have the opportunity to practice the vocabulary independently throughout the week. Click here to listen to our Spanish color song!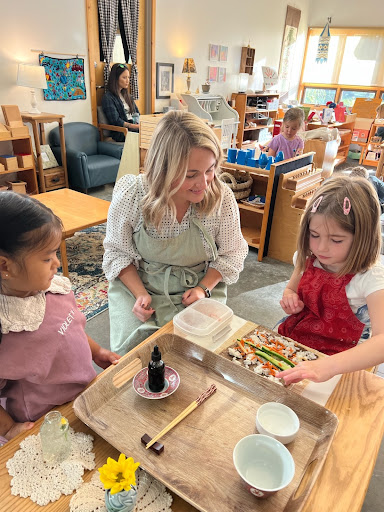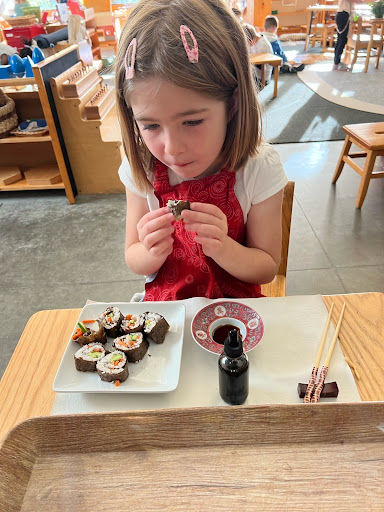 A couple of weeks ago, Violet's family shared sushi with our class as her birthday celebration treat. Many children were curious about the nori and sticky rice, so we've provided for their interest by creating a sushi work in our classroom. The children get to choose their vegetables, make a roll, wash their dishes and enjoy it with soy sauce and chopsticks! Food preparation is an essential part of a primary classroom, but it is even more meaningful when the ideas are inspired by the children.
We look forward to welcoming you to Parents Visiting Day on the 19th! Please drop your child off in carline and park. We ask each child to have one parent or special friend to join them in the classroom. We have a second visiting day in the spring when the other parent or friend can attend. The space in the classroom gets very crowded when each child has multiple people, and we want the children to each have enough space to move and work so you can get the best example of what they do here at school each day! Thank you.
Parent Visiting Day is one of the few opportunities your children have to show you what they've been working on in the classroom. They will spend time preparing our room and plan what they would like to show you. Please keep in mind that the goodbye and transition back to the regular school day can be difficult for many children. Make a plan with your child about how you will say goodbye to each other when I ring the bell ("one hug and a wave" or "walking to the classroom door together"). You can also let them know we'll be gathering to have a snack and listen to a story when our families leave. Knowing the schedule and making plans for goodbyes can alleviate feelings of uncertainty. We can't wait to show a glimpse of our life at school!
Classroom Reminders:
Please

click here

to fill out our classroom Google Form if you haven't already

Please send a photo of your child to

ljmagnatta@gmail.com

for our class composite
Thank you!
9/29/22
Last week we welcomed the first day of fall with some chilly temperatures. We will go out in any weather, rain or shine, so please make sure your child has appropriate gear for recess. We celebrated the changing of seasons by looking at the inside of an apple and learning the names for each part: stem, skin, flesh, core, seeds and calyx. We also did a taste test and compared several varieties including honeycrisp, gala, pink lady and granny smith apples.
As we begin to get more comfortable with each other and experience big feelings throughout the day, w e are integrating cleansing breaths into our transitions. Transitions can feel busy and trigger feelings of uncertainty for many of us. They also give us an opportunity to reset and begin a new part of our day. We have introduced cleansing breaths as an emotion-regulation tool to alleviate stress, hard feelings, tension in the body and excess energy. A cleansing breath is a deep inhale through the nose (taking in as much air as we can) and an audible release through the mouth to empty our lungs. We do them in sets of three before group gatherings, lunch time, standing in a line or preparing for a change in our schedule. Ask your child to show you three cleansing breaths!
Our baking station is up and running! We have started with a granola recipe and our room smells delicious. Just like our other materials, children can receive a presentation on baking granola and are invited to repeat the activity whenever they'd like. The materials are child sized and color coded to support a completely independent baking experience. The control of error is in the taste test - if their granola tastes salty, they'll make sure to measure more carefully next time! Baking supports children to practice estimating, measuring, reading and problem solving all while developing concentration, fine and gross motor skills. We'll switch out our recipe throughout the year to incorporate new skills and techniques!
A primary adult learning opportunity is coming up! Please mark your calendars for Montessori Up Close: Diving into the Primary Curriculum on Monday, October 10th. I'll be walking you through the why's and how's of a primary Montessori classroom and give you a few of the presentations your children receive during the school day. Don't miss this chance to get your hands on the materials!
Please make sure to send a photo of your child for our class composite to ljmagnatta@gmail.com. Thank you!
9/15/22
This is our first Classroom Highlights post of the year! Your children are often working independently to meet individual interests and needs, but these highlights will give you updates on our work as a community. I will share group discussions, class trends, community goals, and relevant Montessori concepts every other week.
We spend the first several weeks of school orienting ourselves to the space. The children learn how to navigate social interactions and follow classroom guidelines through grace and courtesy lessons. So far, your children have practiced how to roll a rug, walk safely in our classroom, ask to observe someone's work, tuck in a chair, close a door quietly and fold an apron. After practicing language in neutral moments, they are equipped to apply what they've learned in real situations. We will continue our grace and courtesy work throughout the year to make sure every child feels safe and respected.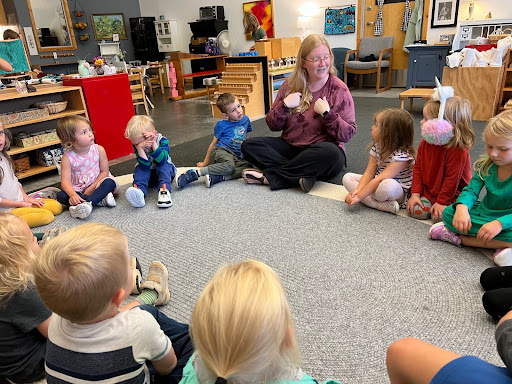 Gym with Steve started this week! Every child (with the exception of kindergarteners) will be invited to gym once a week during the morning work cycle. They will get some movement and spend time with children from the other three primary classrooms. We also welcomed Angela, our music teacher, to our classroom on Tuesday. She will be leading our group gatherings every Tuesday to introduce new instruments, songs and music concepts. This week, we learned about the instrument we're all born with (our voice!) and started learning the Peace Round to sing at our Peace Day sing-a-long later this month.
We also use the first weeks of school to build community. Although children talk about doing work during our morning work cycle, they are doing important learning all day long! Our transition to lunch incorporates a variety of skills and allows us to get to know each other over a delicious meal. The tables in the attached photo were all prepared by our five kindergartners. Each day, two children are invited to help serve lunch. After patiently waiting for everyone to be served, we place our napkins on our lap and sing a special song. The song signals that we are ready to begin eating and chatting with the people at our tables. Ask your child to sing our lunch song for you: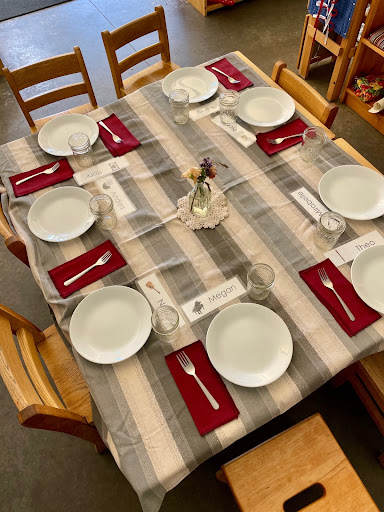 Look around and you will see
Community
A family
We're together, we are one
Our class picnic is coming up! Don't forget to RSVP to our breakfast on Sunday, September 18th at 10am. I'm looking forward to spending more time with all of you. Feel free to email Lauren Magnatta or Halley Brandsen with any questions.
Click here to sign up to bring flowers and make playdough for the classroom. Thank you for your help!