Welcome!

Children are often asked to adjust to our adult world. In the hope that every child has a place where they can "just be", our environment has been especially designed to include every aspect of life for your children. I invite you to read our classroom highlights to get a glimpse of your child's world at school.

Your children are often working independently to meet individual interests and needs, but this page will give you updates on our work as a community. I will share group discussions, class trends, community goals, and relevant Montessori concepts.

Please know I feel honored to observe and support your child's development this year. Thank you for sharing them with me!

Megan Fellows, Primary Guide
Brooke Loseke, classroom support
Tori Craig, classroom support
Norie Warnke, classroom support

Room Parent
Lauren Magnatta
Sign up to bring flowers and play dough
Classroom Highlights
5/11/22
It finally feels like spring! We have opened our outdoor environment to give the children freedom to work in the sunshine. It is an extension of our classroom with all of the same expectations for work. The fresh air has reinvigorated us! In addition to traditional materials, children are able to wash our sand toys, sweep the patios, label the play structure, harvest lettuce for salads and weed our gardens. We will be applying school-bought sunscreen before extended periods outside, so please let us know if you would prefer to supply a specific sunscreen for your child. It's also a great time to start packing sun hats and sunglasses!

To kick off our warmer days, we've welcomed five caterpillars to our classroom. We are watching them carefully as they shed their exoskeletons to grow. In several days, we hope to see them hang in a J shape and harden into chrysalides. We are eager to watch the painted lady butterflies emerge, stretch their wings and complete metamorphosis!
We continue to have natural conversations about how we are similar and different from one another. Many children are sharing wiggly teeth, bike riding and new sibling experiences. They are also comparing favorite foods, eye colors, lip shape and middle names. All of their observations serve as excellent conversation starters and windows into the children's curiosities. We'll be reading All the Colors We Are: The Story of How We Get Our Skin Color by Katie Kissinger next week. The book will help us understand that we get our skin color in three different ways - from our relatives, the sun and something called melanin. If you have dark skin, the melanin is very active in your body. If you have light skin, the melanin is not very busy. Freckles even have a lot of melanin! We also learned that melanin helps protect your skin from the sun. If your ancestors lived in a warm place, they probably had dark skin. All of us have skin that is a shade of brown because we all have melanin!

4/15/22
April is national poetry month! We've been enjoying reading, writing, sharing and memorizing a variety of poems. At the end of the month, the primary classrooms will join together to share some of our favorites. At our group gatherings, the children have enjoyed working together to write poems as a class. Here is one they wrote about spring:
Spring
By: Megan's Class
Spring is happy
New plants and green
Leaves and short sleeves
Flowers
Trees grow
Spring makes us feel calm, warm and happy
When it doesn't arrive on time, we get silly
On trees we like to climb
After observing some new interests from the children, we've added several new works to the shelves. A favorite addition to the practical life area is offering a hand massage to a friend. After washing their hands, the child receiving the massage gets to choose a lotion and relax. Hand massaging is a regulation strategy that can reduce stress, relieve muscle tension and increase concentration. The activity also supports children to think about others' needs. Ask your child if they'd like to practice at home!
We often look for trends in children's interests to prepare engaging work for our particular group of students. However, sometimes individual children share unique passions with us and we work to feed their interests with more personalized projects. This spring, a kindergartener expressed interest in diversity, equity and inclusion topics. Over the last several weeks, he chose a story and planned some guiding questions for a discussion. He has begun reading the story Your Name is a Song by Jamilah Thompkins-Bigelow to small groups and leading short discussions. The children are thinking about the message of the book and sharing what they know or love about their names. If you'd like to share the meaning or story behind your child's name, please email me. We would love to include your stories in our discussions!
3/17/22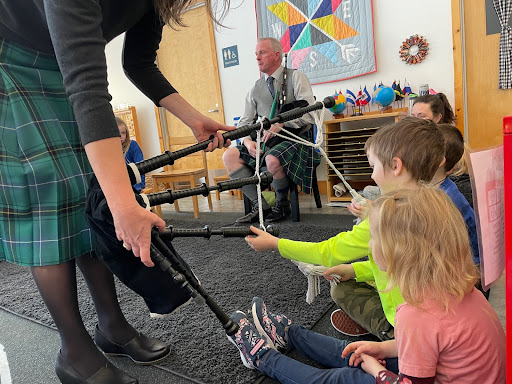 Thank you for making time to meet with me last week. Our conferences have strengthened our connections and energized me to support the goals we've created together. I am grateful for our partnerships and will cherish the next 3 months with this special group!

We spent this week preparing for St. Patrick's Day by finding Ireland on our globe and celebrating different elements of Irish culture. We have listened to Irish music, studied the flag of Ireland and read stories written by Irish authors. Children also had the opportunity to try a traditional corned beef and cabbage meal for lunch! On Wednesday, Rilla's mother and a piper named Stephen joined us to share a bagpipe. We learned about the parts of the instrument and listened to several celtic tunes. Many of us were fascinated to hear that bagpipes are designed to be loud because they were once used to communicate with other villages!
Many children in our class are sharing excitement about upcoming trips. Whether they are visiting somewhere warm or having a special night at a family member's house, the children have packing on their minds! To honor the children's interests, I have introduced a material to practice packing and unpacking a suitcase. The activity develops coordination of movement as they carry the suitcase, carefully fold different items of clothing and fasten a zipper. It also supports children to practice making choices about what type of clothing they would need for their trip. If your family is traveling or your child is having an overnight, include them in the preparation. Older children can even start by writing a packing list!
If your child isn't already counting down the days, don't forget Pajama Day is on Friday, March 25th! I look forward to a cozy day before many of us say goodbye for the week. Please reach out to me if you did not receive a handout with details about the day.
A note for Kindergarten families:
Kindergarteners have their next guest speaker experience tomorrow! Taylor Moore from Goodwill Food Rescue has planned an interactive experience for our group. He will talk about where food comes from and why it gets wasted. The children will also taste, weigh and repackage imperfect carrots. This is a great opportunity to promote mindfulness around food waste and helping others. Please send your child with a mask and winter hat because they will be required for the food portion of the activity.

2/23/22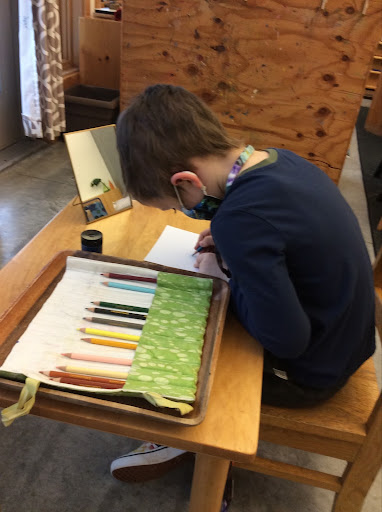 We've started learning about the French artist Georges Seurat and his painting technique called pointillism. The children have the opportunity to try the technique on their own with a new material on the art shelf. They begin by outlining a figure and then use a small cotton swab to carefully fill in the space with dots. The activity requires planning and delicate fine motor work. Ask your child to show you their creation!
We've also extended our anti-bias anti-racist work to the art shelf. Children have been invited to study their face in a mirror and draw a self portrait with a variety of skin tone, eye and hair color shades. The work reminds us that each of our faces are uniquely ours and have something special about them. It is so important to affirm children's identities and invite them to admire the identities of others.
Last week, the primary wing used part of our inservice day to review the Montessori theory around freedom and responsibility. Helping children find a balance between personal freedom and the needs of a community supports them to become adults working for the betterment of humanity even when it's against their own interests. One way we do this in the classroom is by allowing children to choose activities that interest them within set parameters. They must have a presentation on a material before they take it off the shelf and they must use the material without damaging it. Young children feel empowered and motivated by choice but can feel overwhelmed if we offer too many choices. If your child is resistant to specific tasks, try introducing choice by providing two clear options.
Note for Kindergarten families:
Due to difficulty securing reliable transportation for field trips, we'll be inviting special guests to The Children's House to work with the kindergarteners in lieu of the outings. Our first guest will be visiting this Friday afternoon. Erika Wynn, local artist and owner of Heartilluminate, will talk to the group about using art as a way to feel emotions and understand ourselves. After learning about Erika's process and exploring colors, the children will have an opportunity to create their own abstract piece. We are excited to meet a professional artist and connect all of our conversations about feelings with art!
2/9/22
After learning about Lunar New Year and Groundhog Day, we're on to the next February holiday - Valentine's Day! We will use the holiday as an opportunity to show love and kindness. At our group gatherings, the children have participated in various grace and courtesy lessons to practice giving a compliment, asking for a hug, offering help and checking in on a friend that looks upset. We have also started decorating special bags to collect our cards on Monday. Please let me know if you did not receive a handout with details about the day.
February is Black History Month. We'll close our study of Duke Ellington and listen to a variety of Black artists at the listening station, including Marvin Gaye and Aretha Franklin. We'll also use our chapter book time to shift gears from fictional stories (we just finished Roahl Dahl's George's Marvelous Medicine) to biographies of Black heroes and artists. Last Friday afternoon, we started reading a biography of Maya Angelou. We learned about her childhood in San Francisco and how she was the first African American conductor of a cable car. Maya also loved to write, read, sing and dance as a child. Many of us could relate to this! Maya's biography has served as an introduction to poetry. Children will have opportunities to listen, read and write poems. We hope to share a class poem with you soon!
Please note Parent Visiting Day is coming up on Wednesday, February 23rd. One adult is welcome to join your child in the classroom from 8:30 to 9:30. They can't wait to show you a glimpse of their world at school!
1/27/22
Our classroom has started talking about Lunar New Year that officially begins on February 1st. We have read books written by authors that celebrate the holiday and have admired different red artifacts used to bring good luck around this time of year. The children have also enjoyed studying and practicing several Chinese characters. The art of handwriting connects all humans and is a tangible way for children to see our shared need for written expression.
Many of you know that The Children's House has celebrated Lunar New Year for many years by inviting Kindergarteners to perform The Dragon Dance. A former teacher lived in China and shared her experiences with the children in preparation for the event. Over the past year, our faculty has met to evaluate the way our community celebrates and honors holidays from around the world. While we know it is important to open windows into cultures that are unfamiliar to children in our community, we also believe acting out sacred traditions that are not our own is cultural appropriation. Going forward, we will not be performing The Dragon Dance. It is difficult to part with long standing traditions that children look forward to each year, but this decision reflects the critical thinking and thoughtfulness we hope to instill in the children. I shared our decision with the kindergarteners by explaining that we made a mistake and it is our responsibility to fix it. What a wonderful learning opportunity.
Our listening station has been changed to reflect our study of Duke Ellington. We are reading several biographical books about Ellington's life and his contribution to jazz music. The children especially enjoy listening to his orchestra and sharing the different instruments they hear. Our wireless headphones are paired with photos of Duke Ellington to provide children with a peaceful start to their day or reflective moment between more demanding work.
We still have several open slots on our classroom sign up page. If you are interested in making playdough, bringing flowers or listening to our emerging readers, you can find the links on our classroom page. Thank you for your help!
1/13/22
Mother Nature gave us the perfect week to begin our study of snow! We learned that snowflakes begin as tiny particles of dust that gradually attract water droplets and freeze into crystal forms. We added language cards to our shelf to learn some of the snow crystal names, like stellar dendrites and capped columns. We also read Snowflake Bentley by Jacquelin Briggs Martin to learn about Wilson Bentley, the first photographer of snowflakes. Wilson used a black tray to watch snowflakes as a child, so we repeated the experiment ourselves. To extend our study to the art shelf, we've added snowflake cutting. The children have decorated our windows with delicate designs that look beautiful with our snowy backdrop!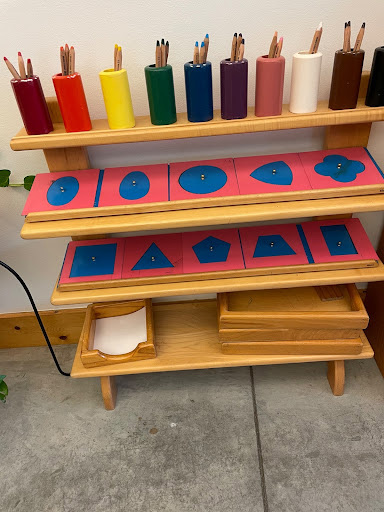 Martin Luther King Jr. Day is approaching. This year, we will learn about Dr. King by having a celebration of life in honor of his birthday. Children have had opportunities to make a card for Dr. King, look through photographs of his life and listen to Stevie Wonders' "Happy Birthday" song. We've also read several books about peace, marching for change and injustice. We will gather at the end of the week to share what we admire about Dr. King and enjoy some homemade sweet potato biscuits in his honor.
*If your family is looking for a way to serve the community on January 17th, please see The Compass for information about the Kids for Kindness: Helping to End Homelessness volunteer opportunity.
*Click here for information about an MLK Day Story Walk on January 15th. The walk highlights the I Have a Dream picture book by Dr. Martin Luther King Jr. with paintings by Kadir Nelson.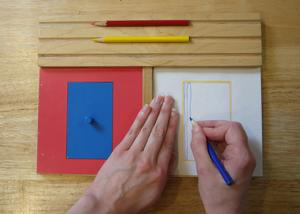 This week I'd like to highlight a material that is responsible for all the square white papers you find in the bottom of your child's backpack - the Metal Insets! This material is presented to children towards the beginning of their time in primary. It is their first formal introduction to holding a pencil at school. In the first presentation, children are invited to practice a traditional pencil grip and carefully trace and fill in a shape of their choice. After repetition, they are shown up to 12 different ways to use the Metal Insets. The material not only promotes creativity as they experiment with different shape and color combinations but also helps develop mastery of the hand in using a writing instrument. The Metal Insets allow a child to practice lightness of touch, keeping within an outline, and moving continuously from left to right which prepares them for reading and writing.
12/16/21
Hopefully, you have all received your holiday gift from your child. The project was a fun art activity but also had a more meaningful purpose. Making a gift for loved ones supports children to think about others and develop empathy. Gift giving is an act of kindness that requires children to put themselves in other's shoes. It's also a wonderful opportunity to practice gratitude and think about responsible consumption. In the classroom, we chose to use children's easel paintings as wrapping paper to model recycling materials. To support the social aspect of gift giving, we gave grace and courtesy lessons about how to politely receive and give a gift.
It is always important to have (figurative) mirrors and windows in environments for children. Mirrors are materials that affirm children's own culture while windows are materials that give children glimpses of cultures different from their own. This is especially true around the winter holidays. We have learned about the miracle of Hanukkah, St. Nicholas Day, Kwanzaa and all the different ways families celebrate Christmas. There are so many holidays around the world, but they all give us opportunities to practice tolerance, love and gratitude.
The children are excited to sing with you at the outdoor seasonal sing tomorrow! To avoid large crowds in the school, the children will have all of their belongings with them on the soccer field. If your child leaves at 12:30, you are invited to come back at 3:00 to participate in the sing-a-long. Feel free to reach out if you have questions. Looking forward to seeing all of you before winter break!
12/02/21
One of the key skills young children practice at school is the ability to regulate their emotions or have control over their emotional state. This might mean stopping an impulse to scream during frustration or asking for a hug to reduce feelings of sadness. Emotional regulation is essential to mental well being and successful social relationships. Our classroom shows children a variety of strategies and tools to develop self-regulation, including Marc Brackett's Mood Meter and now Leah Kuyper's Zones of Regulation. Many of you have already reported your children's references to the blue, green, yellow and red zones. The zones support children to label their feelings, talk about how they feel and learn coping strategies in neutral moments. We are using the Zones of Regulation to check in with each other each morning and remind ourselves of strategies when we find ourselves in a particular zone. The Mood Meter is used in a similar way but gives children a more nuanced understanding of feelings.
I have been thinking a lot about children's transition between school and home. It is the only time your children see me interact with you and is a wonderful opportunity to model pro-social relationships. Carline is one of our only times to connect with each other in person, so I know you are eager to check in and hear about your child's day. It is my priority to make sure you feel informed while also supporting your child (and not backing up carline!). To best support your child, please remember:
Children pick up on more than we think! It is most productive to talk about your child when they are not present. Please email me or set up a meeting if you want specific feedback about their time at school.

Your child is at school for many hours and it is unfair to categorize their whole day as "good" or "bad". Every child has a combination of positive moments and challenging moments each day....just like us! Your child's development is too nuanced to give you a yes or no answer.

Be present for your child and available to listen if they're interested in talking about their day. Try starting a conversation with questions like, "Who did you sit next to at lunch?" and "Where did you choose to play during recess?". More open ended questions can be harder to answer after a long day.

You can count on me sharing a brief anecdote about the day if I see you at carline. I'll also continue to email you photos, updates and any significant observations.
PE: This fall I have had a nice time with the kindergarten group practicing many skills. Toss and catch and skipping have been especially fun to watch and help with. I have also used a bit of our time to explore food groups. Several times we have played a running/sorting game with food picture cards, I hope they are able to identify food groups a bit more now. On monday we spend our time outdoors often taking a walk to the elementary playground. I hope to say hi many of you in a few weeks at the outdoor sing along.
11/11/21
Thank you for making time for parent teacher conferences last week. Your insights strengthen my connections with your children and inform the work we do at school. I am so grateful for the supportive partnerships we have built together.
Our classroom has started planning for our Harvest Feast on Tuesday, November 23rd. The children get ownership of this special meal and plan each item on the menu. Several children have expressed interest in planning the table decorations, creating place cards and choosing music to play during our feast. It's a wonderful opportunity to practice our best table manners and enjoy each other's company before the Thanksgiving break. Leading up to the feast, we'll talk about the sad story that led to the Thanksgiving holiday and practice expressing gratitude.
**We need two parent volunteers from 12:15-1:00 to help with some of the clean up after our feast. If you have a child that stays all day and are interested in helping, please email Lauren at ljmagnatta@gmail.com.
We also introduced our Listening Station last week. We provide wireless headphones and rotate between music genres and audio books. Right now, we are enjoying music from Mexico. The playlist includes some songs that are traditionally listened to on Dia de los Muertos and other Mexican classics. We talked about the five main instruments in Mexican music (guitaron, guitar, vihuela, violin and trumpet) so children can listen carefully for each sound. We can't wait to explore a new genre soon!
10/27/21
The children are eagerly waiting for Pumpkin Fun Day on Friday! We have scrubbed our pumpkin in preparation for carving and have started talking about the different bones that make up a skeleton. On the special day, we will do some pumpkin crafts, sewing, baking, hammering and dancing! To make sure this is a successful and stress free occasion, we ask that your child save their costume for the evening festivities. Thank you!
Next week, we'll begin talking about a holiday that families in Mexico and central and south america celebrate at the beginning of November called Dia de los Muertos or Day of the Dead. This holiday is often misrepresented as a Mexican Halloween but has very different origins and meanings. Celebrants remember deceased loved ones by cleaning their graves, singing, dancing, preparing food and displaying colorful decorations in their honor. It is also the time of year that monarch butterflies migrate across Mexico, which are believed to be a sign of their loved ones being close by. The holiday is a wonderful opportunity to evoke empathy and talk about loved ones. I will share photographs of my time in Mexico with families that shared their traditions with me and we will taste a special day of the dead bread.
On Tuesdays, we use our group gathering to review and learn new Spanish vocabulary words. I speak to the children in Spanish for most of our gathering and it's amazing to watch how much they pick up! We've reviewed the names of many colors and animals. This week, we learned a few greetings and practiced introducing ourselves in Spanish. Use these prompts to practice with your child at home:
Hola / Hello
Mucho gusto / Nice to meet you
Como estas? / How are you?
Estoy bien / I'm fine
Estoy mal / I'm not well
Me llamo ___ / My name is ___
Adios / Goodbye
On Tuesday morning, we also had a former parent visit our classroom to talk about dog safety. She brought a trained dog, Camille, and taught us how to safely approach a dog. The first step is always asking the owner if it's okay to pet their dog. Tara also taught us cues to understand how a dog might be feeling. Ask your child to show you the steps of approaching a new dog!
10/14/21
There is a new sewing activity on our shelves! Many children showed interest in repairing holes and tears in items from their home, so we've added a repair basket to the sewing shelf. The best ideas are born from conversations with your children! If your child has a stuffed animal, blanket or piece of clothing that could use a few stitches, they are welcome to bring it in.
Classrooms at The Children's House are using the month of October to enjoy and learn more about apples. We've introduced language cards to learn the different types of apples and have tasted Gala, Honeycrisp, Fuji, Pink Lady, McIntosh and Granny Smith varieties. We've also discussed the parts and life cycle of an apple. Many children were surprised to learn that every apple begins as a flower! We enjoyed finding remaining sepals on the bottom of an apple and cutting one open to observe the seeds.
Our community prioritizes raizing anti-bias and anti-racist children. For young children, this work begins with affirming their identities. Our classroom will spend time recognizing, discussing and appreciating different parts of our identity throughout the year. Last week, we started off by reading The Colors of Us by Karen Katz. After reading, the children had an opportunity to mix paint colors to create their unique skin tone. Children chose beautiful names for their skin tones like warm cinnamon, coffee ice cream and whipped cream. This activity will continue to be a work choice on the shelves to inspire conversation and affirm each child's individual identity.
Another important element of raising anti-bias and anti-racist children is exposing them to celebrations, food, music, traditions and values of other cultures. The best way to introduce these cultures is through people who have first hand experience. If you or someone you know would like to share an element of a different culture with our class, we would love to hear from you!
9/30/21
Last week, our school celebrated World Peace Day by gathering on the soccer field to sing two peace songs. We also read I am Peace by Susan Verde, A Little Peace by Barbara Kerley and My Peaceful Classroom by Aline D. Wolf. Your children shared strategies they use to feel peaceful and brainstormed ways to create peace in our classroom. This day aligns so well with Dr. Montessori's vision of peace for the world. She worked to promote civility and so famously wrote, "education is the best weapon for peace". Use the lyrics below if you'd like to sing the Peace Round with your child at home:
Oh what a wonderous thing
If the children of the world
Could live together in peace
I will often use Classroom Highlights as an opportunity to highlight a Montessori material in the primary classroom. This week, I'll shed light on a very popular work called Walking on the Line. Although many materials and activities naturally provide opportunities for movement, Dr. Montessori established Walking on the Line as a specific activity to build up control of movement. Dr. Montessori saw children's need to move as they continuously tested their balance and equilibrium, so she provided accordingly. The Walking on the Line activity aims to develop and perfect balance and equilibrium while also promoting social cohesion when walking as a group. Children may choose to walk on The Line during our work cycle and add props to challenge themselves- holding a bell without letting it ring, balancing a bean bag on their head or holding a full cup of water. It is amazing to see how children refine their movements over time and learn to use the work as a self soothing or grounding tool.
We have celebrated the start of fall by setting up our baking area. The table has a color coded biscuit recipe and child size baking tools for children to complete a baking project independently. Our recipes will increase in complexity as the year goes on to give children experience measuring, cutting, whisking, peeling, kneading and so on. The taste test after their baked goods come out of the oven provides tangible feedback on their work. If the biscuit tastes salty, children independently realize they need to measure the salt more carefully next time! We also took turns shaking heavy whipping cream to make our own butter. This will provide spreading practice when children add butter to their bread on the snack shelf. Ask your child to share our shaking song with you!
As the weather begins to change, please remember we will go outside for recess even when it is raining. Thank you for sending rain suits, rain boots and warm layers!
9/15/21
We are off to a great start! Our classroom has welcomed five new children and it already feels like they've been a part of the community for months. Every year, we spend the first several weeks of school orienting ourselves to the space. The children learn how to navigate social interactions and follow classroom guidelines through grace and courtesy lessons. So far, your children have practiced how to roll a rug, walk safely in our classroom, ask to observe someone's work, tuck in a chair, ask for help and fold an apron. After practicing language in neutral moments, they are equipped to apply what they've learned in real situations. We will continue our grace and courtesy work throughout the year to make sure every child feels safe and respected.
Our specials have also started this week. Although art, music and movement are integrated into the primary classroom, your children will have opportunities to learn from experts each week. Young children will go to gym on either Monday or Wednesday morning and Angela will bring music to our classroom on Thursday mornings. Kindergarteners will begin ukulele lessons and Great Books on Thursdays. It is so special to watch primary children develop relationships with specialists they will continue to learn from in their elementary years.
Our class picnic is coming up! Don't forget to RSVP to our breakfast on Sunday, September 19th at 10am. I'm looking forward to spending more time with all of you. Feel free to email Lauren Magnatta with any questions.
Click here to visit our classroom page and sign up to bring flowers, make playdough and listen to emerging readers. Thank you for your help!