Welcome to the Southeast Lower Elementary Classroom! I trust that you will find our classroom an exciting, attractive, lively and engaging place to be. Together we will create an atmosphere that is fair and just, and allows us to develop to our unique potentials. I am excited to share this journey and all of the promises that it holds with you.

Onward we go, with flexibility and love!

Nadine
nadine@traversechildrenshouse.org




Nadine Elmgren, Lower Elementary Guide
Jana Gray, classroom support




Room Parents
Carrie Goodreau
Mindy Beers



Classroom Highlights
March 15, 2023
Thank you all for your time this past week during conferences. It is wonderful to hear your insight and perspective. Taking the time to reflect on our children is always time well spent!
A recent ISACS webinar I watched on respect and dignity brought up many good points on how to best communicate with our children. It is a complex culture to be raising children in, and technology adds yet another huge impact on our lives. One of the key takeaways was being a nonjudgmental listener, with no agenda. I think it is especially challenging and important with our children. Really listening to their words is enlightening and builds relationships and trust. Establishing open communication now, when they are young and the stakes are low, sets everyone up for success.
During the month of March we have been reading short biographies about women who have had an impact on our world. We have been discussing the importance of equal rights for all people and the work of women over time towards that goal. We talked about the suffragettes and how they worked to persuade people over a 100 year time period to gain the right for women to vote. That led us to write our own persuasive piece that ranged from wanting a pet to convincing me that nap time ought to be a part of our Mondays! Ask your child what they wrote about, but beware, they may try to persuade you!
We have new pin maps in our class which are a huge hit! There is a map for each continent and they contain labels for the countries, capitals, rivers, mountain ranges and deserts. The maps are challenging and it has been fun to watch the pride of accomplishment upon completion.
February 25, 2023
Dear Children's House Community,
I am wanting to share the news that at the end of this school year I will be retiring from my beloved position as a Lower Elementary Guide. I have been so fortunate to be a part of Montessori Education for 42 years, with 35 of them being at The Children's House. This truly has been a way of life for me and I am so grateful for the incredible richness this work has brought me. In my life I have learned that you are never ready to be finished with what you love, and for me this is true with my time in the classroom. That being said, the time has come for me to have more flexibility than the life of a classroom teacher allows.
When I came to the Children's House in 1988, I began as a Primary Guide in a little farmhouse in Suttons Bay. We had a stellar school there and I loved the staff, the community of children and their families. When I traveled down the road to our Traverse City school in 2001, I learned to know and love the community there too! For me, the tapestry of connections and relationships over the years has been such a gift.
I have had the opportunity to know and love so many children and the privilege of partnering with their parents. I have been able to start my days greeting joyous children, and I am certain there is no better way to start a day! I have watched children master endless challenges because of their work and seen the pride of accomplishment. I have witnessed love, compassion, justice and support in classrooms that I wish existed everywhere.
Over the years I have attended many Montessori conferences and visited some of the top schools in the country. I have always come back home knowing how great our school truly is and how lucky I am to be a part of such a fine place. Being in our community for so long, I have the delight of running into alumni or their families. I adore that we are now teaching the children of alumni! I marvel at how clearly (and dearly) they recall their Montessori days.
My time here has been precious. I am grateful for the support of our incredible staff, both past and present. For the parents who have trusted me with your children and your endless generosity and gratitude. Most of all, I am grateful for your wonderful children, who I will cherish being with in these last months more than words can express.
"The child is a well-spring of love. Whenever we touch the child, we touch love."
- Dr Maria Montessori
Best,
Nadine
2/23/23
February fun surely was in the air this past week! On Valentine's Day our room was full of festive red and heart clothing and the children were so thrilled to be sharing their valentines. The 100th Day of school was a pure delight. The simple pleasures of pajamas, pancakes, board games, and stuffed animals made the day a special one. It was nice to have such a happy, celebratory time at school in the depth of winter.
All of the children have presented or are on the verge of presenting a study. The process is a long one, from choosing an interest, reading about it, and learning how to write down the key facts. Some children go out into the community to learn more about their topic. The next step is taking the notes and putting them into sentence format. Once sentences are written and formed into paragraphs, the pages are made into a booklet and turned in for editing. Initially the editing focus is on basic capitalization and punctuation, with the bar going up as the children have more experience. At times, a polished copy must be written.
Coveted art time with Alison to design a 3-d project which illustrates the topic is a favorite part of the research process. I never would have thought pizza boxes could be the foundation for such a variety of masterpieces! Art projects can be completed in the classroom once Alison has assisted with a plan and materials.
The final lap is to practice reading booklets until a student feels comfortable presenting and reading their work slowly and loudly enough to be understood. When their turn finally arrives they set the podium up and stand in front of the class sharing their work. At times, emergent readers rely on their mentors to help guide them. At the end of the presentation, there is always time for Q&A and the sharing of artwork. I love the proud smiles of accomplishment when classmates applaud the hard work that has been shared. I always encourage the students to share their presentations at home with you that evening. The many hours that go into their projects and the courage to stand in front of a group presenting are wonderful feats to celebrate.
Progress reports will be sent at the end of next week and conferences are right around the corner. Please see the link in Waypoints to sign up if you haven't already. I look forward to meeting with you all soon!
Due to the snow day today and our final swimming lesson tomorrow, math and spelling quizzes will be postponed until next Thursday.
1/25/23
Jana has begun working with the children on knitting with looms and needles. The children love the opportunity to knit during our daily read aloud times. Over the course of the next several weeks, everyone will have a lesson from her and then they can work on projects for the remainder of the year or sketch during this favorite time of day. We just completed a novel, The Turtle of Oman, and have begun the sequel, The Turtle of Michigan. We really enjoyed reading a book set in the Middle East, and look forward to Aref's adventures in his new life in Ann Arbor.
Weekly, the children participate in Writer's Workshop. This week we enjoyed writing a story in tandem with a classmate. Ask your child who their partner was and what they wrote about. We have been focusing on when to use capital letters and the proper punctuation that goes at the end of a sentence. Experienced writers are writing paragraphs, while others are focused on sentences. It is a fine balance between inspiring creative writing and weaving in correct format.
Often parents ask what they can be doing at home to support work at school. I would encourage all families to have chores that prepare children for hard work. Your children are all able to help with cooking meals and making their own lunches. They can help put away groceries, wash dishes and use basic household cleaners. They also can fold laundry, sweep, and take out the trash. Involving them in the work as well as the play of the family is a wonderful preparation for becoming a successful adult.
Kitchen Classroom:
It seems that after holiday break more families start signing up for lunch, making mid-winter a very busy time for the kitchen. Maybe it's the heartier fare, or the fatigue of making lunches at home, but we really start to hit our stride in January. In addition to the large quantity of lunches, Nadine and Sandra's classes start swimming this month, which requires us to help make some hearty snacks for swimmers. The kids have also started helping us collect our scraps of food that we then take to a local farm, Anavery Farms on Secor Rd, who use our kitchen food waste to feed to their pigs.
Art- Nadine's Class 1/25/23
Students in afternoon art classes were recently introduced to the artist Charles McGee. He just recently passed away at the age of 96, but was a resident of Detroit and practiced his art there for almost 75 years. The students were shown a brief video of the artist talking about and explaining his artwork, followed by a closer observation where we discussed the lines, textures, figures and shapes we saw. For the past couple of weeks, we have been working on a project based on some of Charles McGee's work, Focusing on black and white lines, shapes and designs that we will eventually turn into something sculptural.
Art by Charles Mcgee
1/12/23
Refreshed, happy faces greeted each other on our first day back after break. We took advantage of a new beginning to review our class creed and to think about what is important to us at school. The children dove back into their work, completing studies, and following up lessons. This is a great time of year to dig into the curriculum, since we have nice long stretches with not a lot else going on, and work habits are established. Shortly we will be at the midpoint of the school year, which also is a good reflection point for progress.
For our January Ruby Bridges community service project, we made cards to accompany the meals that the group 5Loaves2Fish will distribute along with their meals. The children's messages of love and encouragement were very dear. They enjoyed the project so much that we will do it again later this month and share the cards with the Meals on Wheels organization. Having an opportunity to spread kindness into the community is an important lesson.
We have been learning about Martin Luther King this week. The children are rightfully questioning why anyone would choose to harm someone who was doing such good work. At times our history is harsh and messy and to help balance this we will be learning about the United Nations Global goals which show that a better world is possible and how people worldwide are striving to make that happen.
12/15/22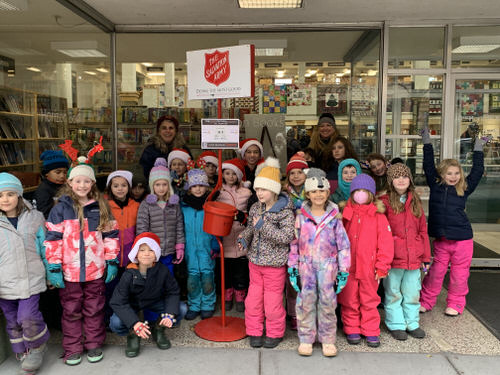 Our trip to ring the Salvation Army bell this past week filled my heart full of joy! Half of our class excitedly piled in cars and headed down to Horizon Books for the first shift of bell ringing. Antlers were donned as well as Santa hats and the happy energy was pulsating as the children jumped out of the cars. It was very serendipitous that there ringing the bell ahead of us, was Jim Modrall, Jane Lindstrom's grandpa, and generous supporter of The Children's House since it's inception. I loved being able to introduce him to the children and let them know how special he has been to our school.
The children sang festive songs, rang their bells and delighted passersby. Some people just stopped and stood and soaked in the merriment! Money flew into the red bucket, as the children's holiday spirit was contagious to all who walked by. The second shift arrived so hot chocolate breaks inside the bookstore allowed us to warm our toes, thanks to Amy Reynolds who welcomed us and had special drinks all ready to go! Jane's Grandma, Gretchen Uhlinger, the founder of our school, stopped by to support us and I was able to tell the children the story of how the school was here because of her! The woman from the Salvation Army who came to take our picture (see her video on their Facebook page) said she could hear the children's songs from a block away!
Two hours later, we headed back to The Children's House, a bit chilly and tired but content. The children gave their all to support our community, and in doing so they brought delight to many. Thanks to Abby Taylor, Carrie Goodreau and Jessica and Ryan Sullivan for driving and chaperoning. I am grateful for this lovely experience, full of community, joy, and love.
May each of you find golden moments during the holiday season that fill you up!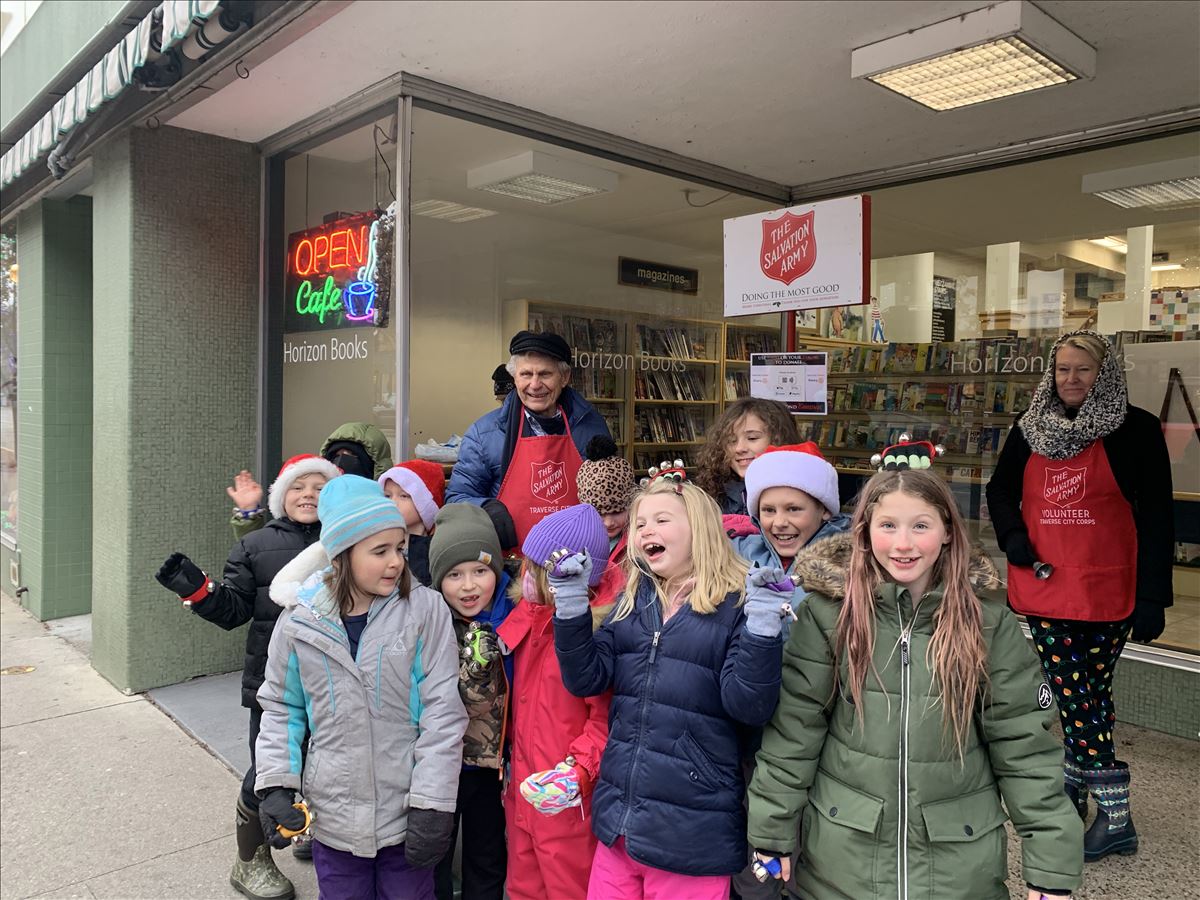 Jim Modrall with the class
12/01/22
Welcoming a new month brings new cleaning jobs, lunch seats and "pencil payday". At the start of each month the children have an opportunity to get two new pencils. If they use them up they can trade the stub in for a fresh one anytime throughout the month. If they lose or break them, they are out of luck until the next payday. I have found that having a system has helped to motivate the children to take good care of their belongings. Being responsible for maintaining what is yours is a habit I want to encourage, especially in our culture which is so abundant and disposable.
December brings us shortening daylight as we head to the solstice on the 21st. We have a graph hanging on our wall where we are plotting the sunrise/sunset times each day, giving us a great visual representation of the lessening light. Throughout history humans have discovered ways to bring lightness into these dark times. Over a three year cycle,I rotate through celebrations of light: the history of solstice celebrations, worldwide celebrations of light, and Christmas and the history of its traditions. This year Christmas traditions will be our focus. We will be enjoying a variety of activities over the next couple of weeks, culminating with some secret santa fun our final week before break. Stay tuned for details!
We finished our read aloud book, The BFG this week. Have your child tell you about this entertaining, humorous story. Thanks to all of your generosity at the Horizon Day book fair, we have many wonderful new books to pick from for read aloud, quiet reading time, and to use throughout our day with research and maps!
Music with Nadine's Class
This is an exciting time of the year! The students finished their first cycle on the piano and have moved on to hand percussion with singing. They have begun learning the words to Simple Gifts and a few of the hand percussion parts. The goal is to be able to sing and play at the same time, this is a skill that takes practice. We are also working on their song for the Seasonal Sing that will be happening before we know it. This year we are focusing on winter and bells. The students are designing and creating the decorations that will be on the stage to create the atmosphere for their performance.
11/10/22
Thanks to each of you for your time at conferences. It was a pleasure to meet with you.
As a follow-up to our Zoom call with Ruby Bridges last spring, Karin's Upper Elementary class is organizing us school wide to participate in Ruby Bridges Walk to School Day, November 14th. Instead of walking, we are doing a lot of talking to help us prepare for what commitment our class wants to make to make our world a better place. Ruby Bridges sent us a letter and some talking points that we are working through.
Today our discussion was on heroes. Hero worship is strong at this age. The children defined what a hero was to them, and their thoughts centered around a kind, supportive and caring person. When asked who their heroes are, overwhelmingly, the response was YOU, their parents! Tomorrow we will talk about what makes an activist. Finally we will think collectively about what we'd like to change in the world, and what small steps we can take to make that happen. Our goal for the 14th is to have a classroom plan that we will work on throughout the year. Coming to consensus will be a process unto itself!
Over the past week I have been providing some needed structure for some of the children. I had been observing that children were getting wrapped up in their social needs at the expense of following up their lessons. Others needed a spot that would enhance their concentration and some just needed a plan. Day to day, needs vary and my role as the guide is to observe and meet each child where they are. I never want to do their thinking for them, nor do I want to give them too much freedom that they flounder.
Our annual Harvest feast (stone soup) is right around the corner! Your child will be bringing home a letter soon with details.
Nadine's Class PE - 11/09/22
I enjoy starting my days with your children, the group is always ready to be active and participate fully. We often try to tie the activity into a specific character strength, this fall we have worked on honesty, gratitude, self-control and most recently optimism. All of these fit well with my current favorite word, interdependence. I've mentioned this concept several times this fall, ideally one or two of you have heard some version of this at home. The gym seems to be a great spot to work on these skills and I'll continue to expand on these and more as the year goes along.
10/27/22
I love watching the children's excitement as they share their work with you during Parent Visiting Day. Thank you for taking the time to join them. I hope that having a glimpse into their work gives you a bit of insight into their time at school.
You will be receiving conference reports today. It is always a joy for me to spend time reflecting on each student as I write them. I am amazed at the growth from report to report and appreciate the opportunity to watch the children blossom over the three year time span in Lower Elementary. Conferences are next week, which gives us an opportunity to share thoughts. Your partnership leads to the optimal experience for your child. I feel so fortunate to be a part of a community that has such robust parental involvement; it is uniquely wonderful.
One on one meetings are finally happening on a regular basis now that we have settled into a routine. These meetings provide time to reflect with each student about their work, anything they need help with (academically and socially) and lessons they wish for. It is a great tool for accountability as we check in on how they are following up lessons, using their time and balancing work choices. I am appreciative of the honest, reflective comments the children make. They really are clear about what is happening for them and it is a good reminder to me to take the time to sit and listen and ask leading questions.
10/12/22
We are taking advantage of fall days to be outside collecting seeds and leaves. We spent time talking about the ways that seeds travel in the fall (floating, hitchhikers, parachutes, winged and exploding) and the children enjoyed collecting and labeling seeds. We soaked seeds and learned about the parts that grew. Making seed mosaics was another favorite. Our writing workshop this week was choosing a seed and writing from its point of view the journey that it embarked on as it traveled to its new home. We now have moved onto leaves, learning about their parts and classifying them according to their veins and margins. As the beauty of the season surrounds us, we will continue to spend time outdoors with a variety of activities.
Jack Lee "Papa Jack", a grandpa to three TCH alums, is back again this year on Friday afternoons to listen to children read who sign up for this special time. Jack is a retired educator and he adores time listening to your children and it is great practice for them to practice reading aloud. In class we just finished a wonderful novel, Where the Mountain Meets the Moon, by Grace Lin. Our discussion afterwards included literary terms such as plot, setting, protagonist etc. Ask your child who their favorite character was and why!
Many of the children worked hard to make the fall festival a success. Thanks to all of you who chipped in as well! Once again, it was delightful to see how happy the children were meeting up at a special event outside of our school days. Already the bond of community is tight and I feel fortunate to be a part of it! I look forward to having you all visit our class soon to watch your children at work.
9/29/22
Thanks to the Beers family for hosting us this past Sunday. I loved seeing the excitement as the children greeted each other and raced around catching fish and crayfish and enjoying the fantastic ice cream sundaes the Goodreaus generously provided.
A nice rhythm has settled into our days now that the brand newness has passed. It feels good to have done everything at least once. We no longer have to expend so much energy on procedures now that they are somewhat routine. Hopefully your children are a bit less tired at night! We talk a lot about the balance of our freedoms and responsibilities and the month of September helps to establish this. Freedoms are gradually given, as the class is ready to handle them. We have spent the month in assigned seats, with the mentors/mentees side by side. In October, the children will be welcome to choose their own seats each morning. The caveat is to pick a place where they can use their time wisely and do their best work (responsibility). It is an ongoing process to figure out how to stay on task while collaborating, Jana and I are here to help provide structure as needed! All of this balancing is a great lesson unto itself!
The second Great Lesson, The Coming of Life, has been told. The timeline that represents this story is a popular work choice and all kinds of work variations are occurring. Monday afternoons are reserved for Writer's Workshop. This past week we wrote about the rain. Some children are learning how to get their thoughts on paper, while others are focused on proper sentence structure. Throughout the year we will explore a variety of writing formats. At the end of every writing session, the students are invited to sit in the author's chair and share their work. I was impressed seeing the number of first year students that were eager to take a turn!
Finally, the month of October brings us to a point where we will have our class pet Sally, my 10 year old Golden Retriever, join us. Initially she will come a couple of days a week. Four years ago a group of students initiated her coming to school and it has been a success ever since. The children enjoy reading to her, and some love to pet her as they work. There are clear guidelines in place for their interactions with her, with a key one being that she can't disrupt their focus. She is a very sweet and calm dog, who brings so much joy to the class. She adores "her" kids too! The children will have an option on a rotating schedule to take her outside to play and give her treats. Please let me know if you have any questions about Sally.
PS- Please make sure your child has rain gear (boots, coats and pants) so they stay warm and dry on these drippy fall days.
9/15/22
Pencils and books have all been labeled, classmates names learned, procedures established and the happy hums of new routines are in place! Third year students enthusiastically have stepped up to partner with their first year mentees, guiding them through these first weeks. We have a wonderful group of students, who described their first week as happy, exciting and exhausting. We all need to rebuild stamina after a full summer, and for many it can take a good six weeks. Don't be surprised if your child has some ups and downs adjusting during this time. Please reach out with any questions or thoughts. As we all get used to the full days, I am padding our afternoons with lots of outdoor activities, such as nature walks, math baseball and color hunts.
Our first Great Lesson, The Creation of the Universe, has been told, setting the stage for the year and sparking curiosity and imaginations. Follow up experiments, including the volcano are on our science shelves. We've finished writing our class creed as a community (see below). Each of us have signed the creed and the framed copy is hanging in our room. Over the course of our year together, we will revisit our creed to be reminded of the words we want to live by this year.
The adventure of the new year has begun, and I am thrilled to travel alongside your children, guiding and supporting them throughout our days together.