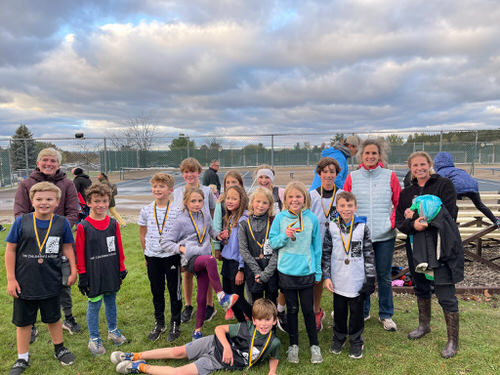 Welcome to The Children's House Extracurricular opportunities. If you have any questions or want to become involved, please contact Julie Boss, TCH Parent and Athletic Coordinator: boss.julie4boys@yahoo.com or (248) 535-1713.
To provide sports teams for our students, we NEED volunteer coaches.
Please contact Julie Boss (boss.julie4boys@yahoo.com or 248-535-1713), if you are willing to coach or help. We do not need expert coaches, just adults who would like to help so that we can have these teams. Coaches - click here for coach's packet
---
TCH Sports
Spring 2023
If your athlete is interested in track and field, below is some general information. Please reach out to Julie Boss (boss.julie4boys@yahoo.com or 248-535-1713) if you are interested in coaching or helping!
4th-6th Years:
Elementary School Track
Registration: Please email Coach Julie (boss.julie4boys@yahoo.com) if your child is interested in participating this season. We will be having several coaches this year to help including Jessica Sullivan and Emili Jackson. If you are interested in helping, please contact me as well!

The schedule is as follows:
4/3-4/14 - Practice Starts after Spring Break for two weeks on Monday and Wednesdays after school. Please be prepared to run outside!
4/18- 5/11 – Meets start at St. Elizabeth Ann Seton Middle School on Tuesday and Thursday Nights 5:30 PM -7:00 PM
All City Meets at SEAs:
5/15 – Monday 4

th

Grade meet

5/16 – Tuesday 5

th

Grade meet

5/17 – Wednesday 6

th

Grade meet

5/18 – Rain Date for any of the above
7th-8th Grade Students:
Track & Field
Monday, April 3rd, 2023 - Friday June 2nd, 2023
Deadline to register: Friday, March 17, 2023
More information on the LEAP website.
---
After School Activities
2022-2023

Basketball Drill Camp
For the next three weeks on Fridays, The Children's House will have Wills Lee, Hauffman Basketball Camp Coach, running a mini-skills and drills camp.
Dates: May 5th, 12th & 19th
Time: 4:00-5:30 (if you decide to have your child stay after school you'll need to sign them up for Friends Club)
Location: The Children's House Gym ("barn")
Cost: $35 per child (Venmo, cash or check accepted)
Who can Attend: 6th-8th grade Children's House/Compass students (all skill levels welcomed)
If your player can't make all the dates, no worries, drop-ins are welcomed. This is a great chance for our TCH players to sharpen their basketball skills and have fun!
Questions, please contact DiAnn Service at dkls1187@gmail.com
Theater Workshop
4th - 8th years
Begins October 4th - Tuesday and Thursday afternoons from 3:30-5
This workshop is full! To be put on a waitlist, email Kim@traversechildrenshouse.org.
JJ Janiszewski is excited to be able to work on another production with your young thespians this year! The play is called The Phantom Tollbooth by Susan Nanus and based on the book by Norton Juster. The play has 19 actors. There are 7 actors that only play one role, the other 12 play multiple roles.
Battle of the Books
4th - 5th years
Deadline to register: Monday, Nov. 21.
This is a program that takes place from December until the competition in March. It is a great way to get children reading and being part of a team. Each team has 4-6 members and read either 5 books or 10 books. The books are chosen by The Battle of the Books committee and range from novels to graphic novels. Visit the Battle of the Books website more information.
Deadline to register: Monday, Nov. 21. Please reach out to Julie Boss (248-535-1713 or at boss.julie4boys@yahoo.com)if your child is interested and if you are interested in coaching a team. I can help any new coach! It is really fun!
JH Model UN Club
7th & 8th years
Deadline to register: September 16
Cost: Approx. $2,000 per participant
We are excited to offer our junior high learners the opportunity to continue to participate in Montessori Model United Nations. This is an extra-curricular activity that meets after school once a week, beginning in late September, to work on research, position papers, and speeches. The conference takes place in New York City on March 15-18, 2023. JH Model UN Club is a great way for learners to continue the work of global social engagement that they began in sixth grade.
---
Other Opportunities in the Community
Traverse City Curling Club after school curling for students ages 8-18
The Traverse City Curling Club is announcing after school curling for students ages 8-18. Wednesdays 3:45-5:30 p.m. from Feb. 22-Mar. 22. We also have junior curling on Saturdays 12:00-2:00 for kids ages 5-18. Cost is $110 and includes Junior annual membership and 5 week Juniors League (Learn to Curl). Please bring a clean pair of tennis shoes & warm flexible clothing. Helmets are required for kids 10 and under. Sign up at www.tccurling.org.
Norte Race Team, 4th-12th grades
The Norte Race Team is a supportive and inclusive community for northern Michigan youth mountain bike riders. Riders will experience the joys and challenges of competition as part of a team. Together we will help riders set personal goals, gain confidence, and make friends. This program is open to riders in 4th–12th grades who are enrolled in our spring and fall mountain bike programs. All skill levels are welcome and previous race experience is not required. View the Norte flyer for more information. Norte is looking for summer riders and coaches, visit norteyouthcycling.org for more information.
Is your child interested in other sports or arts activities outside of school? Julie Boss, TCH Parent and Athletic Coordinator, keeps an ever-evolving list of opportunities in the Traverse City area: boss.julie4boys@yahoo.com or (248) 535-1713.
The list of activities outside of school represents a wide range of after-school or weekend extra-curricular activities available for our children. While The Children's House does not review or endorse these activities, we do want you to be aware of the options available.