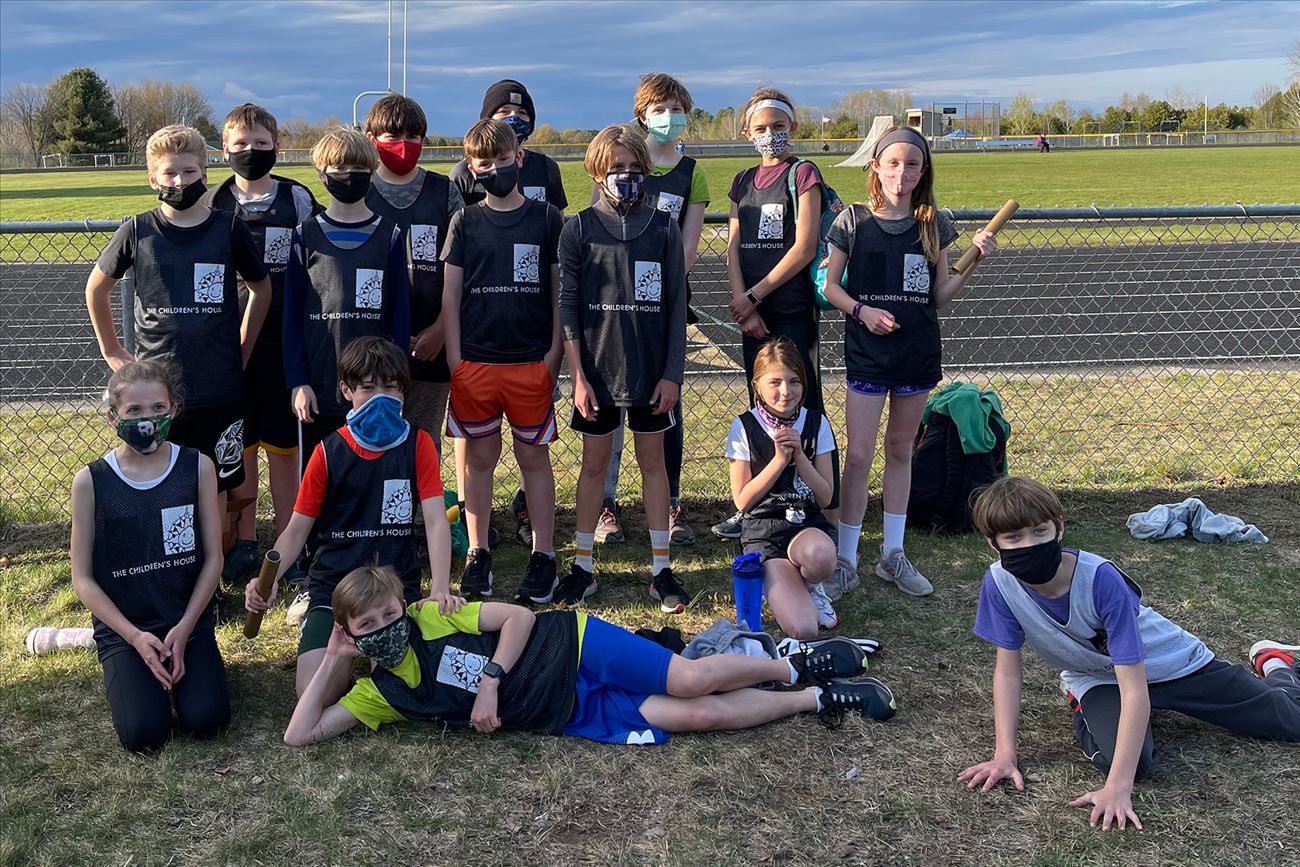 Welcome to The Children's House Extracurricular opportunities. If you have any questions or want to become involved, please contact Julie Boss, TCH Parent and Athletic Coordinator: boss.julie4boys@yahoo.com or (248) 535-1713.
To provide sports teams for our students, we NEED volunteer coaches.
Please contact Julie Boss (boss.julie4boys@yahoo.com or 248-535-1713), if you are willing to coach or help. We do not need expert coaches, just adults who would like to help so that we can have these teams. Coaches - click here for coach's packet
---
TCH Sports
SPRING 2022
4th-6th Grade Track
Dates: 4/4-5/19
Meets: 4/19-5/19 on Tuesdays and Thursdays at SEAS from 5:30pm-7:00pm
Practice:
4/4-4/15: Monday, Wednesday, and Fridays: 4:00pm-5:30pm at TCH
4/18-5/19: Practice will only be on Mondays with meets on Tuesdays and Thursdays
Cost: $45.00 Dollars
Forms: Being passed out at school and are available at the front desk at the end of the week
7th-8th Grade Track
Through LEAP. Deadline to join is Friday, March 25th.
Practice is dependent on which Middle School they choose to do track.
Questions: Contact Julie Boss at boss.julie4boys@yahoo.com.
Boy's 2nd-3rd Year Basketball
Elementary Boys Basketball is open to boys in 2nd - 5th year (this course offering is for 2nd & 3rd Years). The season begins on Monday, April 4th, 2022 and will run for approximately six weeks. Teams will practice 2-3 days a week and will begin competitions after the second week of practices. Teams will be formed at each elementary school that have enough participants registered to field a team and where a volunteer coach is available. 2nd and 3rd grade teams will be combined and divided equitably as possible. Register and learn more here or contact Julie Boss (boss.julie4boys@yahoo.com or 248-535-1713) with questions.
Season Start & End Dates: Monday, April 4th, 2022 - Wednesday, May 18th, 2022.
Practice Schedule: Practices will run 1-3 days per week after school at each home school that fields enough players for a team. Exact practice days and times will be determined by the availability of the volunteer coach and will not be known until a coach is in place. Schedules vary from school to school. Following the close of registration, your student's coach will contact you regarding a more detailed schedule.
Game Schedule:

Games will begin the week of April 18th, 2022.

Each team will have a 6 game season. Once the number of teams have been determined at each school, the schedule of games will be posted here.

Games will be scheduled between 5 pm and 8 pm.

Participation Fee:

Cost: $52.00 (Reduced fees and assistance are available)

Registration Details

Deadline: Friday, March 18th, 2022.

If your child does not attend a TCAPS school, select the "Non TCAPS" option.

In an effort to be a good community partner, LEAP will accept non-TCAPS students when possible. Space is limited and enrollment may be capped for various offerings. For high demand activities TCAPS students will receive priority.
Boy's and Girls Soccer
Leelanau Soccer Club is providing another opportunity for our kids to play soccer! Boys and girls are separate teams and are determined by age. Players must have been born in or between 2010 to 2018 to participate in the 2021/2022 recreation season.
If we have enough interest, we will put together a TCH team. More information is below. Register by March 25th.
Practice: Mid-April to start for practice. Once to twice a week. Usually, practices are at Elmwood field.
Games: Games begin the weekend of the 23rd and finished the first weekend of June. It's a very short season. Games are Saturdays and at some pretty idyllic little fields sprinkled all around Leelanau County.
Coaches: If coaching is your thing, this is your time to shine! Please contact Julie Boss (boss.julie4boys@yahoo.com or 248-535-1713), if you are willing to coach or help.
Registration: March 25th is the deadline to register and they said to be sure to write 'Children's House' when signing up.
Visit Leelanausoccerclub.org

Click the blue button for Recreation Soccer

Select Elmwood under the participant section
There is a part that says 'request' and it's open-ended, type in "Children's House". Teams will be sorted after registration.
Co-ed Volleyball
This year we have a 4th and 5th Grade Volleyball team! Coaches Sandra Besselsen and Angela Wakeham have assembled a 12 person team for Spring 2022.
---
TCH Clubs
Theater Workshop
Based on the popularity and success of our fall Theater Club, we are excited to announce that this spring, Theater Club will perform A Tree Called Aesop. Rehearsals will be every Tuesday and Thursday from 4pm - 5:30pm starting Jan. 11, and will require your child to be signed up for friend's club. Theater Club is open to 3rd-8th years and we have to cap the number at 15.
A Tree Called Aesop is a 45-minute play featuring ten fables told individually yet strung together through narration. There are 60 roles so everyone will play more than one role. For this reason, it is important that all participants are committed and able to attend the majority of rehearsals and the performance.
Junior High Robotics Club
The Children's House Junior High Robotics Club participated in the 2022 VEX World Championships! Read more.
Elementary Robotics Club
The Children's House will be continuing the Elementary Non-Competitive Robotics Club in Spring 2022. We are so excited to start the TCH Elementary Robotics club on March 15th. We have 15 participants and will break up into 7-8 teams that will work together over 10 sessions.
Love ROBOTS? Have a passion for MAKING? Ready to dip your toe in the world of CODING? This weekly club for TCH students ages 8 to 11 years old will focus on building and coding unique robots in an after-school setting that is non-competitive, hands-on, and always fun. TCH parent, Jennifer Lacy Smith, has volunteered to coach a Robotics Club for the younger students stemming from her desire to give back to our educational community to share that STEM (Science, Technology, Engineering and Math) is accessible for all.
Season:

March 2nd

through May 25

Schedule: Every Wednesday from

3:30-4:45 PM

For 2nd, 3rd and 4th year students

There is space for a total of 14 students, with 12 students currently waitlisted from last semester. If your student was waitlisted, Jennifer emailed you separately to confirm your student's participation.

This robotics program is non-competitive club for those with emerging interest in engineering and coding. We use a simpler robotics system compared to The Children's House Upper Elementary and Junior High Robotics Team. Over 12 sessions, the club will build their own robots in teams of 2, code them to perform commands and host a showcase of our work during the last session for friends and family. The journey will be filled with fun, laughter, teamwork and success all with a growth mindset. Please reach out if you have any questions.

Participation fee: $0
---
Other Opportunities in the Community
Is your child interested in other sports or arts activities outside of school? Julie Boss, TCH Parent and Athletic Coordinator, keeps an ever-evolving list of opportunities in the Traverse City area: boss.julie4boys@yahoo.com or (248) 535-1713.
The list of activities outside of school represents a wide range of after-school or weekend extra-curricular activities available for our children. While The Children's House does not review or endorse these activities, we do want you to be aware of the options available.