Compass Junior High supports and empowers each student in imagining their own direction in life. The curriculum is intentionally designed to aid them on their journey from childhood to adulthood. Central to this vision is a focus on the individual at the center of their own education and a curriculum of information, ideas, and experiences that foster an ever-expanding concept of self and community. Students are encouraged to both explore their unique interests while also challenging themselves to consider how other individuals, communities, and cultures perceive and engage with the world. This method requires immersive experiences in the real world, both in Traverse City and across the country.
Compass Montessori Junior High calls the second floor of 101 North Park Street home. This state-of-the-art, 6,000 square-foot facility is bathed in natural light and includes an Apple computer lab complete with 3-D printers, a science lab, a mathematics and technology lab, a multipurpose art space, an extensive library, a workout room, and a kitchen. Just beyond the windows lies Lake Michigan and the Boardman/Ottaway River, which weaves its way through downtown Traverse City, the cultural, political, and economic hub of Northern Michigan.
The Junior High Move from The Children's House on Vimeo.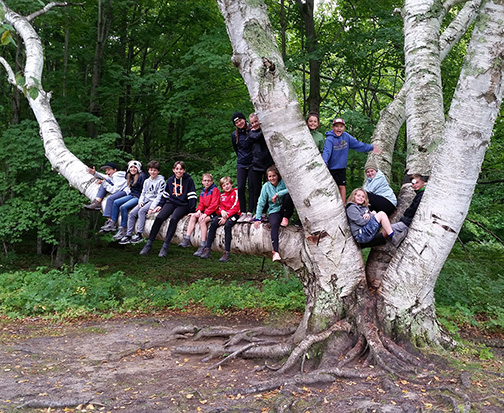 At Compass Montessori Junior High, 7th and 8th year students:
Learn what it means to be a part of an authentic, working community.

Learn how to resolve conflict peacefully.

Learn how to collaborate, communicate, and coexist with people with various personalities, even those they would otherwise avoid.

Develop healthy ways to express and relate to their emotions.
Discover what they are made of, what skills they have to contribute, and how and when to best contribute to them.
Practice leading and following, give and take.
Learn how to advocate for themselves as students and as human beings.
Develop healthy relationships with adults.
Go out into the world, interact with professionals in a variety of fields, and learn how to conduct themselves in professional and social situations.
Learn how to read literature, write essays, do algebra, speak Spanish, take tests, and manage their responsibilities.
Learn how the past influences the present and how math, science, language, and culture shape and inform the world around them.
Junior High Students Receive:
Individualized learning as the product of direct instruction, individual curiosity, and diverse experiences in the classroom, throughout our community, and beyond.

Positive peer interactions that build a respectful, responsible, and supportive community.

The ability to transition to adulthood at their own pace and in a safe, inclusive environment where they learn about, freely express, and explore their evolving identity.

Support and encouragement in discovering their intrinsic motivations and nurturing their unique interests and gifts.
Compass Montessori Junior High Curriculum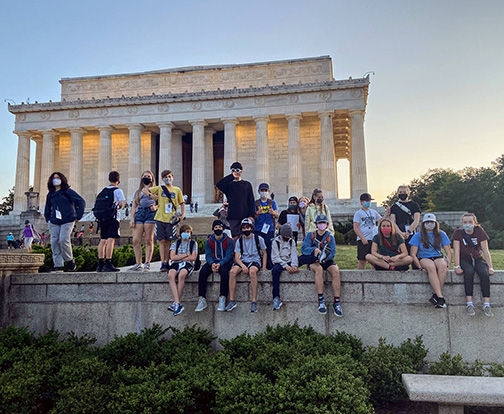 The Children's House mission, combined with Dr. Maria Montessori's philosophy and current neuroscience, informs the teaching style and curriculum of Compass Junior High. As with life itself, all subjects are presented as integrated parts of a common whole. History, science, literature, mathematics, the arts, and languages weave together to provide students with an authentic understanding of the complex world they will occupy and contribute to as free-thinking citizens of our planet. In pursuit of this "authentic understanding" students experience first hand a diversity of perspectives and cultures, as they explore the myriad professions and occupations that comprise several sectors of human society (e.g. government, business, and nonprofit social service and environmental organizations). Regular excursions take place throughout downtown Traverse City as well as the woods, meadows, wetlands, and waterways of Northwest Lower Michigan. Multi-day trips and day-long field excursions take students throughout Northern Michigan and the Upper Peninsula. Extended trips explore Southeast Michigan, Chicago, Pittsburgh, Philadelphia, South Florida, Washington D.C., Atlanta, Georgia, as well as Birmingham and Montgomery, Alabama. History is explored where it actually happened. Science is experienced hands on and in context. All learning is aided, interpreted, and made meaningful through the diverse human languages of the arts, mathematics, and the written and spoken word. Using these tools, students are encouraged and empowered to examine, interpret, and share what they are learning with support from teachers, mentors, and professionals.
Workshops
A series of four, six-week workshops, organized on a two-year learning cycle, provide the framework for the core Junior High curriculum. These workshops are supplemented by direct daily instruction in mathematics and the Spanish language, both of which are integrated throughout the workshops.
The workshops follow the "three-period" lesson structure with students being first introduced to a new workshop topic, often during a field trip, interactive presentation, or immersive activity. Once engaged in the topic, in the "second period" students are empowered to choose a focus of individual (or at times, small group) study and dive as deeply into their research as their curiosity and imaginations take them. During the "third-period" each student shares the results of their investigations through their choice of communication methods. Throughout the workshop, adults support the students with their associated expertise (various art forms, languages, mathematics, computer science/technology, etc.)
Each year, two Jr. High workshops culminate in week-long trips, the second of which is entirely student-planned. During this second trip, students are supported in selecting a specific destination that provides meaningful context to their research presentation (which in this case requires all students writing a research paper). Past destinations have included monuments, historic buildings, businesses, museums, not-for-profit organizations, battle fields, nature preserves, government agencies, and more!
The Timbers Recreation Area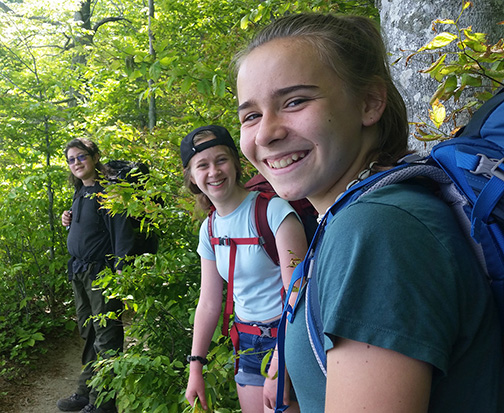 The Timbers Recreation Area comprises Compass Montessori Junior High's "Land Lab." Prior to European colonization, what we now call the Timbers Recreation Area was utilized by the Anishinaabe for hunting, fishing, trapping, as well as a transportation corridor to and from Lake Mishigami. At the turn of the 19th century, Chicago's meat magnate J. Ogden Armour built a sprawling estate, which, in the 1960s became the Timbers Girl Scout Camp. Now part of the Long Lake Township park system, the 250-acre Timbers Recreation Area with its two inland ponds, old growth and early succession forests, abandoned farm fields, 2,000 feet of Long Lake shoreline, and numerous wetland areas make for the ideal living laboratory for studying both human and natural history. Compass Junior High students frequent this "Land Lab" every spring and autumn and may be found collecting water samples, mapping old growth forests, writing poetry, interviewing elders, identifying plants and animals, and partaking in their favorite activity, catching frogs and getting soaking wet!
MORE THAN AN EDUCATION, MORE LIKE AN EXPERIENCE.