It's All About The Community.
This is as real as junior high can be.
Seventh and eighth grade students learn what it means to be a part of an authentic, working community.
Junior High students:
Learn how to resolve conflict peacefully.
Learn how to collaborate, communicate, and coexist with people with various personalities, even those they would otherwise avoid.
Develope healthy ways to express and relate to their emotions.
Discover what they are made of, what skills they have to contribute, and how and when to best contribute them.
Practice leading and following, give and take.
Learn how to advocate for themselves as students and as human beings.
Develop healthy relationships with adults.
Go out into the "real world," interact with professionals in a variety of fields, and learn how to conduct themselves in professional and social situations.
Learn how to read, write, do math, speak Spanish, take tests, and manage their responsibilities. They learn how the past influences the present and how math, science, language, and culture shape and inform the world around them.
Junior High Students Receive:
Individualized learning as the product of direct instruction, individual curiosity, and diverse experiences in the classroom, throughout our community, and beyond.
Positive peer pressure to conform to a respectful, responsible, supportive community.
The ability to transition to adulthood at their own pace and in a safe, inclusive environment where they learn about, freely express, and explore their evolving identity.
Support and encouragement in discovering their intrinsic motivations and nurturing their unique interests and gifts.
The inability to hide in the back of the room or vanish into the crowd.
The Junior High Curriculum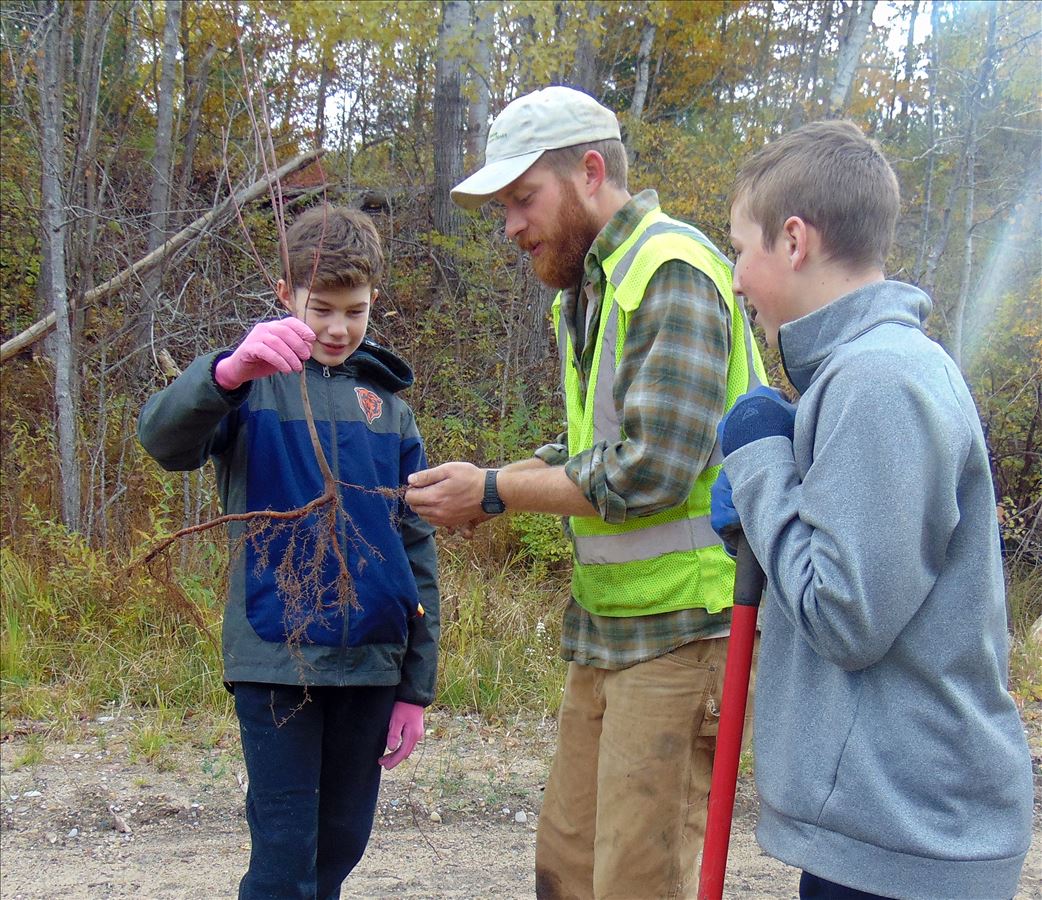 The Children's House mission, combined with Dr. Maria Montessori's philosophy, and current neuroscience, informs the teaching style and curriculum of our Junior High.
This unique junior high curriculum uses themes from humanities and occupations to guide study of history, culture, civics, science, math, language, and literature. The themes inform field experiences, guest presentations, literature seminar, purposeful writing, math seminar, and community connections. Themes range from human rights and history to technology and design. Through the integration of subjects, students gain multiple perspectives on each theme, form their own questions, and engage with the theme according to their unique interests and learning styles.
Themes alternate on a two-year rotation, with the exception of water and ecology/stewardship, which form a common thread for the two-year cycle. Both years begin and end with exploration of the natural world. Through experiences throughout northern Michigan, especially our "Land Lab" at the Timbers Recreational Area, students learn to make scientific observations, collect and analyze data, identify issues, research policy, collaborate with local organizations, and design and implement solutions.
To view the junior high's weekly schedule for the 2018-19 school year, click here.
"My time at the Children's House didn't shape me, the guides and staff provided resources for me to learn to be responsible, have integrity, and demonstrate grit. The Junior High did that and so much more. I learned how to work in any size group and be a leader. I always struggled to put myself out there and step up to lead the group, but going into 8th grade I had no choice. Being in the oldest age group, we set the example for the class and the rest of the school. Through the guidance of Tree and Kristina and my peers I have learned to make the call on whether I step up and lead or stay back and follow. Without TCH I would not have become the leader I am today."
Lauren Pauly, Sophomore
Central High School