New Message from Michele:
Calendar:
Mar 15 - 19: 6th Year Montessori Model United Nations trip to New York City
Mar 25: Coffee & Connect, 8 - 9 a.m.
Mar 21 - 25: Upper El Theater Week, performance on Friday at 2 p.m.
Mar 28 - Apr 1: Spring Break
Apr 6: CHiPA meeting, 9 a.m. via Zoom
Looking Ahead:
Apr 12: No Friends Club; ISACS All Staff Focus Group at 3:45
Apr 19: Elementary and Junior High Talent Show, 10 a.m.
Apr 22: Bright Futures Celebration, 6 - 9 p.m., see below
Apr 23: CHiPA TART Trail Clean Up, 10 a.m., see below
Apr 24 - 30: Junior High Industrial Revolution Trip
Apr 29: Coffee & Connect, 8 - 9 a.m.
May 2: May Day Celebration
May 4: CHiPA meeting, 9 a.m. via Zoom
In The Know:
New! CHiPA TART Trail Clean Up, April 23 at 10 a.m.
All families are invited to join CHiPA on Saturday, April 23 to do some spring cleaning along the Boardman Lake trail. Meet at the gazebo at Hull Park (behind the library on Woodmere) at 10 a.m. We will be picking up trash along the east side of the lake. Bring water and wear gloves and your Children's House spirit wear. Sign up to let us know you will be there!
Red Hot Best 2022 - Voting is open until March 13th
One of our teachers has been nominated for Red Hot Best 2022! We already know she's great, but let's vote her to the top! Cast your vote for "Jamie Schaub - Children's House" here.

Coffee and Connect, March 25 from 8 a.m. to 9 a.m.
Parents enjoyed catching up and meeting each other last month so we decided to schedule a few more times to connect over coffee. Thanks to Roaster Jack for providing coffee and Carrie Goodreau for organizing! On March 25 and April 29 between 8 and 9 a.m., join us in the front courtyard. We look forward to seeing you! Dress for the weather and bring your own mug.
Bright Futures Celebration, April 22 at 6 p.m.
This year's goal for our Bright Futures Fund is to raise $175,000 by April 22, the day of our Bright Futures Celebration! Our Bright Futures Fund supports our school - the people and the physical space - now and well into the future as we build an appropriate reserve fund.
Help us reach our goal of $175,000 before the celebration – make a gift today. To attend the event, make your reservation online. We are also looking for business sponsors!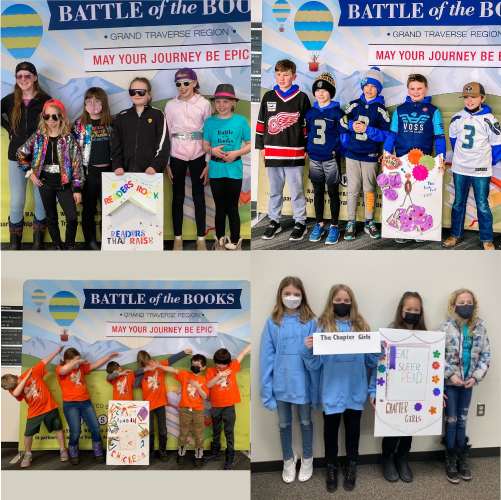 Extracurriculars: Clubs
Congratulations to all of our Battle of the Books teams (clockwise from top left); Readers that Raise the Roof, Reading Rascals Return, The Chapter Girls, and Crazy Readin' Chickens! Reading Rascals Return finished 10th out of 48! The Battle of the Books is a book-based quiz competition for fourth and fifth graders in the Grand Traverse community. Kids read incredible stories together and then experience heart-pounding moments in competition.

Upcoming Events:
Mar 13: Championship Battle at NMC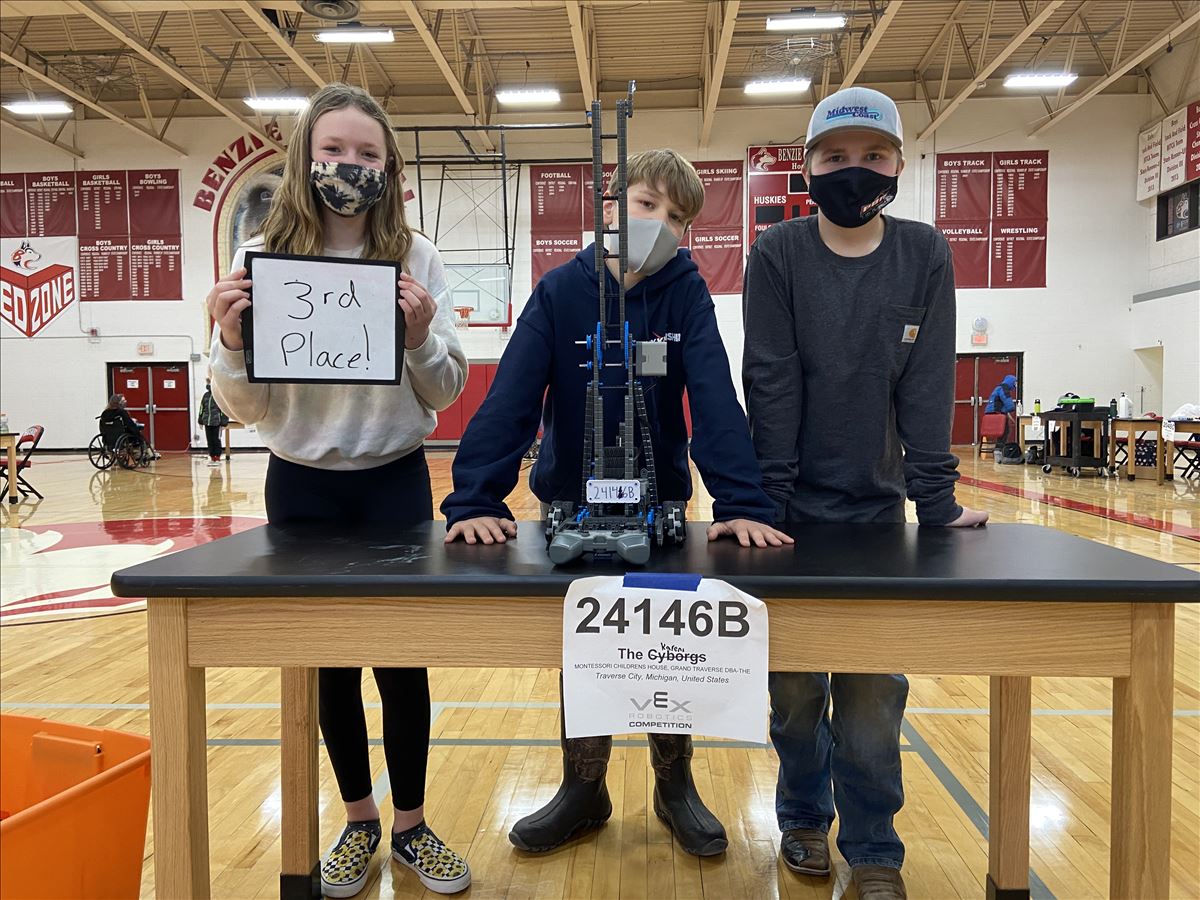 Junior High Robotics won the Create Award which earned the team an invitation to the World Championship in Dallas in May! Click here to read all about our robotics teams and their incredible success this school year.
Extracurriculars - Sports
Track season starts April 4! The Children's House track team is open to 3rd - 8th-year students. Email Julie Boss at boss.julie4boys@yahoo.com to inquire. For the most up-to-date information on spring sports and clubs, visit our extracurriculars page here.
Upcoming Games - Coed Volleyball:
Mar 15: Volleyball game at Willow Hill at 6:00 PM
Mar 17: Volleyball game at Willow Hill at 6:00 PM
COVID-19 status at The Children's House as of 3/11/2022:
0 Student COVID positive
0 Staff COVID positive
0 Students or staff quarantined due to exposure
TCH COVID-19 webpage with link to the TCH protocol was last updated on February 24, 2022.
Points of Interest:
Role of the Guide
By Karin Church
Why do Montessori schools use the term "guide" instead of "teacher" and how is a guide's role different from what may be expected of a traditional teacher? Word choice matters and Continue Reading...
Quick Links:
Inclement Weather Policy: visit our Policies and Procedures webpage.
Vaccine Appointments and Information: Grand Traverse Health Department and the Benzie Leelanau Health Department
Sharing our Gratitude: Gratitude Padlet.
Parent Business Directory: Visit our directory of TCH family-owned businesses.
Facebook Community Page: Share ideas, swap/sell items, and connect with other families.

Amazon Smile - You Shop. Amazon Gives.
The Week in Photos:
Created on Thursday, March 10, 2022