Welcome to Waypoints! We are so glad you are here. This newsletter is updated every Friday and can be accessed at any time from our homepage. Many thanks to Children's House parent Chad Schrader for the snazzy new Waypoints design!
New Message from Michele:
Calendar:
Sept 12-16: JH Northern MI Experience (camping overnight M-F)
Sept 14: CHiPA meeting, 8:30 - 9:30 a.m. in the Community Room
Sept 17: International Coastal Cleanup Day, 10 a.m. to Noon, see below
Sept 21: World Peace Day (all school assembly at 10:45 a.m.)
Sept 20: Montessori Up Close: The Importance of Place and Travel, for parents of Junior High students, 7 to 8:30 p.m., details here
Sept 22: Montessori 101 for new parents, 4 to 5 p.m., details here
Oct 5: CHiPA meeting, 8:30 - 9:30 a.m. in the Community Room
Oct 9: Fall Harvest Festival, at TCH, 11:00-1:00
Look further ahead...
In The Know: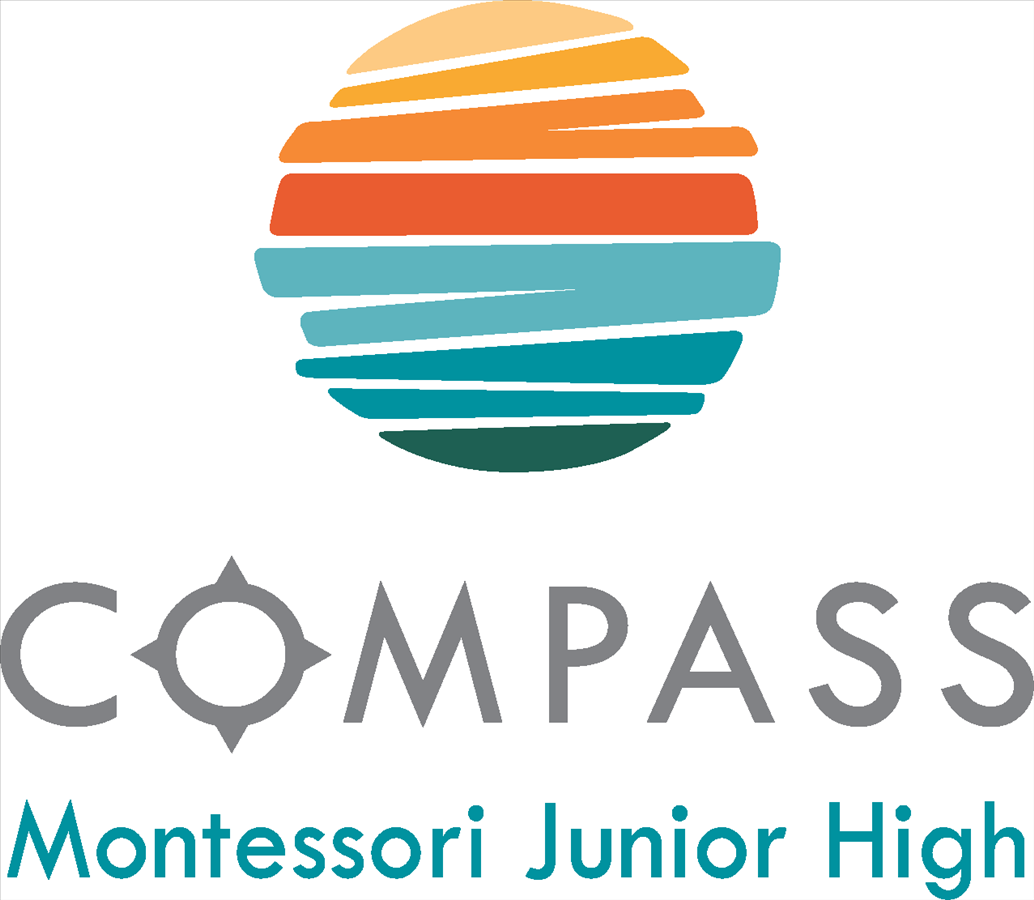 New! Compass Montessori Junior High
Our Park Street Campus is an extension of our school - giving our oldest students space, independence, and access to the real world while they are learning to become an adult. Now that we've been in this new space since January, we've decided to take the next step in giving our Junior High a name that better reflects the experiential learning and age group of the students. We had the pleasure of working with Children's House parent, Jen Lake of Brand Tonic. She and Audra Tompkins collaborated with our students last spring throughout the rebranding process. The new logo evokes the student experience and the aspects of their school that are important to them: water (the bay), collective, together, pieces of the whole, each a different shape, transition, and is a more mature adaptation of the sun in The Children's House logo.
New! Get Involved in the life of our school
Check out our Get Involved page to learn more about our Children's House Parent Association (CHiPA), complete a volunteer interest form, see event sign ups, or become a substitute classroom support person.
Order Lunch and Childcare through Boonli
September Lunch Menu is now available, view menu here.
New! Soup for dinner is back!
40oz of soup and sides will be available for purchase through Boonli for $35. Soup will be sent home on Fridays with your child in a reusable container (please wash and return the following Monday). Place your order by Sunday to ensure we make enough.

To order:
Log into Boonli and navigate to your child's account.
Choose the "Soup for Dinner" button on the Welcome page. This takes you to the calendar.
Click on any up-coming Friday in the current month to see what type of soup is being offered and the option to select "Soup for Dinner." Select and add it to your cart.
Go to your cart and pay.
Place your order by Sunday at 11:59 p.m.
International Coastal Cleanup Day, Saturday, Sept 17 from 10 a.m. to Noon
Let's work together to clean up a local beach! Bring the whole family for this fun and rewarding Children's House Parent Association (CHiPA) community service event. Stay tuned for the beach location! Add your names to this list to let us know to expect you.
Learning Opportunities for Adults
We look forward to presenting a wide range of opportunities for our community to learn more about Montessori and relevant parenting topics. Take a look!

Updated! Extracurriculars for Elementary and Junior High
Fall sports have been updated on our website for 2nd through 8th years. After school theater program registration opens next week. Details will be emailed to all upper el and Junior High families. Visit our extracurriculars page for more information.

Events webpage has been updated
This page highlights the events happening at The Children's House that are open to parents and families to participate in throughout the year. These events are great ways to become more connected with what is happening at school. See you there!
Ride BATA
Bus transportation is available for children every day between The Children's House and the Hall Street Station. Cost is $1.50/ each way. Zoom Cards are available for purchase at the Hall Street and Cass Road Transfer Stations.
Morning: 7:30 a.m. depart Hall Street Station; 7:45 a.m. arrive at TCH
Afternoon: 3:45 p.m. depart TCH; 4:00 p.m. arrive at Hall Street Station
For your child to ride the afternoon bus, please email learn@traversechildrenshouse.org. Only children on the list will be permitted to get on the bus each day.
Points of Interest: TCH Blog
The More You Know
By Michele Shane
Happy 2022-2023 school year! We are delighted to be welcoming all of the new and returning families for a year of learning and connection. TCH is a community not only for our Continue Reading...
Created on Wednesday, September 7, 2022