Another year is upon us, full of exploring your interests, gaining new skills and diving deeper into old concepts. I look forward to welcoming all of you into our awesome learning community. I hope you're as ready for a great year as I am!

Sandra@traversechildrenshouse.org

"The secret of good teaching is to regard the child's intelligence as a fertile field in which seeds may be sown, to grow under the heat of flaming imagination. Our aim therefore is not merely to make the child understand, and still less to force him to memorize, but so to touch his imagination as to enthuse him to his innermost core" ~Maria Montessori (To Educate the Human Potential 11)

Room Parents
Abby Taylor
Karen Mueller

Sandra Besselsen,

Lower Elementary Guide

Jodie Tasch,

Lower Elementary Support
Classroom Highlights
11/17/23
Last week we spent a couple of days learning about Ruby Bridges. We read two books written by her, had some discussion and did some writing for reflection. One of the books ends with a challenge from Ruby Bridges. She challenges children to make both small and big changes in their community. This week we took a walk with the other elementary and primary classrooms to remember and celebrate what Ruby Bridges did. We followed up our walk with a discussion of the changes we can make in our community. The children threw out lots of ideas, even donating their extra sticks from the forts to kids who don't have woods to play in and trees to build forts. They were thinking a lot about what they could do. We voted on the ideas and landed on several projects that will be spread out over the year.
December, Sponsor families through Paper Angels (Child and Family Services) - Look for more information about this very soon!

Cards to soldiers overseas and/or kids in hospitals

Collecting items for those in need, particularly mothers and children

Food donations, working with an organization like Father Fred

Planting trees
I am looking forward to working with the children on these ideas! We will be inviting the Lily classroom in Primary to join us in our ventures.
We have read some poems of gratitude and are working on our own poems expressing what we are grateful for in our lives. We will share these next week Tuesday before our Harvest Feast!
Thank you so much for the books from Horizon. It is so fun to have these new books in our classroom!
What makes Stone Soup special? What was your hardest and favorite math correction this week? What talent did Jodie show off at recess?
PE with Steve
I've enjoyed ending my days with this group this fall. We have played several throwing and catching games and the returning members of this classroom have helped the new folks learn some of their favorite tagging and fleeing games. We do talk about cardiovascular endurance and the many other benefits of physical education. I think they mostly remember the fun. I hope that as you prepare for the upcoming conferences that you'll let me know if you have any questions or comments about our time together in the gym. Thank you for letting me spend part of my days with these people.
11/3/23
Thank you to all the parents for putting on a very successful, fun Pumpkin Fun Day! One child said that this year was the best yet, but I think that may be said every year! It is definitely an annual event the children look forward to, so thank you for making it happen.
The idea of teamwork and relationship building has been on my mind lately. There is lots of learning happening in our classroom with the different lessons the children are receiving, the follow up work being completed and the practice with the materials. A bonus to the Montessori classroom though is that most of the work in the classroom and with the materials is not just teaching a particular fundamental skill or checking off a particular benchmark, it also has an element of teamwork built into it. When the children are practicing division with the racks and tubes, each child has a role in the process and they need to work together to complete the problem. Sentence analysis work teaches subject, predicate, direct object, etc., but while identifying these elements the children are debating about which one is which, and talking about what they think and why. When we were out at Brown Bridge Quiet Area last week, the children created art in the environment inspired by the art of Andy Goldsworthy. The children worked together to plan, gather and create. When creating our set for The Ghostly Rap, each child submitted a drawing with their ideas. We pulled these together to make one design and it was so cool hearing the children talk about what elements of their drawings were put into the final set. There is not a day that goes by that we are not helping children navigate relationships and how to be with each other. We all need practice and direction with this at times. It is such a gift that these social skills and practice with teamwork is built into the academic work that they are doing.
These couple of weeks are always a great time to look back and reflect, as well as plan for what is next. It was so wonderful to see you in the classroom last week for Parent Visiting Day. I hope you were able to get a good feel for the classroom and what your child has been up to these past couple of months. I look forward to expanding on that next week during parent-teacher conferences. Your child's fall Conference report will be emailed out to you soon.
Questions for your child. What did we look at in order to introduce and review animal classification? What did you enjoy about the visit to Brown Bridge? What have our experiments taught you about plants?
10/20/23
A week ago Monday, on Indigenous People's Day, we had the privilege to hear from a guest speaker, Eric Hemenway. Eric is an Anishinaabe/Odawa and is Director of Repatriation, Archives, and Records for the Little Traverse Bay Bands of Odawa Indians of Waganakising—The Land of the Crooked Tree—located in the northwest portion of the lower peninsula of Michigan. He spoke to us about some of the traditions of his native culture. The children were fascinated by some of the things he shared. I encourage you to ask them what they remember from his visit. Before we heard him speak, I read a book called The People Shall Continue, which introduced the children to the history of the Indigenous people in North America in a very factual, but grade appropriate manner. What I liked about this book and Eric's presentation is that they both emphasize the fact that Indigenous traditions, ceremonies and communities continue today and while history is important to learn, these cultures are not something that we talk about only in the past tense. We followed up this week with an auto-biography of an Indigenous person who dances her native dances, while also practicing jazz, ballet and other forms of dance. Biographies are an important part of history. Learning people's stories and finding a connection to them are one way our children can connect with the events of the past. People's lives and stories spark a curiosity in us in a way that facts and a historian's account cannot.
This was timed very well with our fourth great story, which talks about the evolution of our written language. The story begins during a time when early civilizations used pictures to communicate. It takes the children back to the time of the Phoenecians, who were sailors and traders, and needed a more efficient way to communicate so they came up with the first 26 letters that represented sounds. The children have resources that they can look up pictographs used on stone walls and the hieroglyphs used by the Egyptians. They enjoy using these to create their own expressions. I related this back to the Ojibwa, who etched their stories using birch bark scrolls. The children have the opportunity to do this as well.
I look forward to seeing all of you in the classroom next week for Parent Visiting Day! This is a very meaningful time for the children to share what they've been learning and you will be able to get a good feel for the classroom.
Mark the afternoon of November 3rd on your calendar! I believe we will be sharing our play, The Ghostly Rap with all of you…invitations to come.
Questions for your child. What does Nicodemus share with Mrs. Frisby? How are the sweet potatoes looking and what stage are they in? What is a new offering at recess?
10/6/23
We had such a nice trip to the Brown Bridge Quiet Area. It was a nice combination of a few activities and time to enjoy playing in nature. It's a great spot and I'm sure your child would love to take you there and show you around. Our fall trip will be on Friday, October 27.
We heard our third great story this week, The Story of the Coming of Human Beings. This is one of my favorites. It talks about humans coming to Earth with 3 special gifts, a mind that can think and imagine, hands that can work and create, and a heart that can love. We discussed how we need to take these gifts and use them to be helpful, loving, compassionate human beings. This leads into Maria Montessori's idea of the cosmic task, which is my favorite part of the Montessori curriculum. (I even have a tattoo!) Simply put, it is the idea that while every living thing is going about living their daily lives, their life should also be doing something for others. We followed up the great story with a book called Carl and the Meaning of Life, which tells the story of an earthworm trying to figure out his purpose. He leaves his underground task of tilling the soil to inquire with other animals about his purpose. While on this journey, the soil becomes hard and crusty, and animals have to leave. Carl, the worm, recognizes this problem and begins tilling the soil again. It becomes fluffy and fertile and his friends return. It is then that he discovers his purpose. This explains Maria Montessori's idea of cosmic task. The children then took time to write about how they can use their minds, hearts and hands to help others. This would be a good conversation to keep going at home.
Last week our read and respond work, part of weekly language, was a passage that required students to think about the sequencing of events. Some Friday afternoons, I like to take time for team building. I followed up on this idea of sequencing with a How to demonstration. The children then got together in teams to write a How to for the rest of the class. We will test them out next week. The children found out quickly that it takes a lot of thinking about details and using specific language in order to give someone proper directions. The children telling me how to make an almond butter and jelly sandwich got pretty silly.
Parent Visiting Day will be on October 25 and 26. We look forward to welcoming you into our classroom. Please sign up for a time here.
Questions for your child. What did Milo discover about his opinions of others during his bus ride? What is on the placement you are painting in art? What is your part in the Ghostly Rap? Who is Arnold Schwarzenegger? (Not so important, but he came up in conversation.)
9/21/23
The classroom has a nice buzz to it with lots of collaborative work happening. It has been fun to watch the kids negotiate what they will work on and how they will approach it. We have had our first studies shared, which were completed in a small group. We discussed the research process, taking notes and how to put together a good paragraph. Those children are eager to now begin their own studies!
I want to share a note about Della Terra. Della Terra will be happening a little differently this year. The children have been split into 2 groups and will be working in the greenhouse every other Monday with me. I am working with DiAnn, Andrea and Shea on different curriculum and projects that can be done during our time. So far this year, we have cut some basil, studied different root vegetables and experimented with growing new plants, and the compost bins needed to be rolled so we were able to have a competitive, but fun compost bin relay across the soccer field.
Just a reminder, we will be on our field trip tomorrow morning from 8:30-noon, traveling to the Brown Bridge Quiet Area. Please refer to the previous email for more details. We looked at some pictures of its transformation from when the dam and pond were there to its now restored state. They are looking forward to exploring this area tomorrow morning.
Questions for your child. What type of animal is the main character in our new read aloud? What was your favorite living thing on the Timeline of Life? Who was the announcer on Kids Commute this week?
Something fun happening for kids this weekend:
https://www.simpletix.com/e/iprs-kids-commute-live-with-special-guest-tickets-138609
9/14/23
Thank you to Karen and Abby for organizing our class picnic! It was a lot of fun and nice to chat with all of you a bit.
It has been so great getting to know the new faces and reacquainting with old ones. Building community is an important part of these first couple of weeks. We have saved some of our time for working with one another in different ways. For example, the first week, small groups found things that they had in common with each other and made a flag to represent those. This week, they worked on creating vocabulary cards together, reminding each other how to do this and teaching it to the newcomers. I also introduced a new song this year that I just discovered and love. Its words foster the idea of community and that while each of us is unique, we can help one another be better together.
Here are the words to Haere mai ki te whriki :

Haere mai ki te whriki

Each of us is a strand in the mat

Haere mai ki te whriki

Come lets sit together

Haere mai ki te whriki

Each of us is a strand in the mat

Haere mai ki te whriki

Come lets sit together

Aroha mai, Aroha atu

Aroha atu, Aroha mai

Standing together

Singing together

Strong together

Haere mai ki te whriki

Each of us is a strand in the mat

Haere mai ki te whriki

Come lets sit together

Haere mai ki te whriki

Haere mai ki te whriki

Haere mai ki te whriki

Haere mai ki te whriki
We have written our classroom agreement and signed it. This will hang in our room and we will revisit it often throughout the year (see picture below).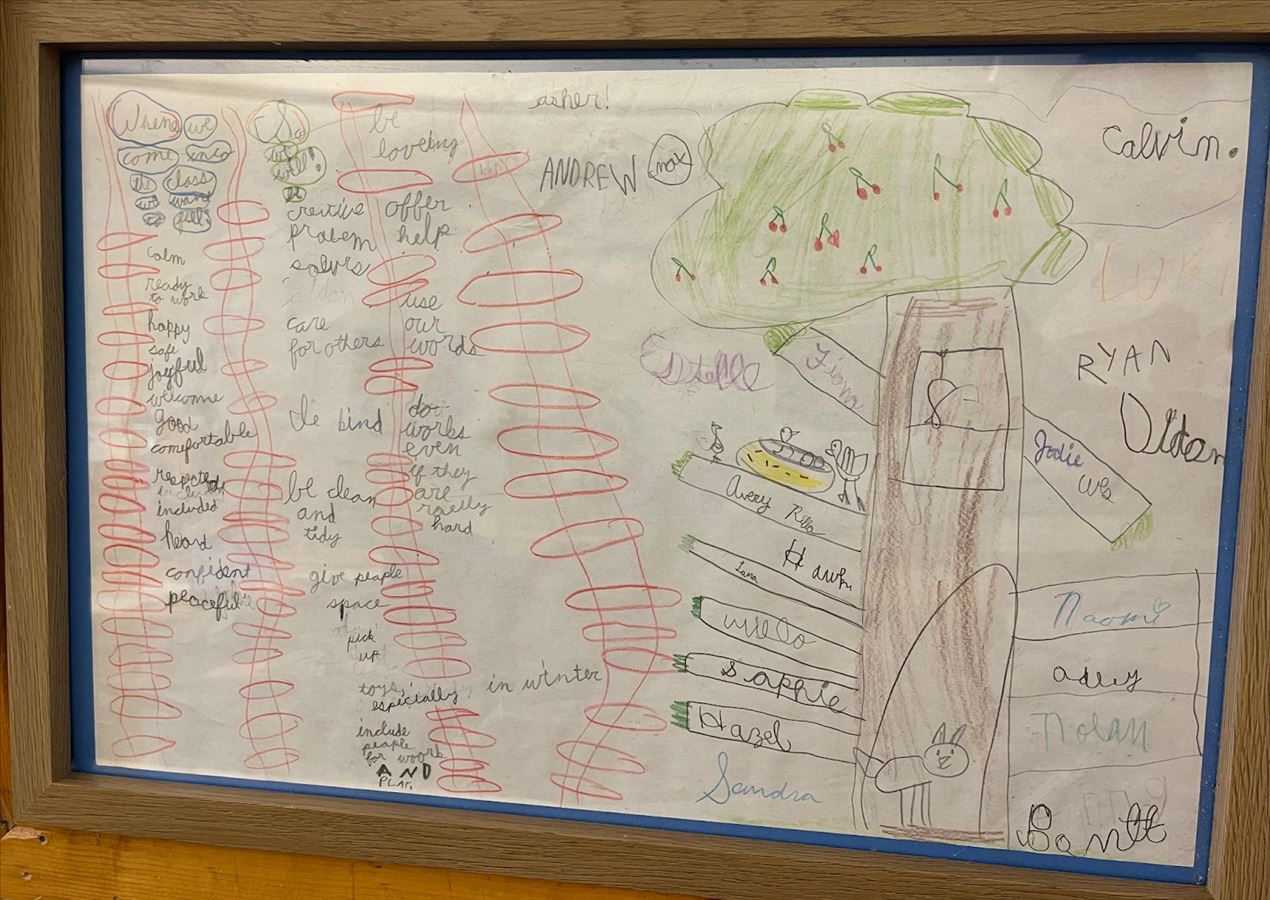 We are also working on establishing routines and expectations this week. This has gone really well with the start of our weekly and daily math work, follow up work to lessons, and weekly language work. They have been eager to get new lessons and practice their favorites from past years.
LOC is tomorrow! Please be at the school by 8:30am. It looks like it will be sunny, but add a light layer as it is often several degrees colder at the LOC property. We will return by carline. If you need more details, please refer to my earlier email.
Questions to ask your children. Can you name one kind of root? Do dragons like marshmallows? What was your favorite fact from the first great story?