I trust that you will find our classroom an exciting, attractive, lively and engaging place to be. Together we will create an atmosphere that is fair and just, and allows us to develop to our unique potentials. I am excited to share this journey and all of the promises that it holds with you.

Onward we go, with flexibility and love!

Jaime@traversechildrenshouse.org

Room Parents
Mindy Beers
Emily Modrall

Jaime Janiszewski

, Lower

Elementary Guide

Jana Gray, Lower Elementary Support
Classroom Highlights
11/16/23
Dear Willow Families,
It was a pleasure to meet with you last week and share your child's progress and work. It is a busy time with many research presentations, birthday celebrations, lesson practice, and preparation for a special time in elementary time. The children came home with a letter containing the ingredients they will contribute to our Stone Soup. In class, we are reading many different versions of the Stone Soup story and comparing and contrasting each one. Stone Soup Day, Tuesday, will be a time for us to gather as elementary and junior high and think about how fortunate we are in our families, school, and community. *Please remember to send a place setting with them to school.
Every year, our classroom researches a holiday celebration. This year, we will learn about the Festival of Lights. There are many to choose from, and we are in the midst of selecting the festivals we will research. This research is an exciting time in our classroom and one you could talk with them about at home. Your children may come home sharing about these in the coming weeks.
Our hearts are filled with warmth and the anticipation of a beautiful time spent with our families when we will have time to breathe and focus on one another.
Thank you for being so supportive at Horizon Books Day! We have so many excellent new books for the children to explore. I am grateful to have a classroom full of incredible humans and the families that support them.
I'm sending a heart of love, gratitude, and thanks for a beautiful beginning to a wonderful year.
11/3/23
Hello Willow Families,
A penny's worth one cent, a nickel's worth five, a dime's worth ten cents, a quarter 25. You might hear your students coming home with this song on their minds. We have just wrapped up our initial work with money, and a classmate shared this timely song with us today.
We have recently been exploring several timelines. We have discussed the hand timeline through the time humans began writing, then we explored the BCE/CE timeline, and located the Egyptians, Romans, and Sumerians on it. Most recently, we learned about the first timeline of human beings. The Timeline of Humans was an impactful story about all that early humans did to make life a little easier for us today. We thanked our ancestors, these unsung heroes, for paving the way for our lives today.
We've been learning about Ruby Bridges lately and all the positive changes she has brought about in our country. When the time came to decide on our class project for Ruby Bridges Walk to School Day, your students brainstormed ideas, voted our vast collection of worthy causes down to two, and finally decided that they would like to raise money to help animals. Almost every student wanted to participate on the committee, so we had to draw five names, and our Ruby Bridges Committee will create the plan to present to our class and then to our adopted primary classroom, Fern.
Thank you to all the parents who made Pumpkin Fun Day such a blast. It was a delight to see your children's happy faces and fun fall creations on Tuesday.
I look forward to seeing everyone at conferences next week!
10/19/23
Hello Willow Families,
We are taking advantage of the perfect fall weather to explore all the beauty we have at our fingertips. We have analyzed leaves, learning about their parts and classifying them according to their veins and margins. We have taken a nature walk to look at many of the stems on our campus and discussed their main function. We learned about a genre of art called land, Earth, and ecological art and decided to go out and create some of our own.
The children had to collaborate to decide the shape of their art and how they would arrange and use each resource they found on the ground. There were many ideas, but eventually, they had to agree, which meant letting go of exactly how they would do it and leave space to create something as a group. Both groups did a beautiful job, as you can see in the pictures below! Many children mentioned going home and making this art in their backyards.
This year we were able to celebrate Indigenous Peoples' Day in a special way. Eric Hemenway, an Anishinaabe/Odawa and Director of Repatriation, Archives, and Records for the Little Traverse Bay Bands of Odawa Indians of Waganakising, visited our school and spoke with the children. He told the story of the birch tree and shared memories of harvesting an ash tree to help his mother make a basket. Ask your children what they remember from Eric's visit.
Many children worked hard on their committees to make the fall festival successful. I appreciate all the parents working with them to make it a fun event. The children had a great time, and the food was delicious!
We just started our new read-aloud book, Where the Mountain Meets the Moon. The children let me know they had read the book last year, so I offered a different book, but they decided they wanted to hear it again and give our first years the experience of this book as well.
We started reading buddies with Maple Classroom (upper elementary). They read together every Friday afternoon during silent reading, taking turns reading to one another for 15 minutes. It went beautifully and was so fun. I had several children remark how it was AMAZING!
We are lucky to have a master knitter among us! Jana has begun knitting lessons. She started by offering to the 2nd and 3rd years who had already had lessons last year to clear the cobwebs and get them started. Next on her list are the 1st years!
We look forward to having you all visit next week so your children can share their work with you. Parent Visiting Days are Tuesday, October 24th and Wednesday, October 25th from 9am - 10am (see email).
I hope you are reading Waypoints each week and have synced our Family Calendar with your personal calendar so that you stay up to date on everything happening here at school, especially our learning opportunities that are designed for you.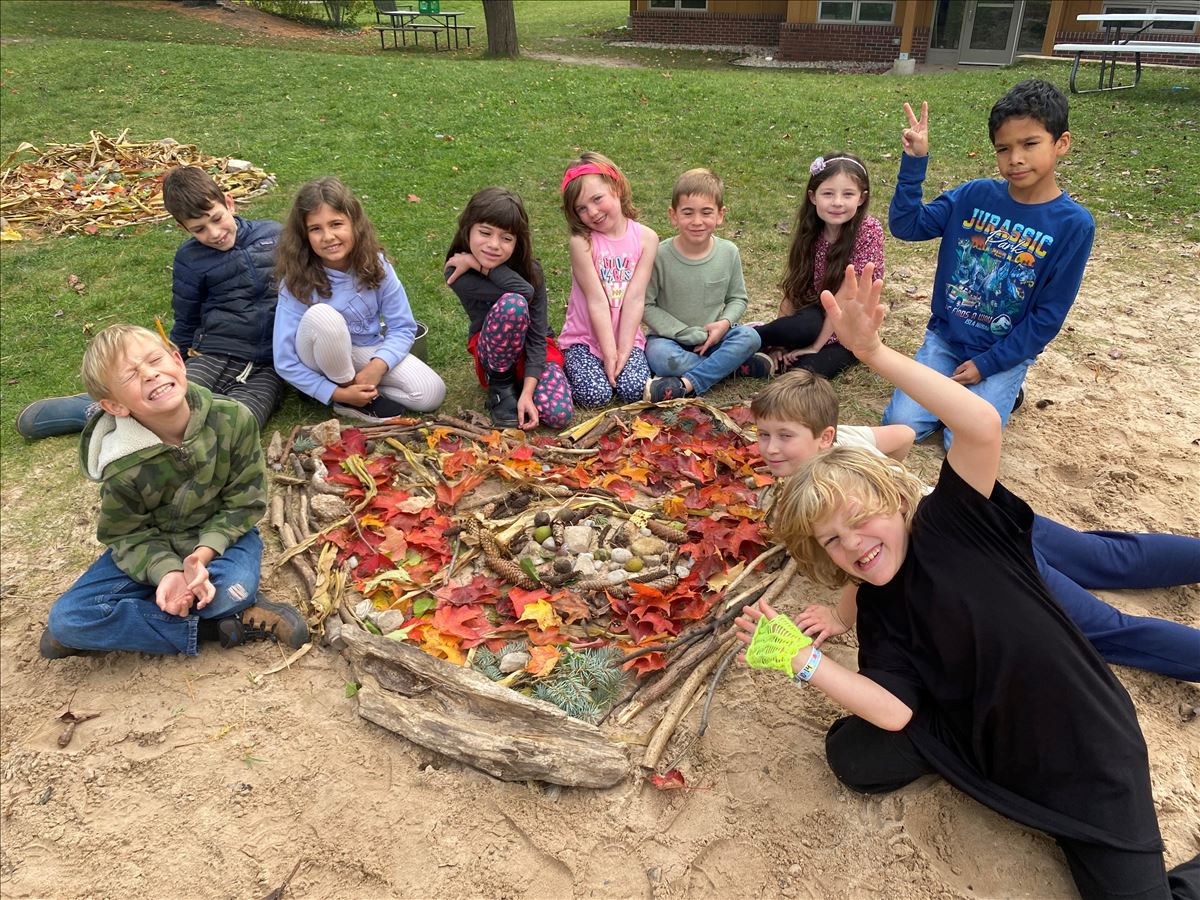 10/5/23
Hello Willow Families,
We freed Brittany! Brittany (our butterfly) emerged from her chrysalis, dried her wings, and was released outside our classroom last week. We were fortunate to experience most of the life cycle of a monarch butterfly first-hand.
The children contributed to the creation of our classroom creed. We began by brainstorming about how we wanted to feel in our classroom. Then, we brainstormed and acted out how to develop the environment we all hope for. Finally, we took all the ideas and created the following creed, "I will treat everyone and everything with love and respect." We talked about the meaning of the words "loving" and "respectful" and what treating people in that way looked like.
We have had moments of asking each other the question, "Am I being loving and respectful right now?" "Was I being respectful to my classmate or the adult I was talking to or interacting with?" Discussing this with your child and using similar language at home helps solidify the concept at school.
Our classroom is bustling with songs, lessons, studies, science and botany experiments, an exciting ending to our first read-aloud book, and many budding curiosities. I know that sometimes elementary students don't share the ins and outs of their day, hopefully, these little insights give you a place to start a conversation.
"Our care of the child should be governed, not by the desire to make him learn things, but by the endeavor always to keep burning within him that light which is called intelligence." --Maria Montessori
Warmly,
Jaime Janiszewski
9/21/23
Beginning this new school year with your children has been a joy. I am delighted to get to know them and to experience this new journey together. I revel in the squeals of delight as they greet their friends in the morning, the chatter about their evenings or weekends, and the questions and stories they share with me throughout the day.
You might have heard about the special friend hanging around our classroom. The children were able to experience first-hand a caterpillar creating its chrysalis (they watched it happen), and we have been on a daily countdown to see how many days our caterpillar will take to emerge from its metamorphosis into a Monarch Butterfly.
During one of their favorite times of day, read aloud, I delight in hearing their reactions to our fascinating book, Voyage of the Dogs. It tells the story of a diligent team of dogs accompanying their humans on a deep space voyage to establish a new outpost far across the galaxy. Ask them to share what is happening! We experience cliffhangers most days, and I smile at the groans as they have to close their sketchpads and prepare for lunch.
One of the children's favorite trips of the year is Camp LOC, and this year did not disappoint. I was honored to share this tradition for the first time along with our first years. Set to the backdrop of perfect weather, blue skies and a blissful breeze, we had a ball! Friday is our first of four trips to Brown Bridge Quiet Area, where Birch and Willow classrooms will observe and experience the same spot throughout the four seasons.
We learned about our first artist of the month, Jacob Lawrence, and his famous 60-panel series, The Great Migration. Lawrence wrote an accompanying children's book to explain each of the panels. I'm sure you've heard the songs we've been learning! I take a lot of joy in hearing their voices and seeing them act out all the parts! We are working on our peace songs for International Day of Peace this week and will enjoy singing together as a school.
We've invested energy in creating our Classroom Creed. We brainstormed about how we want to feel in our classroom and the environment we want to experience daily. We have role-played the way NOT to do something and the way TO do something, which has elicited some giggles and a better understanding of the expectations in our classroom.
I enjoyed sharing the first two Great Stories with the children and teasing that there is always more to come! Soon, we will learn about The Coming of Humans. There has been a bustle of activity and lots of lessons. I genuinely enjoy spending my days with your lovely children. They give me the gifts of laughter, smiles, joy, and fun every day.